BACK
Common Meeting Room Scheduling Nightmares & How to Kill Them
3.1 min read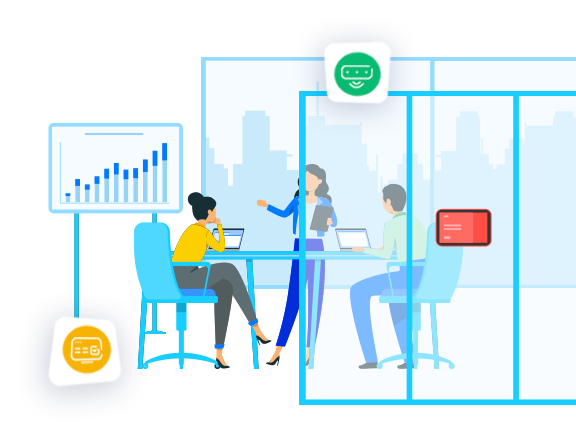 How often have the following scenarios happened to you and your employees?
The room sits empty and yet it appears booked on the calendar
Managed to reserve a room but turns out it doesn't have the equipment you need
Needed to take an important client call and had to search room by room for an empty space
On your way to the meeting and found out another team has booked the room for the entire day
…
We feel certain that you have encountered at least one of the above problems in your past meeting room booking experience, which are caused by poor management of meeting rooms and other workspace resources. These kinds of inconveniences happen on a daily basis and are frustrating as they waste time and bring down efficiency.
Below are three meeting rooms scheduling nightmares we've all run into in the past and how to kill them:
Common Meeting Room Scheduling Nightmares
Unable to Find a Room or the Right Room
Sometimes you need a room instantly, for a non-planned meeting, or just need a quiet place to make a phone call. You went on the search room-by-room and wound up in the stairwell.
According to the Wall Street Journal, "40% of employees wasting up to 30 minutes a day looking for a meeting space." Solution? Investing in a meeting room scheduling software.
That can save you those thirty minutes lost per day and eliminate such issues once and for all, as it allows employees to filter search meeting rooms by size, equipment, etc., and enables them to organize ad-hoc meetings with ease anytime, anywhere.
Better yet, a room display connected to scheduling software displays real-time room occupancy through color signals. So, take a look around the office or down the hall and you'll know which rooms are occupied and which are not. Time saved and efficiency up.
Related: What is Room Display and How to Choose One
Ghost Meetings
You try to book a meeting room through the calendar app only to realize they're all reserved. Then walk around the office later and see several rooms sitting empty. Or in other cases, people forgot to cancel meetings that recur weekly, and the room remains booked but no one shows up…
Ghosting meetings or no-show meetings are a headache for businesses. Gartner predicts the global average utilization rate of meeting rooms is just 30% and around 40% of global office space remains empty.
How to NOT be haunted by ghost meetings? Consider AI-based smart sensors. Installed in conference rooms, the sensor continuously detects whether or not people are in the room. If a meeting is ghosted and nobody shows up, the room will be automatically freed up, which greatly helps to maximize the usage of meeting space resources.
With advanced office technology like smart sensors, meeting rooms and employees are set to unleash enormous potential than they do now.
Double Bookings
Double bookings happen regularly in workplaces. Meetings you hold may be subject to unwanted interruptions from your colleagues who claimed they also reserved the room. That's not reassuring, knowing people will knock on the door anytime in the middle of the meeting and question the room's availability.
This common scheduling nightmare happens when information across multiple booking channels doesn't sync up. For every single booking, you have to manually update it all by yourself, and if not, the room your booked can still be reserved by others.
Higher operational efficiency requires a unified booking system that automatically syncs up all the information and helps keep things organized. Preferably, one that supports 3rd party calendar integration, such as Google Workplace and Outlook. Therefore, even if you reserve meeting space on Google or Outlook, the information will be updated right away and shared with your fellow co-workers.
Related: How to Truly Book a Meeting Room with Outlook
Kill Those Nightmares Today with Yeastar Workplace
The nightmare list doesn't end here. Other meeting scheduling headaches – time-consuming manual booking, technology silos, false scarcity, poor meeting room management – are exerting a far-reaching impact on the quality of meetings and business operations.
Thankfully, there're ways to ensure you and your employees never have to deal with these headaches again. All-in-one Workplace scheduling solutions like Yeastar Workplace brings a sigh of relief to modern workplaces and the future of work.
Not only does the solution incorporate everything (room display, AI-based smart sensors…) previously mentioned, it offers actionable insights from which you will get a better clue in terms of how to better utilize the resources and what could be improved. All in one and one for all!
For more details on the Yeastar Workplace solution, simply get a free trial, or get in touch and speak to our team today.