BACK
How to Truly Book a Meeting Room with Outlook
4.7 min read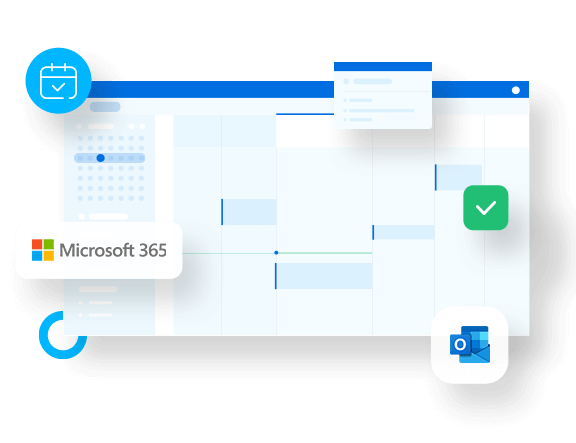 Microsoft Outlook, also known as the mostly used collaboration software globally, is no-doubt changing businesses' workflows and the way people work. As an indispensable part of it, Outlook calendar ties your daily tasks up. It unites your colleagues and customers through easy but all-rounded features like creating appointments and events, organizing meetings, viewing group schedules, inviting and notifying meeting participants, etc.
Among all these features, meeting organization is necessarily associated with a space reservation, which can be different types of room resources. The Outlook room booking, however, leaves a lot to be desired.
Native Outlook Meeting Room Booking Can be a Chore or Even a Problem
The traditional method to book a meeting room through Outlook is to utilize calendars resources as meeting rooms so we can manage space bookings. But here are some itches that you can't scratch:
No filters to pick needed meeting room
Incomplete information about meeting room facility, capacity and more
Can't check real-time meeting room occupancy status
Conflicts caused by double-booking or interrupted meeting
Lack of data about room resource utilization.
For a long time, we just kept these problems bottled up and let the inconvenience grow. Double bookings, unprepared meeting spaces and impromptu cancellations occur from time to time to frustrate your employees; meetings take longer to organize; limited meeting room resources got mis-used. Available rooms left vacant while others get overcrowded, etc.…All these have contributed to a drain on time, costs, and performance. You know you need a solution urgently.
Take a Shortcut with Outlook & Meeting Room Booking System Integration
According to Wainhouse Research, over 69% of interviewed employees expect their company budgets for meeting room technologies to increase. And in the post-pandemic era, the number goes even higher. The global Meeting Room Booking System Market is expected to grow from USD 65.5 million in 2020 to USD 135.4 million by 2026 at a CAGR of 12.9%. All these factual statements stress the need and trend of a Meeting Room Booking System deployment.
What is a Meeting Room Booking System?
Rather than rely on convoluted email chains or separate calendar, Meeting Room Booking System makes it much simpler and more reliable to organize meeting space across your facilities. With built-in space & facilities management, scheduling calendar, cross-platform data synchronization, notifications and more, it allows users to have a smooth room reservation experience while understand how their room resources are being utilized. It's primarily applied to scenarios when you create conference schedules and invite people to join meetings, or need in-depth space utilization data to make planning on offices resources. In most cases, a productive Meeting Room Booking System can be integrated with 3rd-party Calendar systems, so people can coordinate their meeting room booking with their existing schedules – all in one place.
To be more specific, a Meeting Room Booking System comes with the following features that Outlook falls short of, and to delight your employees and eliminate the data silos:
Have an interactive booking interface that allows you tofilter the room resources by their capacities, and find a best fit room at ease
Allows users to edit all necessary meeting parameters like invite people, book a periodic meeting, modify the meeting information, and notify attendees on schedule changes
Come with hardware devices such as digital signage to provide more features
Going further, here are some prominent advantages of an outstanding system to leap all barriers you have when booking a meeting room:
Integrate with users' calendar system
Provide advanced reporting & analytics tool
Build up a unified platform
Yeastar Workplace: Designed to Complete Your Outlook
Designed to take stress away from workplace management, Yeastar Workplace includes all critical Meeting Room Booking System components to make sure your working experience stay on its good side all the time. It incorporates an interactive online meeting room booking platform, touch screen room displays, and smart sensors to let your calendar meets the reality and automate manual process wherever possible.
Highlight features of Yeastar Meeting Room Booking System:
Unlimited Users
Interactive & Unified Online Booking Gird Room Booking
Room Availability, Location, Capacity& Facility filter
Reservation Check-in & No-shows Auto-release
Ad-hoc Room Booking & Scheduled Recurring Reservation
AutoMeeting Reminders on Schedules & Changes
Calendar integration & Single Sign-on: Microsoft Outlook, Google Calendar
Analytics Dashboard & Workplace Insights: meeting event density & trends, room utilization data, recapture time insight, and more.
Touch-screen Room Display: room status indicator, walk-up reservations, and check-in
Smart Sensors: auto collect and monitor your room occupancy data in real-time
Through seamless integration with Outlook, Yeastar Workplace and Outlook make each other more powerful and create the best employee experience possible for your team.
Don't Hesitate to Greet Your Completed Outlook
Once you integrated Outlook with Yeastar Workplace, your meeting room booking information will sync between these two platforms. You can choose an available meeting room while creating an event through Outlook. So, the information can be synced to Yeastar Workplace and interact with Room Display. Yeastar Workplace will generate these data and provide you the insight of your meeting room utilization.
Additionally, more features can be unlocked by accessing Yeastar Workplace. You can:
Book a one-time or recurring meeting reservation with no risks of double booking;
Usefilters like date, location, capacity, facility, and occupancy status to find the most suitable room;
Check real-time meeting room occupancy through easily distinguished colours on Room Display;
Keepall your meeting participants auto-updated about meeting details and changes;
Apply reservation check-in policyto auto free up no-show bookings
Apply clear room booking permissioncontrol, so you can limit some rooms for dedicated use only;
Use analytics to uncover patterns around your room utilization, peak usage hours, ghost meetings, recaptured time, and more.
That's a save of a lot of manual work, avoidance of conflicts, and streamlined workflow!
Make it happen Right Away -Time & Effort saved
Yeastar Workplace now offers permanently-free account for you to enjoy some professional Meeting Room Booking System features without any commitment. Apply your account here and with only a few integration steps, you will be able to enjoy a smoother workplace experience right away!
How to integrate Microsoft Outlook with Yeastar Workplace
-Prerequisites:
Microsoft 365 Global Administrator account for Business Plan or Enterprise Plan
Yeastar Workplace Standard Plan or Pro Plan
-Integration Process:
Step 1: Log in to Yeastar Workplace Management Portal and select Microsoft 365 in the "Integration" menu
Step 2: In the pop-up window, log in the Microsoft 365 global administrator account
Step 3: Yeastar Workplace will ask for permissions to access calendar information in order to sync events. Click Accept to complete the connection
Step 4: Pair your Microsoft 365 calendars to Yeastar Workplace
What Yeastar Workplace can bring is promising
In the era of flexible, open-plan workplace where hybrid work and activity-based working become the new norm, there's more call than ever for collaborative space where groups can get to focus on important projects and connect with their teams and clients. By such, office meeting room scheduling must evolve.
Over 50% of respondents in a recent Gensler survey said scheduled or impromptu meetings, and socializing are the main reasons they want to come back to the office. 
Yeastar Workplace combines productivity, collaboration, and effective space utilization to accommodate the needs and prepare you for the future of work. We are ground-breaking the field with leading workplace and meeting room booking technologies. And it's not only a start to eliminate your problems came from "legacy" space scheduling workflow.
For more details on Yeastar Workplace solution, simply get a free trial, or get in touch and speak to our team today.