Unleash the Full Potential of Yeastar Workplace
Yeastar provides a one-stop workplace scheduling solution that consists of cloud-based platforms, hardware interfaces, and IoT-based smart devices to help boost employee productivity and make the most of your office space.
Intuitive Online Booking Platform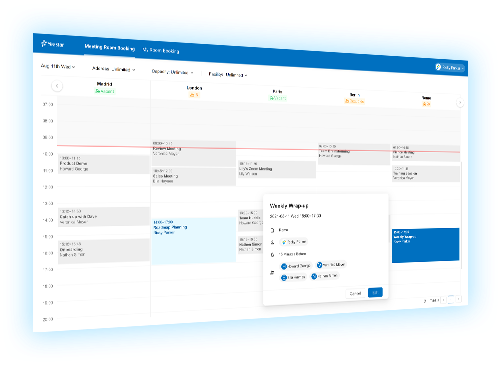 Coordinate all employees, meeting rooms, and resources from a single interface. No more wandering around for an empty room. Filter search on demand, click to book and notify attendees at the same time. This platform makes everything more straightforward and keeps everyone in the loop.
Calendar & Microsoft Teams Integration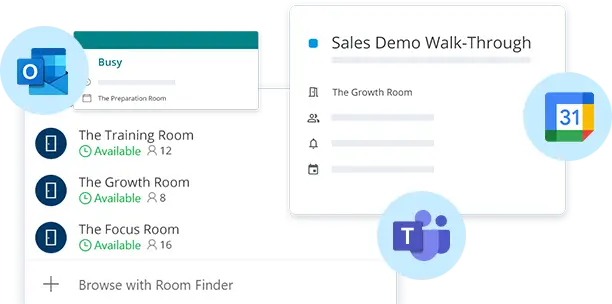 Yeastar Workplace works with Microsoft Teams, Outlook Calendar, and Google Calendar to streamline your meeting room booking process. Add Yeastar Workplace to Teams as a Tab, create Teams meeting links upon room booking, and receive notifications via chatbot. Bookings made on Yeastar Workplace can be synced to Google or Outlook Calendar and vice versa.
Analytics for Data-driven Decisions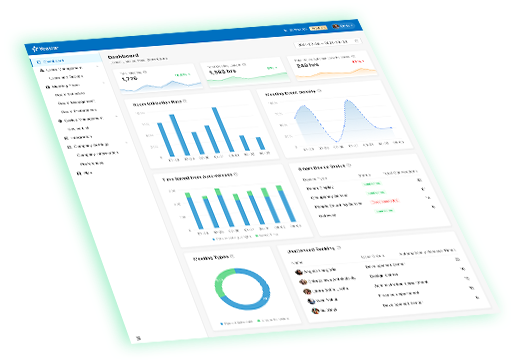 Get actionable insights to best support employees' meeting needs. Right through a customizable dashboard, you can track the total number of meetings, hours of auto-released meetings, room utilization rate, meeting types, and more space usage metrics within a custom time frame.
Touch-screen Room Displays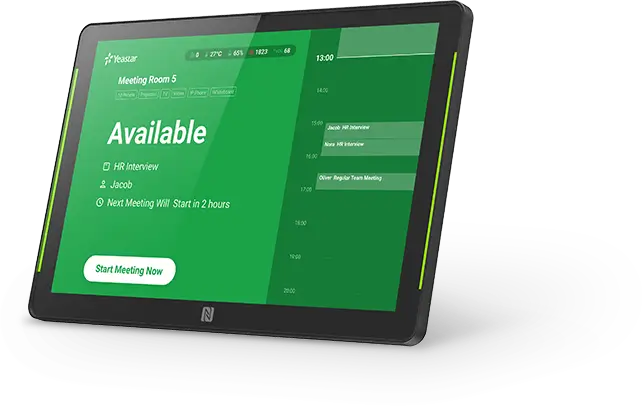 See at a glance which rooms are free to use through tri-color LED indicators. In case of an impromptu team huddle, just tap to start the meeting. To eliminate no-show meetings, require your employees to check in for their bookings, or else the rooms will be released and become bookable again.
Smart Sensors & Auto-release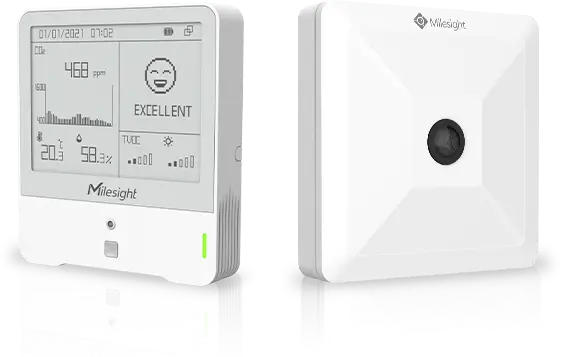 With smart sensors continuously detecting, real-time occupancy and people count data will be displayed on the online booking platform and room displays so employees can view in real-time which rooms are occupied. Any abandoned and early-ended meetings will be automatically freed up.
Compare Plans: For Companies of All Sizes
Lite Plan Standard Plan Pro Plan
Number of Rooms 3 rooms by default, expandable
Room Scheduling & Booking
Online Room Booking Grid
Room Capacity & Availablity Filter Employees can search for a best-fit room by availability, capacity, facility, location, etc.
Ad-hoc Booking
Recurring Booking
Reservation Check-in & Auto-release Recapture rooms by releasing the room availability if employees do not check in to their reservation.
Extend Meetings
Booking Permissions
Schedule Reminders & Email Notifications
Resources Management
Admin Management Portal
Users Directory & Groups
Room Management
Room Profiles Import & Export Simpliy adding and management of multiple rooms with bulk import & export of room information, including Name, Capacity, Facility, Smart Device, Location, etc.
Device Management & Upgrade
Google and Microsoft 365 SSO Single sign on with your existing Google or Microsoft account. Streamline the way your users authenticate with the system.
Interactive Room Display*
Analytics & Workplace Insights
Analytics Dashboard
Meeting Event Density & Trends
Room Utilization Data
Uncover No-Show Meeting Behavior Uncover number of ghost meetings by meeting organizers and total time saved for each meeting.
Recapture Time Insight Uncover the total time saved from the auto-release strategy of the meeting rooms by days or a given time frame.
Device Status Monitoring
Calendar Integration
Microsoft 365 Integration Check reservations, book a room, and notify your contacts straight from your daily Microsoft Outlook/Teams calendar. All schedules and changes are synced in real-time.
Google Workspace Integration Check reservations, book a room, and notify your contacts straight from your daily Google calendar. All schedules and changes are synced in real-time.
Smart Sensors*
People Counting Sensor
Room Comfort Sensor
Microsoft Teams Integration
Auto-release Triggered by Sensors