Oracle Hospitality Opera PMS Integration
Streamlined hotel front desk and housekeeping functions with automated wake-up call scheduling, call accounting, minibar charges, and more.
Category: Hotel PMS Works with:P-Series PBX System
From small economy hotels to large resorts, hospitality businesses require professional service, memorable guest experience, and systematic hotel activities to build reputation and create a loyal customer base.
This direct integration between Yeastar P-Series Phone System (Appliance and Software Edition) with hotel property management system (PMS) brings in a comprehensive suite of hospitality-centric features to reduce hotel operation costs and enable seamless hotel internal and guest communication.
Supported direct PMS integrations: Oracle Hospitality OPERA, Micros Fidelio, and PMS support other FIAS (Fidelio Interface Application Specification) TCP/IP protocol.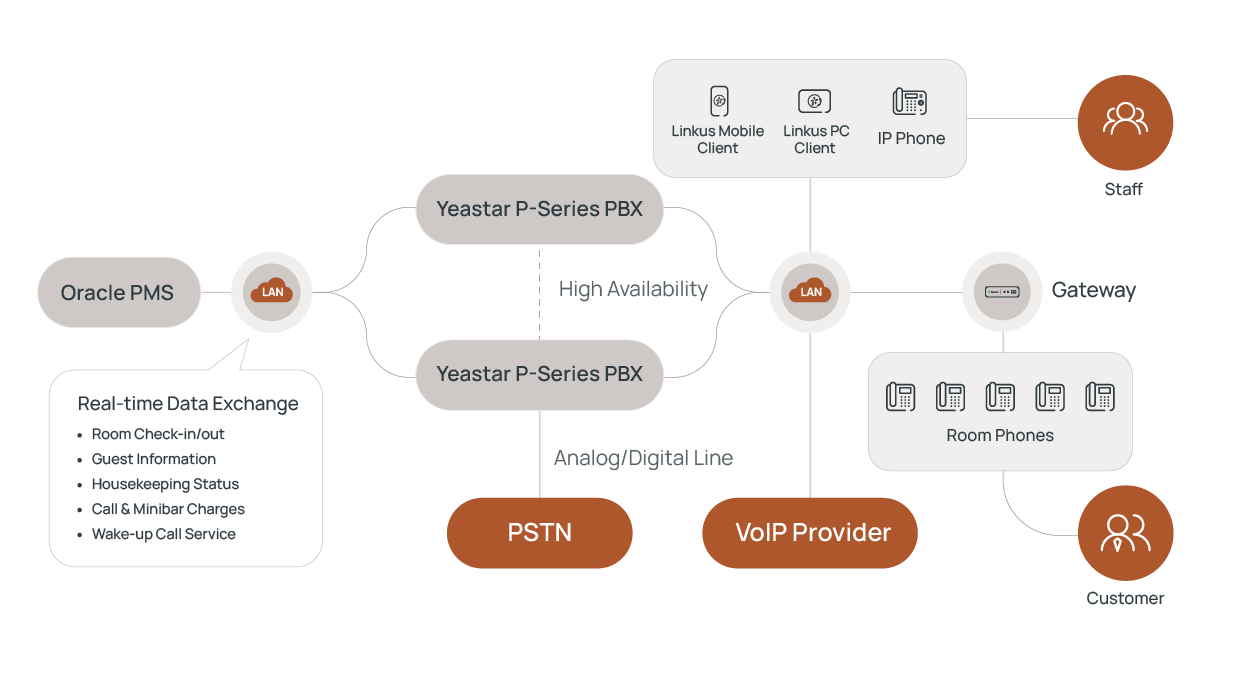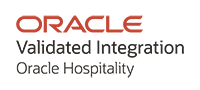 Key Features
Check In / Out operations. Yeastar P-Series Phone System receive guest-based check-in and check-out information from PMS as soon as the actions are performed and automatically do the following settings to room extension:
1. Set Extension Name as guest name upon check-in & clear the name upon checkout
2. Enable the extension to allow outbound calls upon check-in & disable upon checkout
3. Delete a room's voicemail messages and Do Not Disturb (DND) status upon checkout
Wake-up Call Scheduling. Automate the wake-up call services scheduled on PMS.
Call Accounting. Automatically collect room call data and add charge to guest bills. The phone charges can be calculated by the PBX with its inbuilt call accounting feature, or to be calculated by the PMS with all-related call data sent to PMS.
Minibar Charges. Allow housekeeping to post minibar charges by dialing a digit code on the room phone.
Room Status. Allow housekeeping to set room housekeeping status by dialing a predefined digit code on the room phone.
Room Move. When guest change rooms, automatically update the guest's name to the new room.
Do No Disturb (DND). Receive a notification from PMS whenever a guest requests not to be disturbed and automatically set room phone status to "DND".
Key Benefits
Always show guest name on phone when they call and personalize greeting
Have everything ready for billing when guest check out
Streamlined operations for front desk and housekeeping, remove information gaps
Prerequisite
The integration requires the purchase of Hotel PMS integration Add-on, and currently only supported on P-Series Phone System Appliance edition and Software edition.
Featured In
P-Series PBX System
PBX plus more. Available as cloud, software, or hardware.
.
Quick Start Reference
Only for P-Series PBX Appliance and Software Edition.
Your PBX firmware version must be XX.11.0.56 or higher.
Log in to the PBX management portal, go to Plan > Add-on Subscription to enable the Hotel PMS Integration Add-on
Go to Integration > PMS to enable the PMS integration, and follow the instructions on the page to set the integration, Room Extension Group, Wake-up Call services, and more services.
For more information, please refer to the integration guides below.
Requirements (PBX)
Support on P-Series Appliance/Software
Require Hotel PMS Integration Add-on Subscription
Firmware Version XX.11.0.56 or Above
Requirements (PMS)
OPERA 5 (version 5.6) or OPERA Cloud or Micros Fidelio
IFC8 Version: 8.15.0.0
FIAS Version: 2.20.25
x
Contact the Developer
Please contact the developer to get the app or for tech support
Developer Websitewww.yeastar.com
Phone Number15362541254
Support Emailtest@yeastar.com
Support Websitewww.yeastar.com