Call Center Solution
Every SME needs a call center solution to
Deliver exceptional customer serviceMaximize agent efficiency
See Plans
Watch Video
PBX Plus More. It's More Than A Call Center
Make way for both your internal & external business communications. Yeastar P-Series PBX System tightly integrates call center and unified communications capability to put everything you need on a single, integrated system. With it, utilize the best-in-class automatic routing, effective agent tools, and up-to-the-minute analytics & reports, together with the superior built-in phone system and UC&C functions to impress your customer, empower your agents, and elevate your business.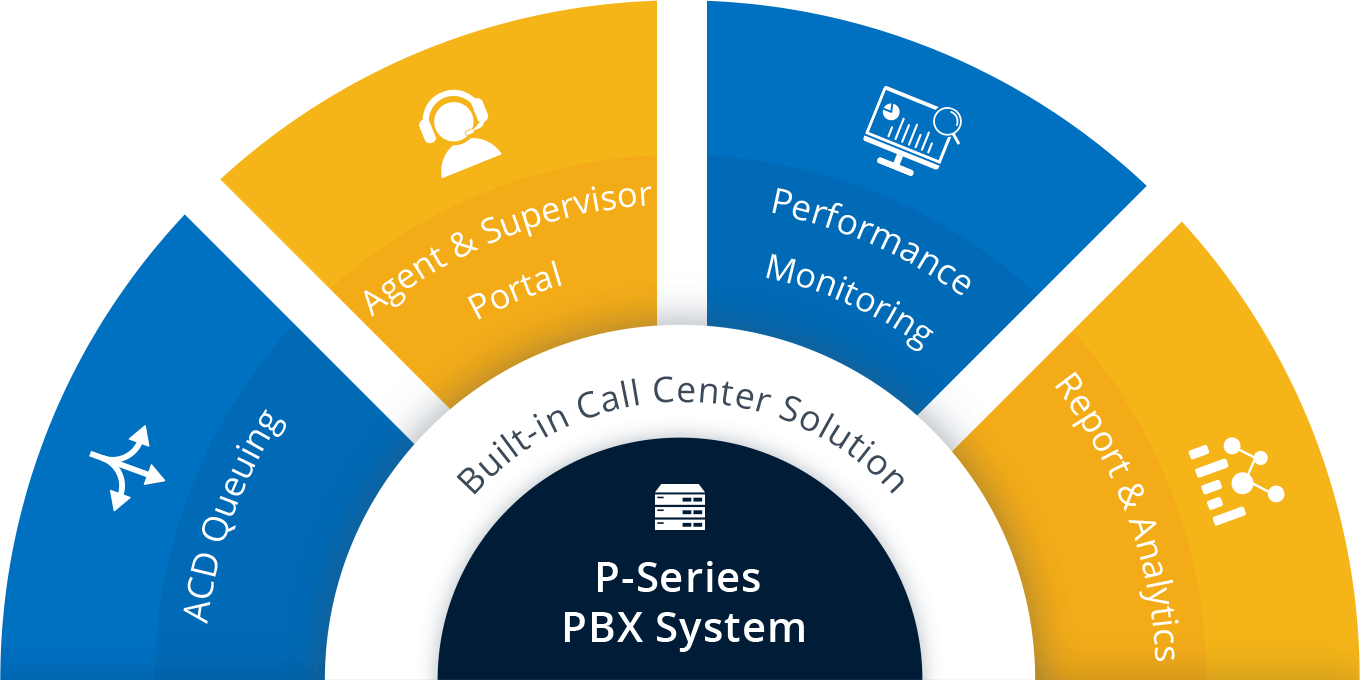 Automated Call Distribution
Agent & Supervisor Portal
Instant Performance Snapshot
Connect customers with the right agents at the right time. Take advantage of advanced automatic routing, 6 pre-defined ACD queueing (ringing) strategies, customizable IVR options and more features that drive faster call resolution.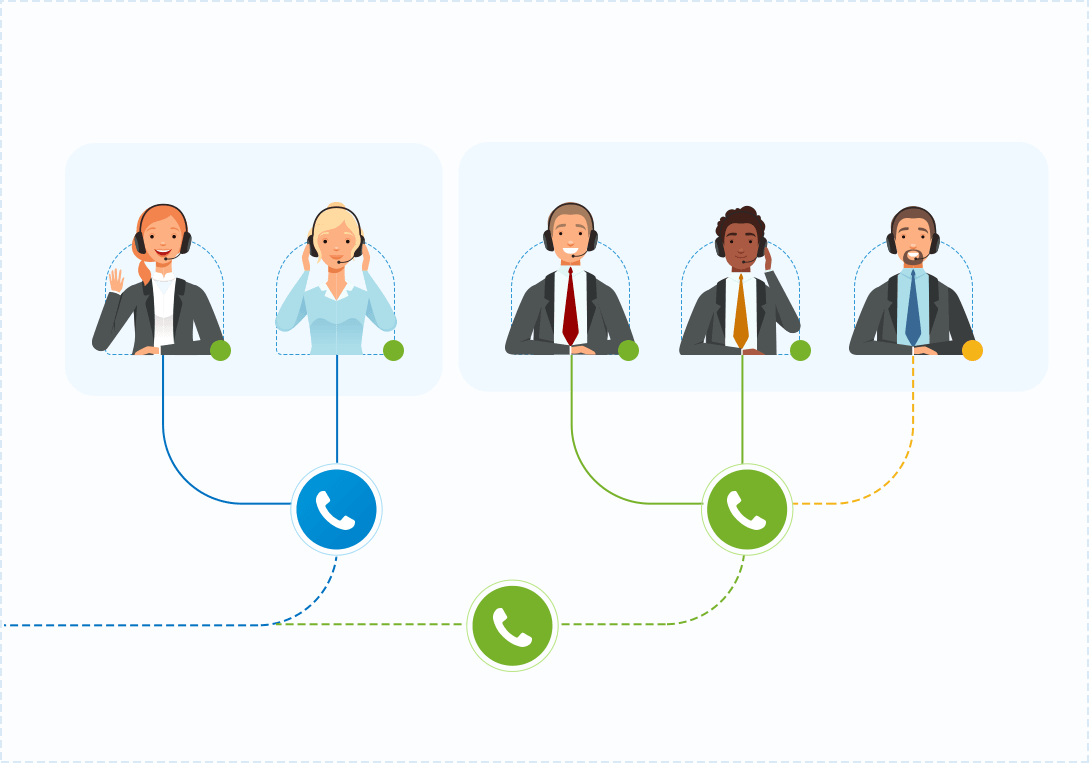 Time-based Routing Choice-based Routing with IVR ACD Queuing Simultaneous Call Distribution (Ring All) Fixed-Order Call Distribution (Linear) Rotary Call Distribution (Rrmemory) More in the brochure
Provide all the tools your agents and supervisors needed in one single interface. The dynamic, streamlined Queue Panel makes it easy for you to monitor queue traffic, check & switch agent status, and quickly conduct call operations like transfer, monitor, parking – within drag & drop or a simple click.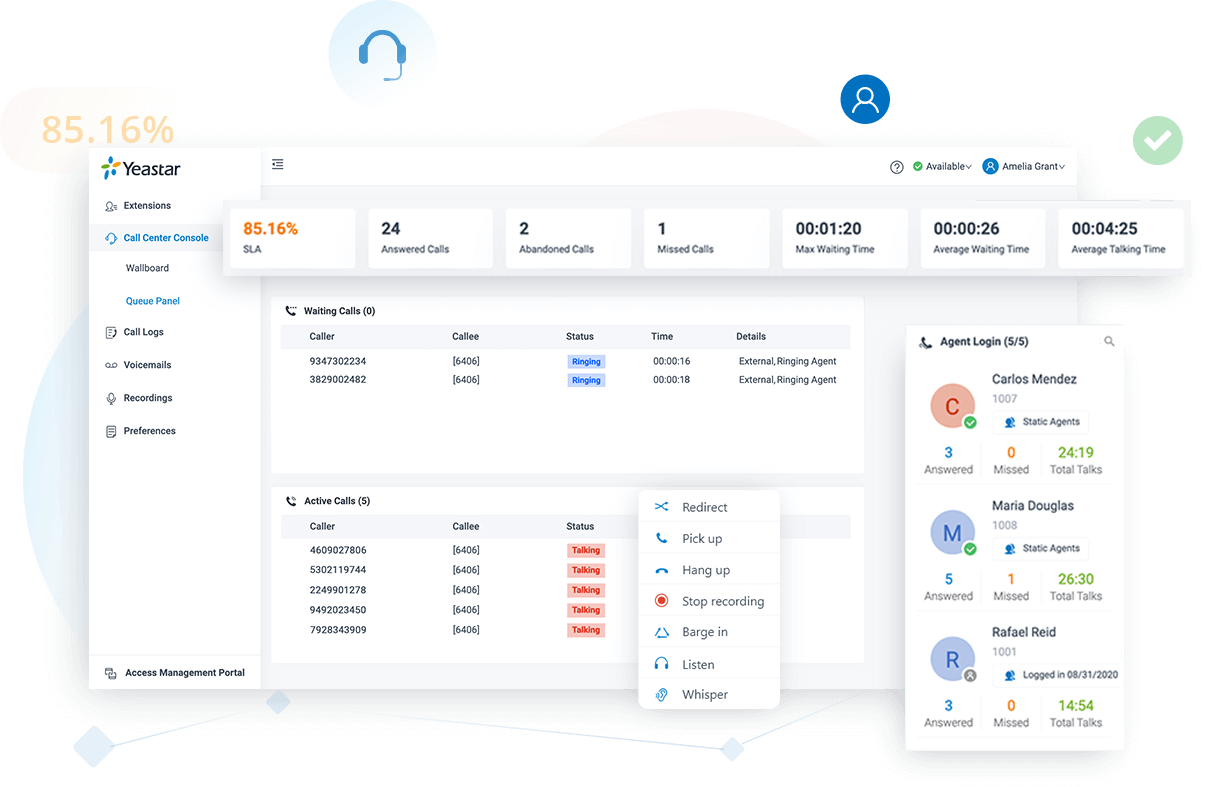 Drag & Drop Call Management

Visualized Active & Waiting Calls

Complete View of Agent Status

Real-time Queue Metrics Display

Role-based Feature Access Control
Discover up-to-the-minute call center metrics and key performance indicators (KPIs) from the central call center Wallboard. All data are auto-calculated in real-time, daily, weekly, or monthly interval for your in-depth call center monitoring, management & optimization.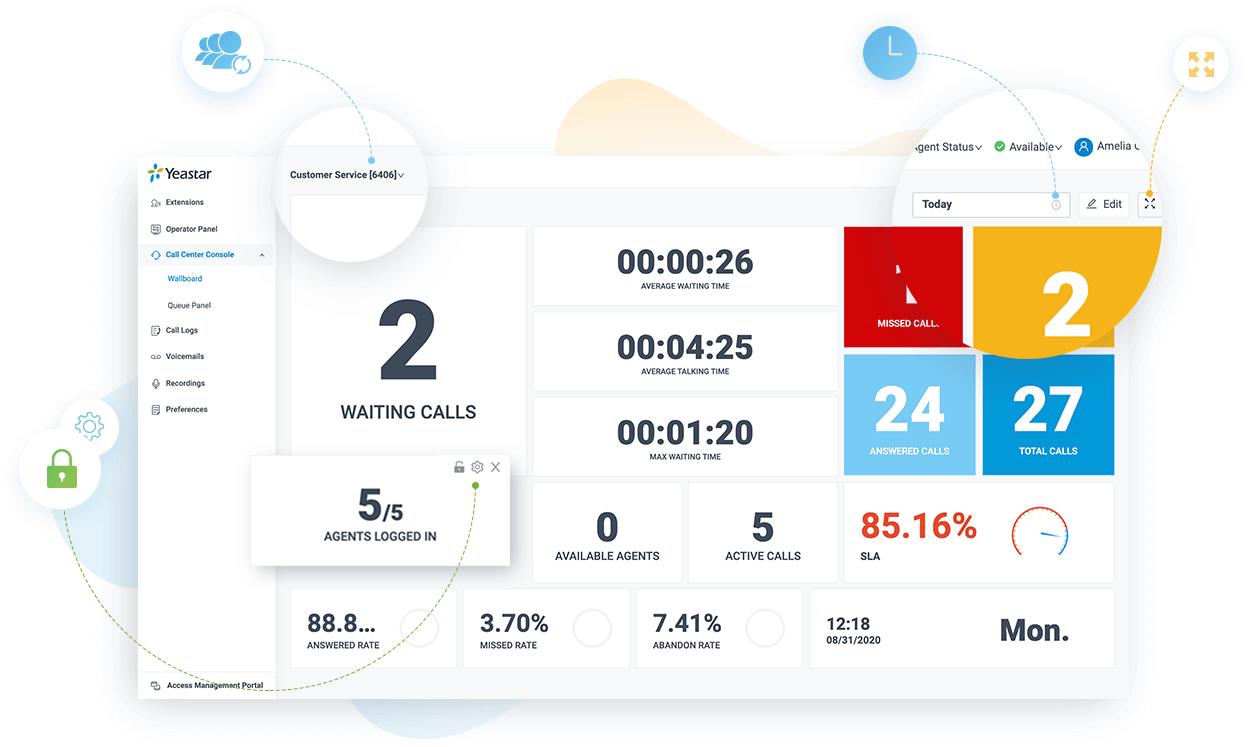 17 Key Performance Metrics

Real-time Monitoring

Flexible Calculation Time Frame

Customizable Widgets

Multi-screen Display
Better Customer Service Starts Here
Enriched call center functionalities to help you deliver exceptional customer services.

Add self-service options

Combine automated IVR with self-service prompts to let customers help themselves without agent intervention and speed up the call flow.

Customize waiting experience

Proactively serving waiting customers with helpful info – the estimated wait time, queue position, and custom announcement – and providing advanced Queue Callback option.

Fine tune the call flow


Spot queue traffic trends at a glance in Queue Panel and adjust agent staffing and call dispatching in time to boost call center efficiency.

Access agent monitoring

Course-correct agent behaviors easily through whisper coaching, silent monitoring, call barge-in and call recording functionality.

Set SLA for quality assurance


Auto-monitoring your predefined Service Level Agreement (SLA) on Wallboard and receive real-time alerts when it reaches the threshold.

Conduct satisfaction survey


Help your agents grow and improve with actionable insights delivered directly from in-depth post-call surveys and customer satisfaction reports.
Stronger Data,
Easier Management
Get access to 8 advanced call center reports. Easily spot issues and opportunities in your call center with comprehensive view of agent-specific operational metrics, call parameters, and panoramic queue statistics.
You can run targeted analysis of your call center data based on custom timeframe/agent/queue selection, share the real-time or historical reports with your team in graphical, downloadable formats, and schedule reports to be run periodically in the future.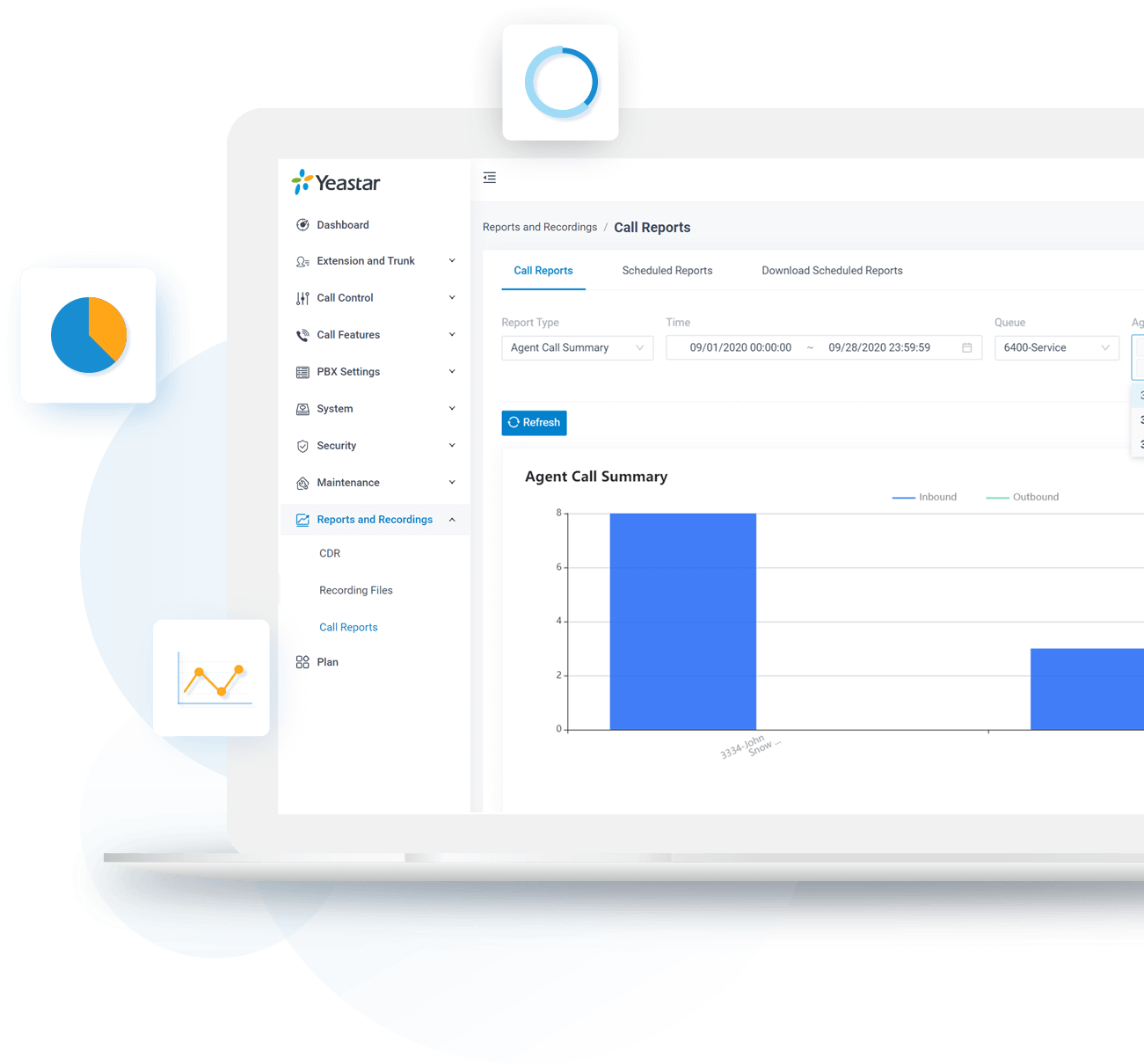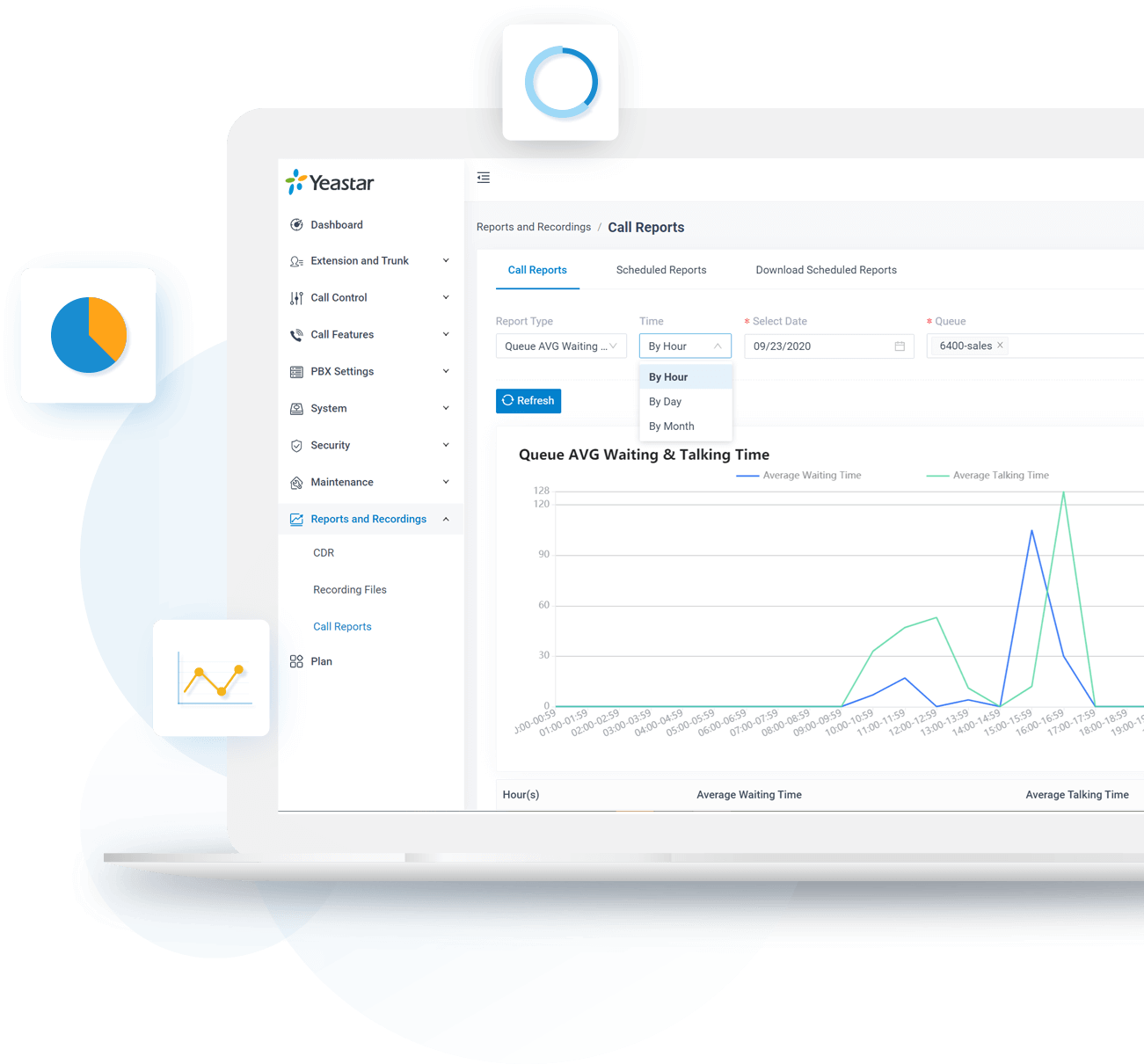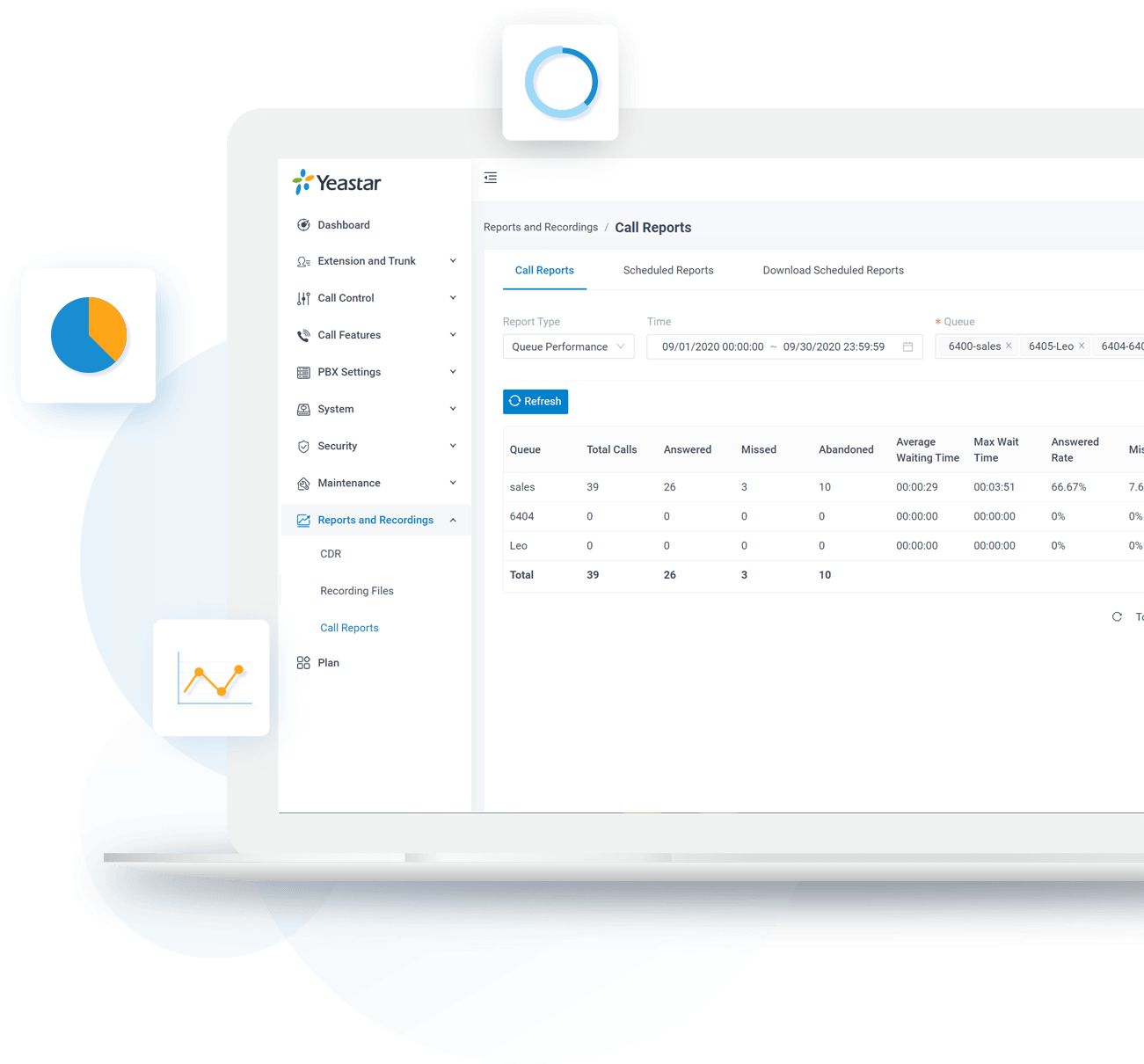 P-Series PBX System Call Center Features and Plans

Premium call center features are only available with P-Series Enterprise Plan and Ultimate Plan subscription.
Time-based Call Routing
Interactive Voice Response (IVR)
Call Queue
Queue Ringing Strategies
Self-Service Prompts
Music on Hold
Custom Announcements
In-Queue & Estimated Wait Time
Dynamic & Statistic Agent
Agent Login/Logout
Agent Pause/Unpause
Call Presence (Agent Status)
Call Monitoring
Call Recording
Post-Call Surveys
Need more details about P-Series PBX?
"PBX Plus More" for elevated SME business communication.
Learn More
Ready to subscribe and enjoy the service?
Select your plan, choose PBX deployment mode, and get started today!
Compare Plans
Contact us today to get more information!