IVR, short for Interactive Voice Response, is a technology that allows phone system to interact with callers through touch-tone telephone keypad input. Its main function is to collect information and direct calls to the appropriate destination via various options. When you contact a company for the first time, you will typically encounter a voice menu, which is part of the IVR system.
The IVR system is commonly used in customer service and call center environments to automate interactions with callers. It can provide pre-recorded information, route calls to the appropriate department or agent, process payments,conduct surveys, and more. By using IVR, we can efficiently handle incoming calls and provide navigation to callers.
What can you do with IVR?
IVR finds extensive applications in various industries such as hospitals, banks, and more to provide 24/7 accessibility and reduce human resources cost. Some examples of processes that IVR can do include:
Customer inquiries and support
Call routing and transferring
Account balance inquiries
Automated bill payment
Interactive menu navigation
Order tracking and status updates
Appointment scheduling and reminders
Survey and feedback collection
How Interactive Voice Response works?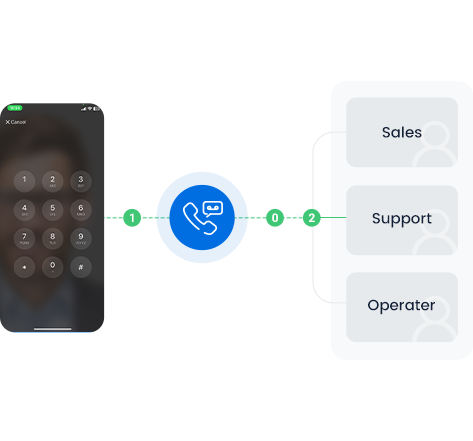 The primary component of Yeastar IVR feature is Dual-Tone Multi-Frequency signaling (or DTMF). Backed up by the touch-tone techonology, it enable intelligent call routing without manual intervention.
Yeastar IVR utilizes customizable voice prompts to provide callers with instructions and directions. Based on customer selections from voice menus, the IVR system seamlessly connects them to individuals, departments, and more.
Multi-level IVR
For enhanced menu classification and precise call routing, Yeastar offers a multi-level IVR option. This feature allows you to assign new IVRs to specific IVR options, providing flexibility in interaction menu classification, such as dividing a sales department into regions for more accurate call routing.
IVR in Yeastar Call Center
Yeastar phone system provides a robust call center solution that includes a self-service IVR to streamline the agent work folw. Along with a suite of advanced features like automatic queue callback, operator panel, and more, the call center tightly connect your customers to agents, making it simple to provide 24/7 of services and enhance the overall customer experience. Learn More
How to set up an IVR on your Yeastar PBX?
.
Before setting up an IVR on the Yeastar phone system, it is necessary to record or upload a custom prompt that will provide callers with the IVR menu. The phone system offers user-friendly menu creation options, making it easy to set up and adapt to evolving requirements. For step-by-step guide on how to set up the IVR, please refer to the links below:
For P-Series Phone System: Appliance Edition | Software Edition | Cloud Edition
For S-Series VoIP PBX: Configuration Guide
Is IVR feature included in my Yeastar phone system?
.
Yes. Like most of business telephony features, it's included in all Yeastar PBX series at no additional costs.
What is the difference between IVR and auto attendant?
.
These two features can be considered the same from a larger scope. They both allow you to interact through a call flow tree, without needing a phone operator or human to intervene, and they guide you to the right destinationby series of scripted prompts.
However, there is a distinction between the two. IVR is a broader term referring to the technology that enables automated interaction with callers, while an auto attendant is a specific function within an IVR system that answers calls and provides menu options for call routing.
Can Yeastar IVR supports different languages?
.
Yes, the Yeastar IVR system can support different languages. As an administrator, you can upload language packs in various languages, allowing the IVR system to operate and interact with callers in different languages.
What keypress events can be handled by IVR?
.
The Yeastar phone system's IVR is capable of managing various keypress destinations, including extensions, voicemails, ring groups, conferences, and more. Additionally, you can easily dial by the user's name or enter another IVR menu as needed. Learn more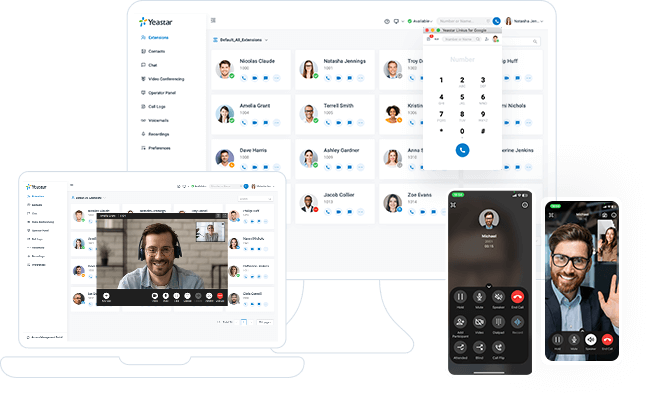 Complete Communications Solution
Available both in the cloud and on-premises, Yeastar P-Series Phone System unites calls, video, omnichannel messaging, integrations and more in one simple system for your seamless communications anywhere.
Get started with 30-day free trial
Create your Yeastar phone system in minutes & see what all-in-one communications can do for your business today.