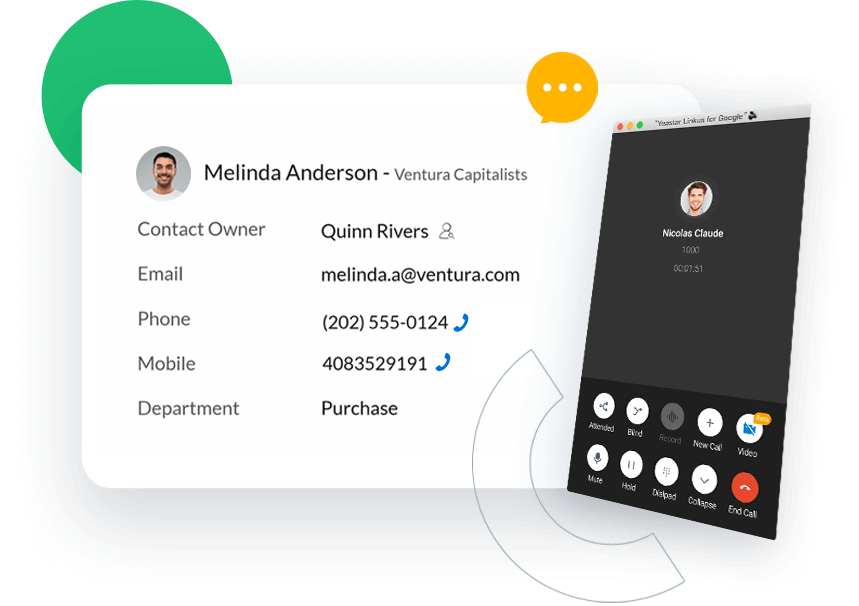 Both your CRM and business phone system are vital tools to keep track of business interactions with customers. And merging the two achieves the best performance of both. Using VoIP-CRM integration allows you to auto-exchange data between two platforms and build relationships one conversation at a time. Your agents, representatives, or managers can boost efficiency with streamlined dialing, auto call logging, and provide a happier experience with real-time customer info upon incoming calls.
Yeastar PBX systems are CRM-friendly and support integration with popular CRM solutions with access to Asterisk Management Interface (AMI). Read on to learn what CRM platforms and integration features are supported now.
Rich Integration Features with Stunning Simplicity
Single Click Dialing
Dial faster and with fewer mistakes. Stop wasting time dialing phone numbers – simply click to call right from your CRM while you're looking at leads or contacts.
Automatic Call Journal
Automatic call logging makes manual data entry a thing of the past. Your call data will be synced to your CRM in real-time to help you keep track of every conversation.
Live Call Pop-up
Get caller insights instantly with live in-call screenpops that display your contacts profile and history whenever your customers call you.
Create New Contacts
Automatically create a new contact when a call is received from an unknown number and supplement the new contact profile easily while you are still in a call.
Unified Communications
Enjoy all advanced features of Yeastar PBX System that drive easier call handling, team collaboration, and mobility: IVR, Call Recording, Linkus UC Clients…
Lead Management
Maximize interactions with staff and clients with all tools and data in one platform – call handling, customer details, and history records, eliminating the grunt work.
These features are highly dependent on CRM and may not be supported on all CRM platforms.
Contact us today to get more information!