Ring groups are the groups of extensions that ring at the same when there is an incoming call. It is often used to efficiently distribute calls to specific departments such as Sales, Support, and Accounting. It is a simple yet very nice feature that can help with the company's organization and improve customer service.
What Are Ring Groups?
Essentially, a ring group has a set of phone numbers or extensions that are bound together. Whenever a caller dials in, the auto-attendant transfers the call to that group, and all the phones ring simultaneously or sequentially (up to different ringing strategies).
That is why it is advantageous to create specific ring groups that belong to different departments, such as sales, marketing, technical support, and HR team.
It will create an organized structure and dial the phone number of every agent available in the group.
How Does a Ring Group Work?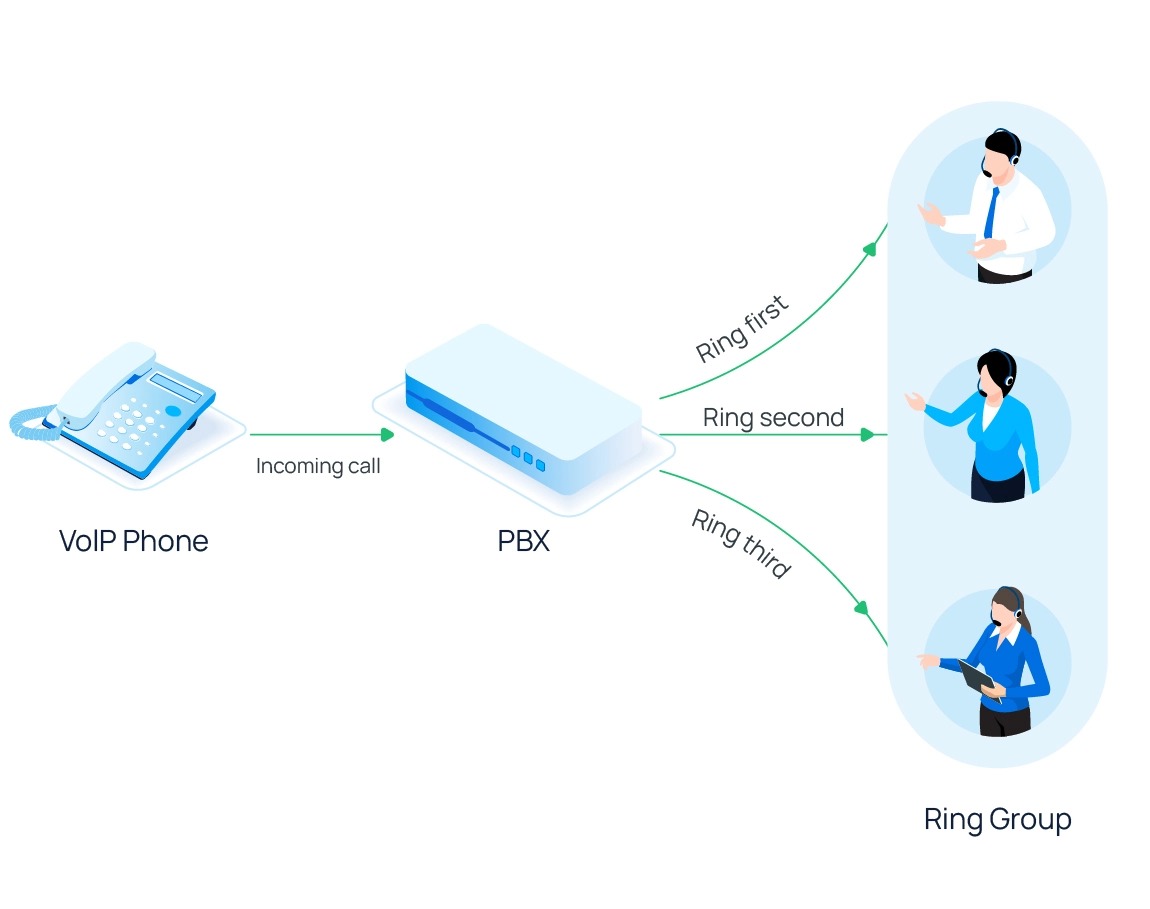 Ring groups are easy to create; however, you should approach them strategically. The basis of a ring group is that a caller can reach an agent faster, but there is also a bit more to it.
By configuring your ring groups efficiently, you can aid your business in scaling faster. Since your departments work on separate issues, any caller directed to their ring group will be immediately assisted. Therefore, define what ring groups deal with and set the ring strategy for each of them.
Types of Ring Group Patterns
When a call rings the members, you can select how it can be distributed. There are a few options to choose from: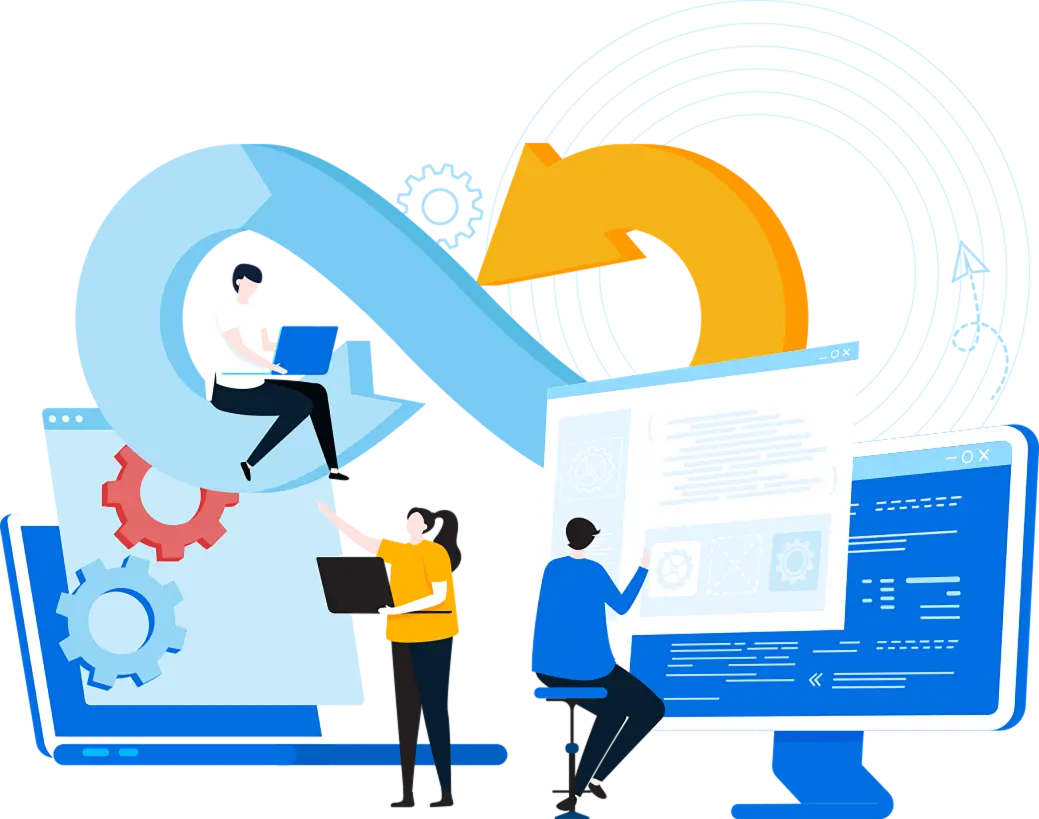 Benefits of Ring Group
Better Productivity
Receiving multiple calls at a time can cause a long waiting time for your clients. Instead of one employee receiving tens of calls, with the incoming calls distributed to different ring groups, the workload is equally divided. Moreover, if somebody is busy or out, other employees can pick up the call.
Decreased Waiting Time
Instead of queuing callers on the line, they are redirected to the group where multiple agents can assist them. This way, callers do not wait hours to resolve their issues. Ring groups efficiently reduce the hold time and improve customers' satisfaction.
Distributed Workload
Ring groups can greatly help any small business that experiences a lot of incoming calls. Having unified groups, the agents can reply to calls one by one, and the queries will be addressed to the issues they are usually dealing with. Since every ring group is linked to a department, it is easy to know where to route calls to.
Alternative Option If All Lines Are Busy
This option is a ring group's voicemail box. When all agents are busy, the client may leave the message to the whole group and as soon as the agents are back on track. Other failover destinations may include hanging up a call, rerouting to another group, or to an external number, among others.
Accessibility
A ring group can be assigned to any type of number, be it a toll-free number or a virtual number. Moreover, whenever the call reaches the group and rings members, it will be noted in the system. Therefore, if there is an issue to resolve, the ring group members will know about it.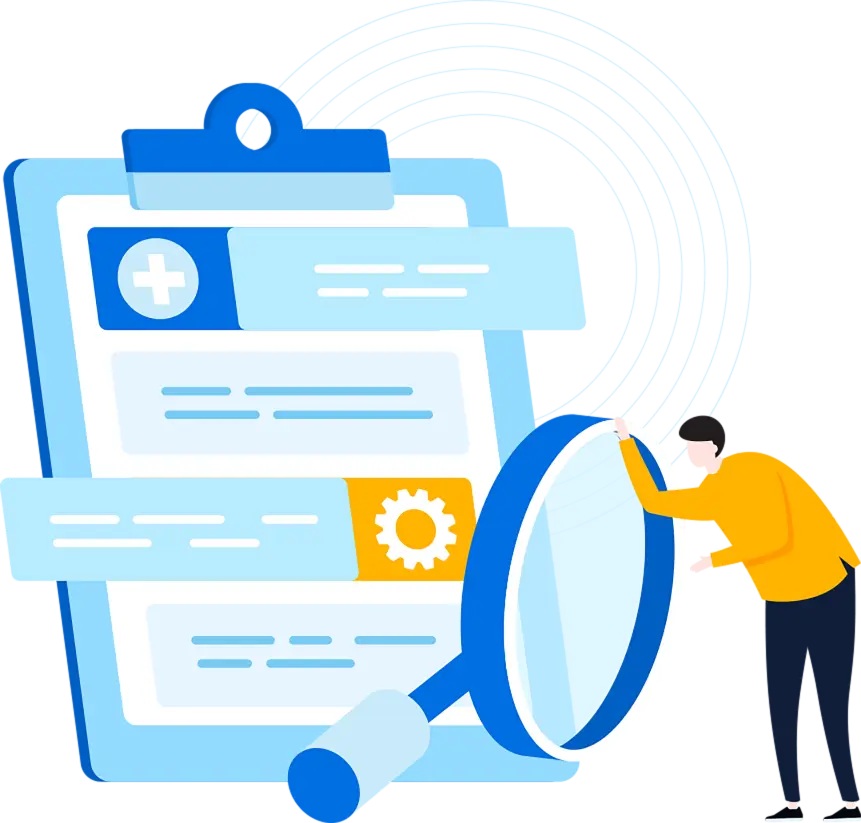 Frequently Asked Questions
What companies can benefit from the ring group feature?
Any company of a small or medium size can accelerate customer service and equally distribute the workload.
How can the incoming calls be distributed?
The way calls are distributed depends on the ring strategy that can be either ring all simultaneously (rings all members at the same time) or ring sequentially (ring members one by one).
What happens if the incoming call isn't answered?
Depending on the options you have chosen in the settings, one of the following will happen:
The call will be ended

It will be routed to IVR

It will be transferred to another group

It will be transferred to an extension or group voicemail box

It will be routed to a specific queue

It will be routed to an external number assigned in the settings
Can somebody in an office pick up the call?
An employee that doesn't belong to a ring group cannot pick up the call. In case nobody in the group is available, the call will follow a path you have set in the configurations.
Flexible Deployment Options: Cloud-based or On-premises
Available in the Appliance, Software, and Cloud Edition, Yeastar provides flexible deployment options,
allowing you to have your PBX system sited on-premises or in the cloud.
Appliance Edition
If you prefer a plug-and-play system deployed within your company to ensure complete control, the Appliance Edition is the perfect fit.
See Specifications
Cloud Edition
Want to eliminate the workload of hardware installation while having your phone system up & running immediately? This is the option for you.
Learn More
Software Edition
You make the call whether to install the PBX system on a hardware server, a virtual machine, or even in the cloud.
Learn More
You might also interest in these features