Many companies use call monitoring software to enhance the clients' experience and improve the internal processes, such as the training of the new agents. Call monitoring is a simple yet effective practice used to create an optimal training program and gather information about clients' needs, problems, etc.
There are a lot of benefits of call monitoring. It's a solution worth considering if you want to ensure the best experience for your customers and your employees.
What Is Call Monitoring?
Call monitoring is a part of a call management plan, and essentially it involves listening, recording, and improving the interactions between customers and agents. Call monitoring is often implemented in call centers or companies where much of the customer service is being carried out through the phone.
In many cases, call monitoring becomes a reasonable solution for companies that hire and train many people. Thanks to the call monitoring software, it's much easier to guide new agents, even during live calls. It's a great tool to make training more efficient in various scenarios, including training agents that work remotely.
How Does the Call Monitoring Software Work?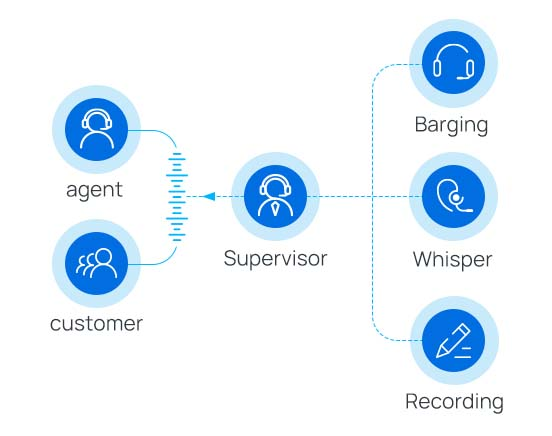 The call monitoring software gives you the opportunity to observe, listen and record agents' calls. It can be found in many business phone systems and cloud-based systems commonly used in workspaces.
With its help, you can easily take action if the situation requires it. A coach or supervisor can intervene on the spot when the agent needs support, or the call has to be taken over. You are able to join the live calls, much like during the conference, to resolve any issue by guiding the agent with or without the client's knowledge.
What Advanced Call Monitoring Features Can Improve Your Call Center Performance?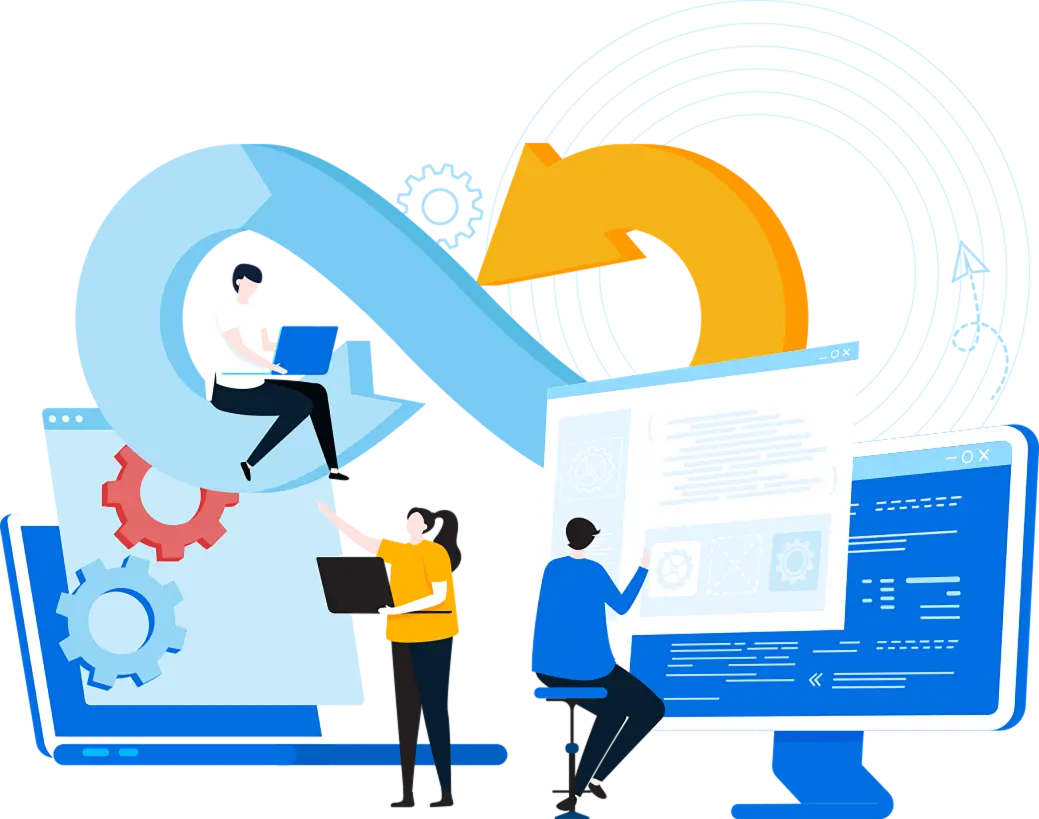 Benefits of Call Monitoring
Quality Assurance
Call monitoring help ensure the best call quality and customer service. Call monitoring software is a tool to control the quality of your services, streamline quality monitoring, catch potential problems and solve them so they don't impact the call center performance.
Enhancement in Coaching
Training is the key part of every employee's journey. With call monitoring, the coaches have perfect conditions to work with agents in active call situations, where they can instruct them on the spot. This kind of feedback is a great help for agents in training that can quickly improve their performance.
Fast Intervention
Coaches and supervisors can quickly join the call, assist the agent, or step in the call altogether. There is no need to transfer customers and keep them on the line. Everything can be done during just one conversation, which positively influences the clients' experiences.
Remote Training
Call monitoring software is a great solution for call centers and other businesses that have teams working remotely to improve the agent performance and provide the best quality of the services. This way, agents can count on immediate support from their supervisors regardless of locations.
Compliance with Regulations
Call monitoring can help ensure that all employees are following policies, procedures, and regulatory guidelines related to customer calls. This can include how they handle complaints or inquiries as well as whether they are taking steps necessary to resolve any problems that arise during calls.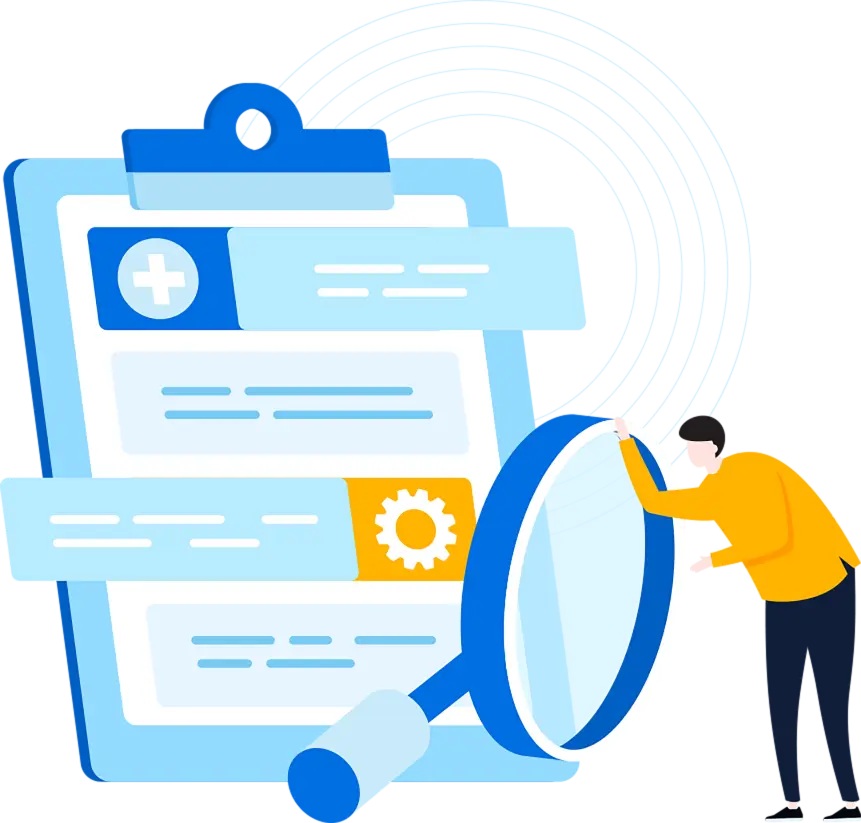 Call Monitoring FAQs
What businesses can benefit the most from call monitoring?
Call monitoring has a wide range of applications and can help any business that uses phone calls as part of its daily operations, including:
large sales teams with multiple people making outbound calls

companies and organizations that receive a lot of inbound calls

businesses that have an in-house call center
Call monitoring can also be beneficial to small businesses who rely heavily on customer service. It helps them make improvements to their customer service procedures, leading to higher sales conversions rates.
As long as your company provides customer service through the phone, you can benefit from including call monitoring software in your business phone system.
Does Yeastar Business Phone System Include Call Monitoring?
Yes, Yeastar offers business phone systems with various call handling features, including call monitoring. Yeastar P-Series PBX System supports the following monitoring modes:
Listen mode
Allows the authorized user to listen in on a call in real time, but can NOT talk with either party. It is often used for supervisor to track the daily actions of sales representatives and evaluate their performance on the sales process.
Whisper mode
Allows the authorized user to listen in on a call in real time, and directly talk with the monitored extension without being heard by the other party. It is often used for supervisor to coach remote sales representatives and train them as they work on a sales call.
Barge-in mode
Allows the authorized user to listen in on a call in real time, and talk with both parties. It is often used for supervisor to help sales representatives handle a difficult objection and move deals forward.
Why Is Call Monitoring Important?
A lot can be achieved with the right tools and educated staff. Call monitoring is important for a few reasons. These would be:
Services quality assurance

Getting accurate feedback from the clients

More efficient training of the staff

Immediate assistance in complex cases

A lot of flexibility in conducting your business, including working remotely.
How to Establish an Effective Call Monitoring Strategy?
Developing the right call monitoring strategy can considerably improve the workflow and broad understanding of what your staff should be working towards. A few elements can contribute to the success of such a strategy. Here's what a good call monitoring plan includes.
Determine What You Want to Achieve
You need to know the purpose of your call monitoring strategy and figure out the type of calls that you want to monitor. For example, if the main reason for your call monitoring is customer satisfaction, then it would be best if you were monitoring customer service calls only. If your aim is to reduce employee turnover rate or improve employee productivity then it may be beneficial for you if you could monitor all types of internal and external calls.
Being Mindful of the Quality of Agents' Performance
Usually, there is more than one metric that tells us something about the agents' performance. One aspect that is often taken under consideration is AHT, which stands for average handling time. Many call center managers emphasize this metric, but it would be a mistake to only focus on the AHT.
A call monitoring system allows your managers to access call recordings and evaluate another significant factor: the quality of services that agents offer. It's common that agents who spend more time with the client provide better service. That is why it is always important to have a complete picture when evaluating agents' performance. Call monitoring software gives you that chance.
Promoting Self-Assessments
One of the best ways to ensure the best quality of services is to equip employees with self-assessment tools that will allow them to see their progress and learn from their previous interactions with the customers.
This would include tools like evaluations sheets, training sessions focusing on building agents' confidence, and other learning tools.
Selecting the Right Call Monitoring Software
Of course, even the best call monitoring strategy might not be effective if we are forced to work with a system that does not fit our needs. That is why choosing the right call monitoring software is crucial.
It's important to find a solution that will give you freedom in how you conduct your business. At Yeastar, we offer products that will make your work much easier on almost every level. Our business phone systems offer call monitoring, Interactive Voice Response, post-calls surveys, real-time reporting, etc.
Sharing the Responsibilities with Others
To guarantee the managers and agents have the best conditions to perform their tasks and they are not too overwhelmed with the responsibilities, it might be a good idea to create teams that will take over some of the decision-making processes when managers are preoccupied with other projects.
Special call monitoring task force or team could be a great way to prepare the best agents for the roles of managers and free some of the managers' workload. Their responsibilities could include scheduling training sessions, being helpful support for the new agents and updating resources, etc.
Flexible Deployment Options: Cloud-based or On-premises
Available in the Appliance, Software, and Cloud Edition, Yeastar provides flexible deployment options,
allowing you to have your PBX system sited on-premises or in the cloud.
Appliance Edition
If you prefer a plug-and-play system deployed within your company to ensure complete control, the Appliance Edition is the perfect fit.
See Specifications
Cloud Edition
Want to eliminate the workload of hardware installation while having your phone system up & running immediately? This is the option for you.
Learn More
Software Edition
You make the call whether to install the PBX system on a hardware server, a virtual machine, or even in the cloud.
Learn More
You might also interest in these features