BACK
The New Channel Opportunity: Help Your Customers Go Hybrid
4.4 min read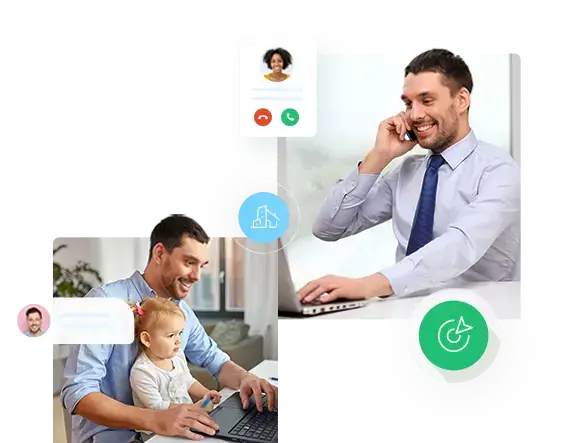 The hybrid work model is taking hold with employees spending their time between working remotely and in the office. With the new norm comes new business demands. The key to a successful hybrid strategy is to support employees everywhere to work together effortlessly, which requires the right technologies and IT infrastructure to back it up. Communications is one of the centerpieces among the essentials that create the foundation for hybrid work.
Where's the Opportunity for the Channel?
The pandemic has witnessed business communications upgrades, or even overhaul, among lots of companies as it is a necessity to empower the remote workforce. However, some quick fixes are just meant for short-term use, leaving more or less of a mismatch in needs in a hybrid workplace. As businesses re-examining their communications investments for hybrid work, if service providers and telecom resellers can help them spot on the gap and build a proper strategy, there is a real opportunity.
UCaaS: Subscriptions Make Sense
Converging voice, video, messaging, etc., unified communications is no doubt the way to go. Businesses have the option of implementing it on-premise, in the cloud, or as a hybrid solution that mixes both. UCaaS, a cloud-delivered unified communications model, has been gaining popularity as remote working and hybrid work become the norm. There's a good reason why, it is flexible, feature-loaded, and easy to use, breaking down communications barriers and silos.
For channel partners and resellers, UCaaS holds another significance in that it enables them to go beyond one-off sales. The "as-a-service" subscription-based business model is far more profitable in the long term and helpful in building stronger lasting customer relationships.
For those who are looking to add best-in-breed UCaaS to their portfolios, Yeastar offers an OpEx turnkey solution that requires no server to get started. The service is fully managed by Yeastar over a high-availability architecture. You can flexibly bundle, package, and monetize your own service for margin-rich recurring revenue streams. Yeastar Central Management (YCM), our UCaaS service delivery platform, allows you to create PBX instances in a minute, scaling up and down with clicks, and delivering a complete unified communications solution. What about a trial of the turnkey solution and YCM for evaluation? Click here.
Everything in One Place: Equity of Experience
Today many UC vendors offer native UC clients to enable anywhere-anytime communication. According to Gartner, by 2024, 75% of enterprise workers will no longer require a desk phone, up from 30% in 2020. Usage of UC clients continues to climb, and the rise of hybrid work will give it another boost. Not only does UC clients offers greater flexibility by allowing employees to stay connected using their personal devices, but it also caters to a key principle of the hybrid strategy – equity of experience.
On one hand, UC clients work as office extensions that you can take on the go, offering remote workers the same communication experience as their colleagues in the office. On the other hand, call logs, contact information, voicemail, and other data are synced in real-time for a single point of access. This way, there is no difference where the employee is working from.
Take Yeastar Linkus UC Clients for example. Instead of jumping around among different platforms and applications, employees scattered everywhere can access a full suite of UC tools and features through a single user interface across desktop and mobile devices.
Download Linkus Web, Mobile, & Desktop Clients
Secure Remote Access for On-prem Systems
As we all know, cloud technology has made remote work more accessible. However, for those who are not fully prepared for an overarching cloud adoption strategy, or who prefer on-site deployments out of security concerns, they might expect to survive the pandemic with a temporary remote working solution but have not yet established long-term plans for hybrid work. Again, opportunity knocks.
Remote Access Service for Yeastar P-Series PBX System set an example for this. This hybrid cloud tunneling service is designed to propel on-premises Yeastar PBX on fulfilling telecommuting demands. It comes with Yeastar-supplied domain names for custom PBX URLs and allows employees to perform daily business communications and administration with Linkus UC Clients (web, mobile, desktop app) anywhere with internet connections. It is just a click away to enable the service, then risky port forwarding, NAT issues, complicated network setup, and other tedious configurations will all be things of the past.
Open and Integrated, Without Extra Hassle
The pandemic has accelerated digital transformation with companies leveraging new technologies and innovations to cope with remote working. Some are predicted to remain popular in hybrid work environments. For example, Microsoft Teams has seen a rapid rise in usage for the past 2 years and now reaches 270 million monthly active users. Whether you offer a solution that works with these technologies easily, quickly, and seamlessly is critical to standing out from the competition.
At Yeastar, we are determined to deliver proven interoperability and seamless integration. Yeastar PBX system works perfectly with a bunch of IP phones, headsets, SIP trunks, CRM, intercom, and other 3rd-party systems. We take an open approach to help you tap into the broader unified communications ecosystem with a fully integrated system and provide customers with uninterrupted business communications.
Don't Compromise on Customer Experience
The hybrid work model is also taking over call centers. Done right, it could help call centers improve operational efficiency, access a wider range of talent, cover more locations and time zones, and mitigate disruptions. It all starts with equipping every agent and supervisor with proper tools, regardless of where they are working from.
Yeastar call center solution paves the way for a hybrid working call center. With Linkus Web Client, in-house and work-from-home agents can all easily access everything needed in one place, including drag & drop call operation, visualized active & waiting calls, presence status of colleagues, real-time queue metrics, etc. On the other hand, detailed reports and real-time wallboard allow supervisors to have a clear picture of how the call center is running, so as to effectively identify potential issues and opportunities, without having to stay at the same place as the agents.
Wrap up
Hybrid work may still be an uncertain and unfamiliar practice for many companies and the future of work varies depending on specific challenges and needs, yet we know one thing for sure – higher agility is what every business pursues, and this is where channel players can build off that momentum and capitalize on.
If you are looking to serve customers in the process of returning to the office, staying remote, or anywhere in between, Yeastar delivers a fast, smooth, and flexible unified communications solution to help you set the ball rolling.