Meeting Room Booking System
Easily Find and Book the Most
Suitable Meeting Space
Smoother scheduling. Happier employees. Higher productivity.
Designed for modern offices and the future of work, Yeastar Workplace is a one-stop workplace management solution for businesses to make better use of their meeting rooms and other workspace resources. A better meeting culture starts with scheduling. With an online booking platform, room displays, and smart sensors, this meeting room booking system helps streamline space allocation, save in-person collaboration from unnecessary scheduling conflicts, and achieve effective space management.
Sick of the hustle and bustle of
meeting management & room scheduling?
Double Bookings
Ghost Meetings
Stolen Rooms
Requirement Mismatch
Complicated Booking Process
Lack of Equipment
Interrupted Meetings
Room-by-room Search
Administrative Costs
Room Squatting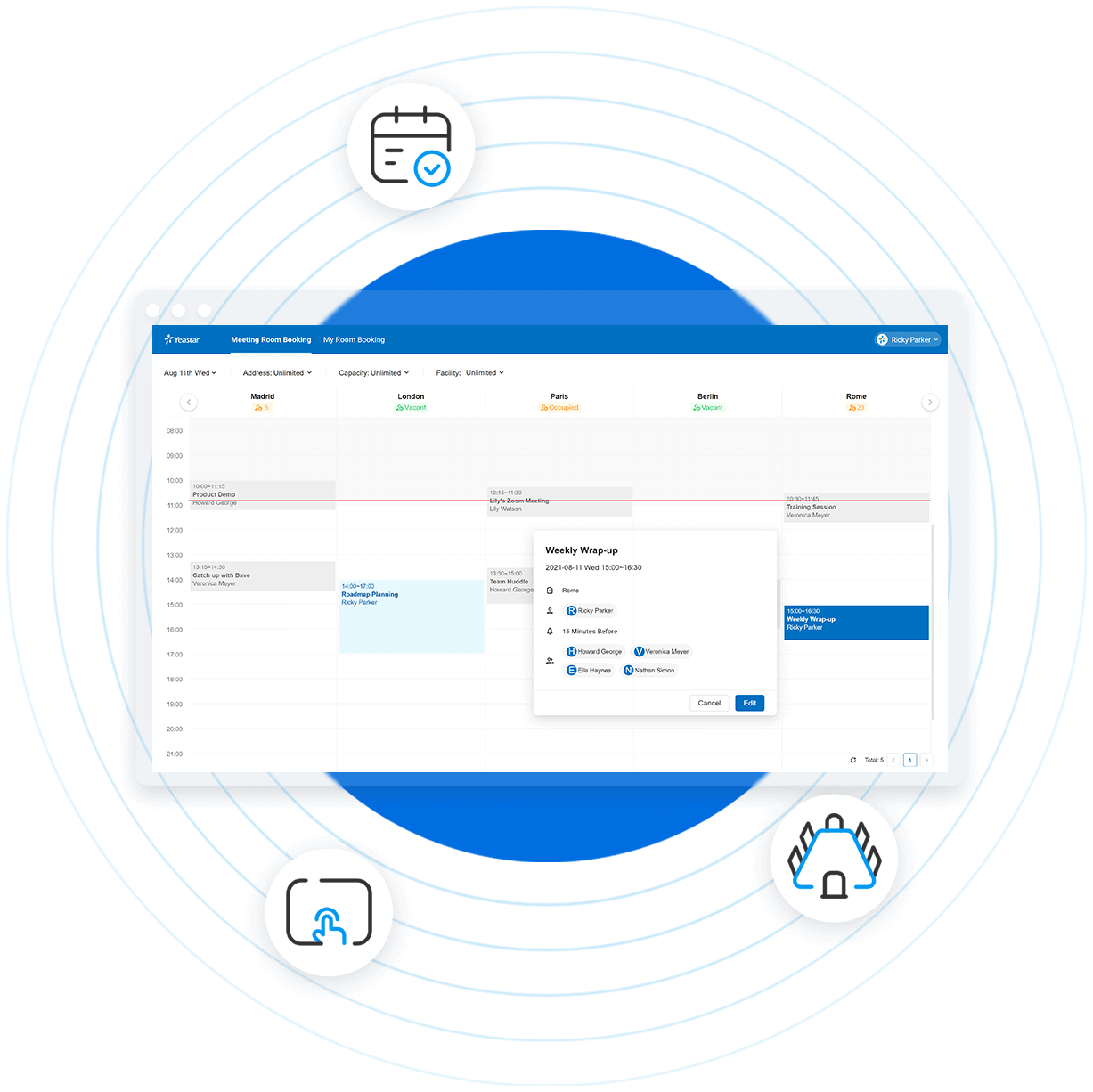 Meeting Room Reservation System
Click to book through a user-friendly online platform
Switch from outdated manual booking to an intuitive easy-to-use meeting room booking software.
Without walking around from room to room, see all the bookings in a bird's eye view, whether for the moment or the future.
Filter by location, seating capacity, and amenities to find an available room that best suits your schedule and needs.
Simply click the time slot to make a reservation. Add attendees to notify them by email after reserving a meeting room.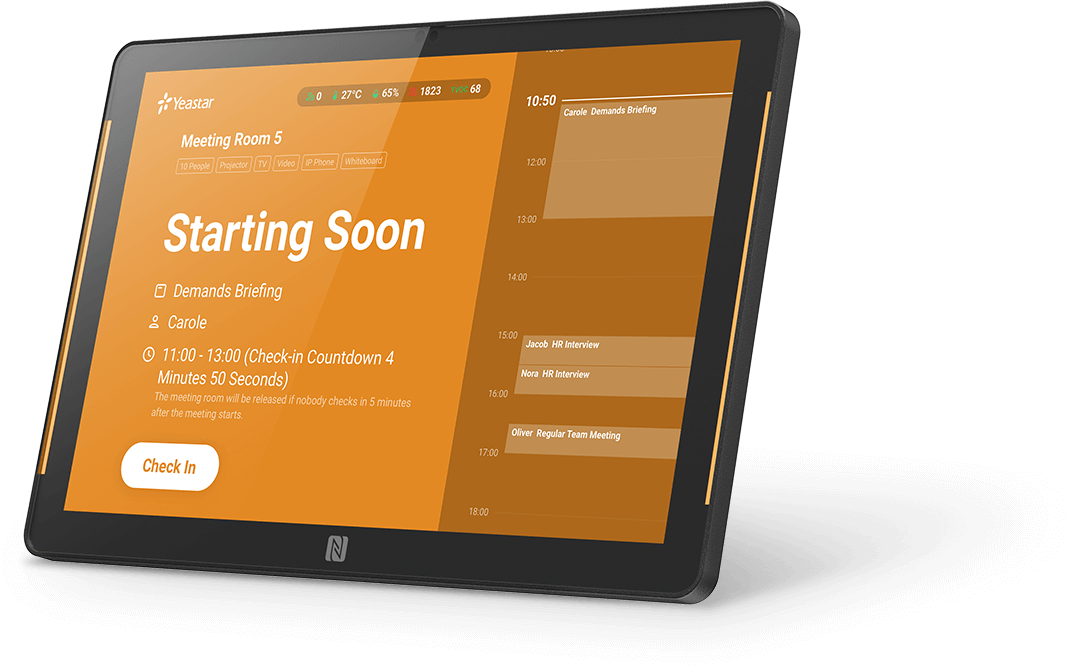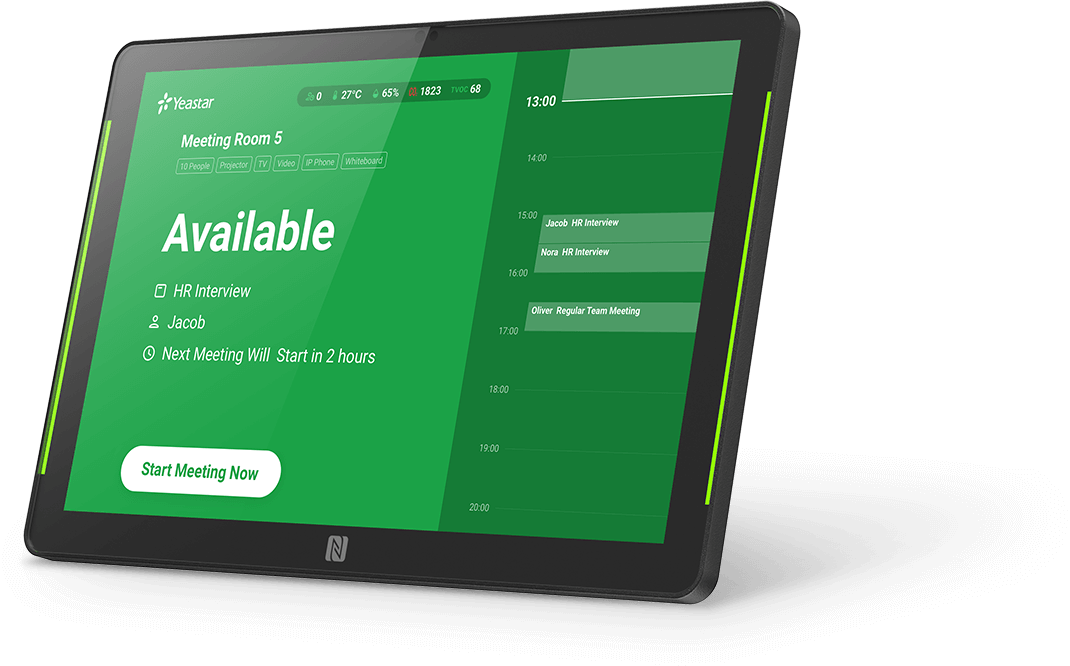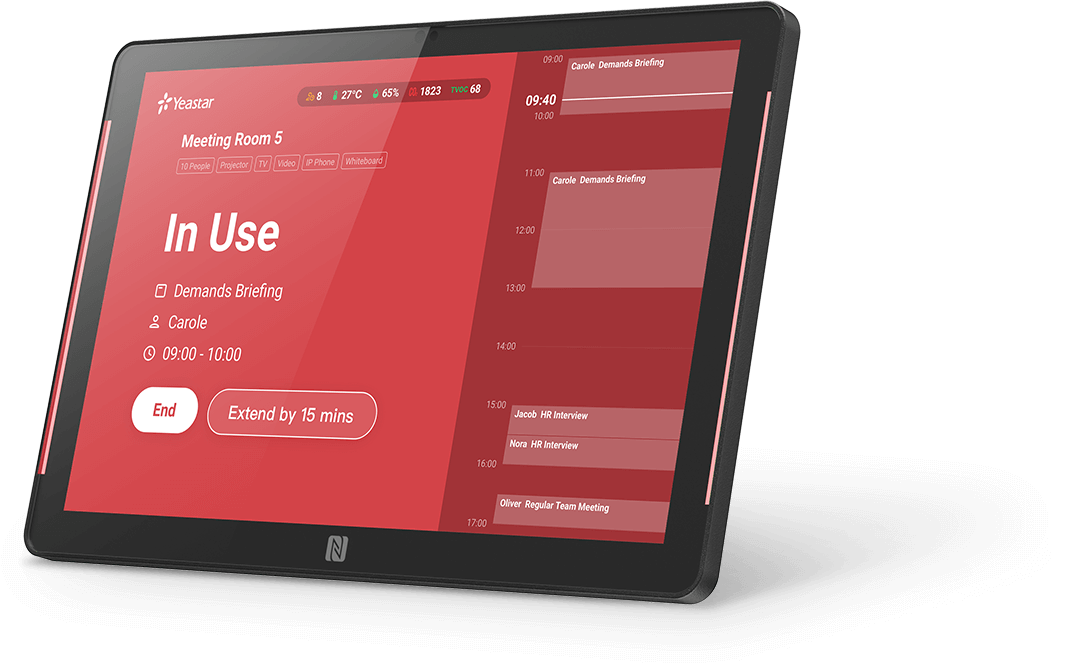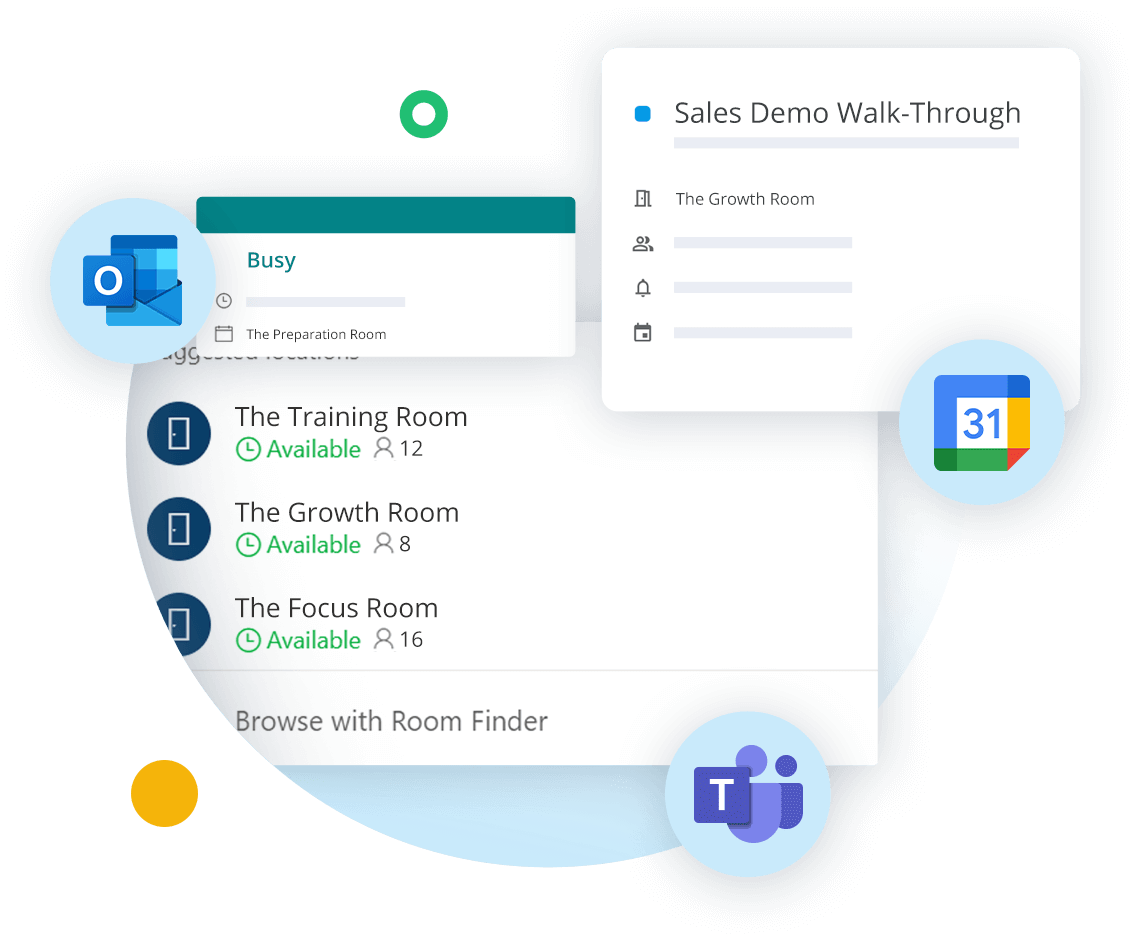 3rd-party Integration
Book rooms from Microsoft Teams or Your Calendar App
Yeastar Workplace works with Outlook Calendar, Google Calendar, and Microsoft Teams to provide a single point of entry for meeting events and room bookings. Instead of switching back & forth, you can create events, search for rooms, and make a reservation in seconds in one place.
Add Yeastar Workplace to Microsoft Teams as a Tab
Room details and seating capacity are all listed
Create Teams meeting links upon room scheduling
Meeting schedules & changes are synced both ways
Supporting single sign-on for secure authentication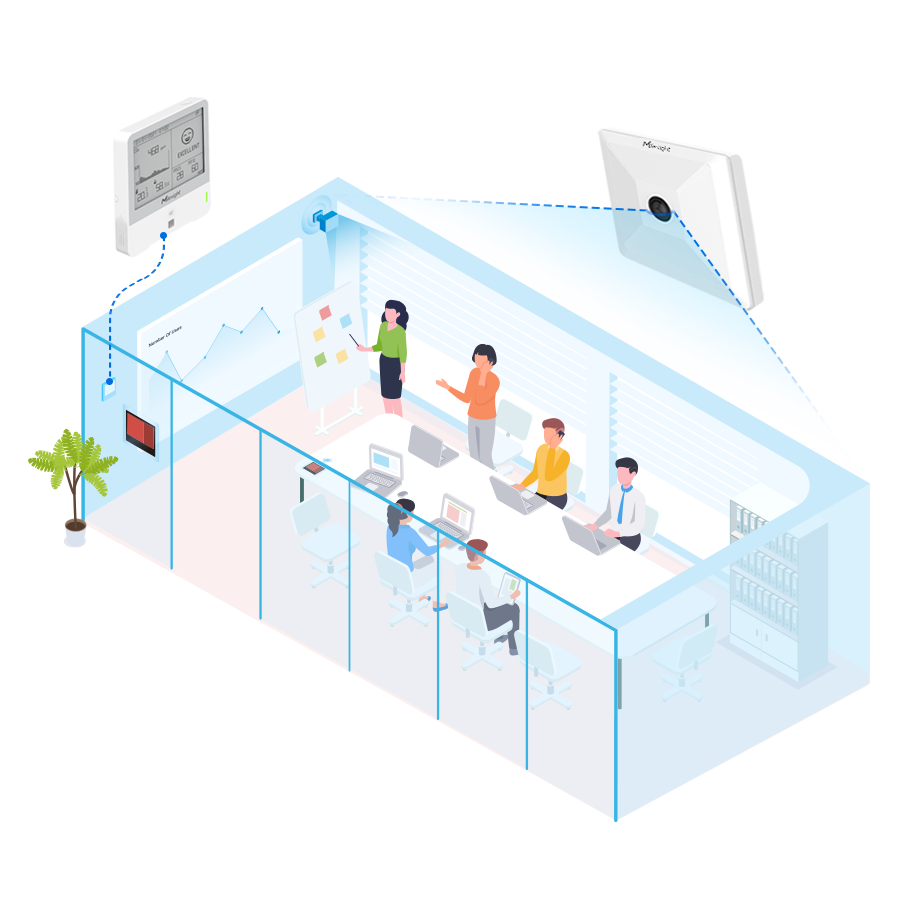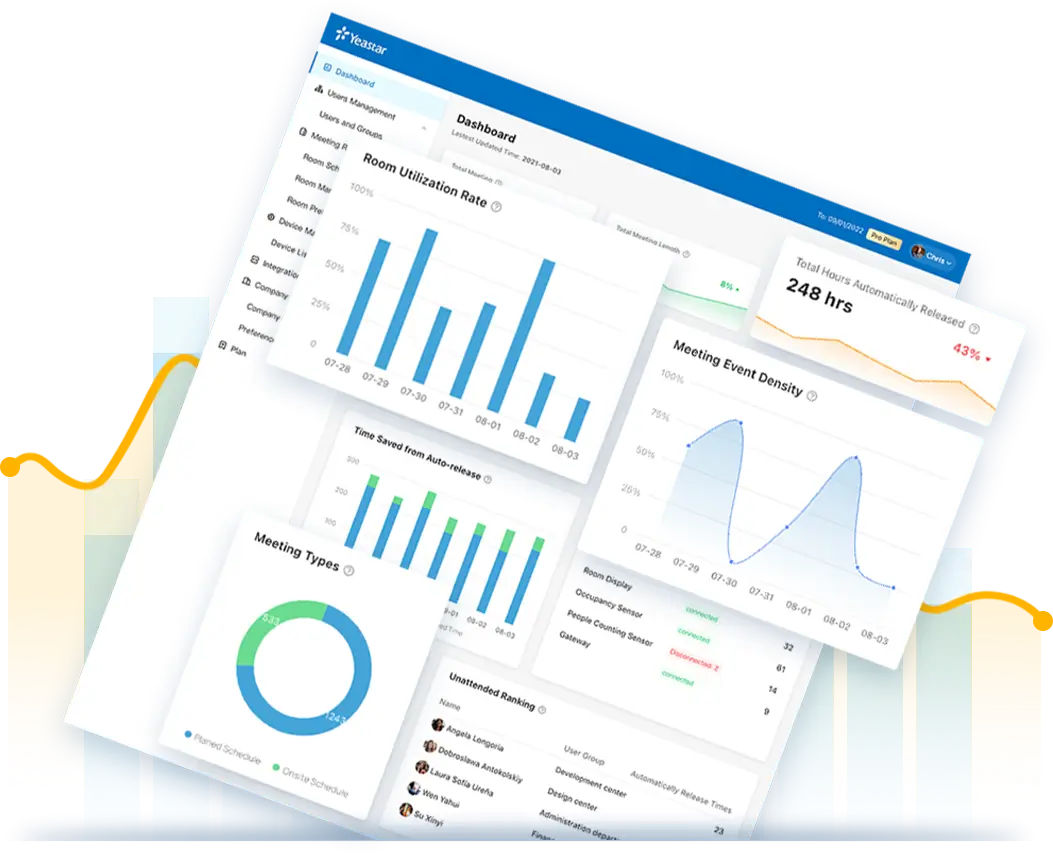 Workplace Analytics
Spot opportunities to optimize your meeting space
Gain actionable insights on how your meeting space is used. Make data-driven decisions about the number, capacity, layout of conference rooms. Quickly respond to changes in headcount and predict future demands.
Track and measure essential space usage metrics and trends:
Total meetings
Recaptured hours
Room utilization rate
Meeting density
Meeting type
And more
Compare Plans: For Companies of All Sizes
Available on a monthly or annual subscription, Yeastar Workplace offers Lite, Standard, and Pro Plans for different business needs, such as hybrid workspace booking, coworking space management, return-to-office planning, etc. Take a closer look through a free trial!
Lite Plan Standard Plan Pro Plan
Number of Rooms 3 rooms by default, expandable
Room Scheduling & Booking
Online Room Booking Grid
Room Capacity & Availablity Filter Employees can search for a best-fit room by availability, capacity, facility, location, etc.
Ad-hoc Booking
Recurring Booking
Reservation Check-in & Auto-release Recapture rooms by releasing the room availability if employees do not check in to their reservation.
Extend Meetings
Booking Permissions
Schedule Reminders & Email Notifications
Resources Management
Admin Management Portal
Users Directory & Groups
Room Management
Room Profiles Import & Export Simpliy adding and management of multiple rooms with bulk import & export of room information, including Name, Capacity, Facility, Smart Device, Location, etc.
Device Management & Upgrade
Google and Microsoft 365 SSO Single sign on with your existing Google or Microsoft account. Streamline the way your users authenticate with the system.
Interactive Room Display*
Analytics & Workplace Insights
Analytics Dashboard
Meeting Event Density & Trends
Room Utilization Data
Uncover No-Show Meeting Behavior Uncover number of ghost meetings by meeting organizers and total time saved for each meeting.
Recapture Time Insight Uncover the total time saved from the auto-release strategy of the meeting rooms by days or a given time frame.
Device Status Monitoring
Calendar Integration
Microsoft 365 Integration Check reservations, book a room, and notify your contacts straight from your daily Microsoft Outlook/Teams calendar. All schedules and changes are synced in real-time.
Google Workspace Integration Check reservations, book a room, and notify your contacts straight from your daily Google calendar. All schedules and changes are synced in real-time.
Smart Sensors*
People Counting Sensor
Room Comfort Sensor
Microsoft Teams Integration
Auto-release Triggered by Sensors