An Elevated, Smooth Experience for All
Wow Your Guests
Remove frictions and wow your guests. Nail your visitor experience from the moment of registration with custom branding, sleek display, touchless check-in, and more.
Save Your Team Time
Get rid of handwrite visit logs, badges, and notifications. The workflow automates itself to coordinate with guests, screen visitors, and alert hosts when their guest arrives.
Keep Your Workplace Safe
Stay in line with your security, health, and privacy policy by allowing only approved guests. You have total visibility of who has been on your premises, when, and why.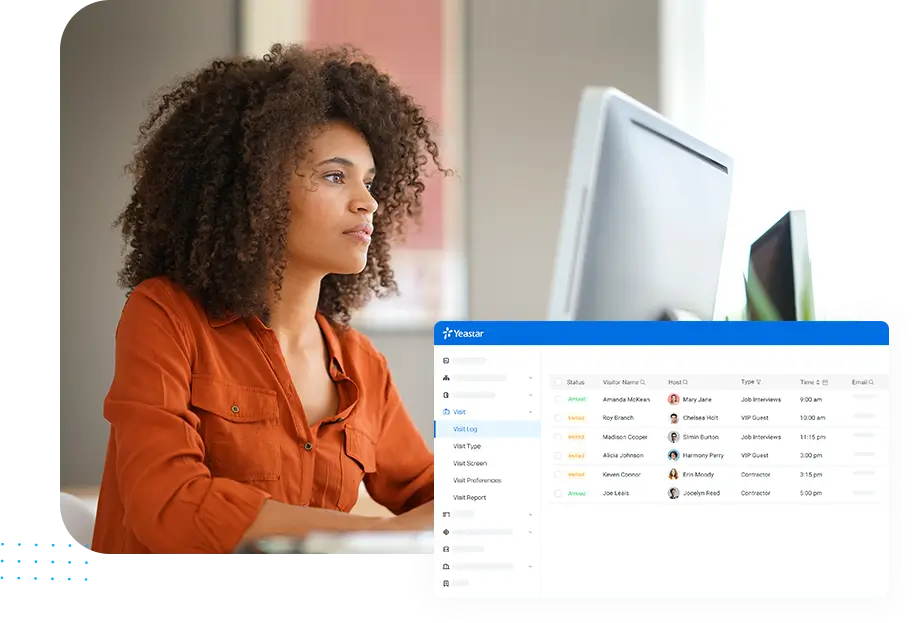 What is a Visitor Management System?
Make Managing Guest Visits Painless
A visitor management system (VMS) helps you register and keep track of visitors entering your building or office. It reduces tedious manual tasks by automating the visitor sign-in process and maintaining an exportable record of visitors for compliance and audits.
From managing strangers to expected guests, the ability of a digital visitor management system to personalize workflows per visitor type enhances the security, efficiency, and total visitor experience for your business.
How Our Visitor Management System Works?
Welcoming. Productive. In Every Touchpoint

Proactively prepare for every visit
.
Pre-register your expected guests directly with their mailboxes. An email with check-in instructions will be sent automatically to invite the visitor(s) and collect all the information you need in advance.
Individual/group visitors pre-registration & invite
Custom visitor information & documents collection
Book a meeting room while adding a visit
Make guests feel welcomed
.
Sign-in via an email invite, visitor screen, or QR code and get printed visitor badges instantly. Guests simply follow the flow to check in, and hosts are instantly notified to greet them.
Touchless QR Code sign-in & Digit Code sign-in
Automatic badge printing
Instant host notifications on guest arrival
Only approved visitors get access to your premises
Customize to suit your needs
.
Your needs are unique. From branding to custom sign-in flows, admins can customize the experience in minutes.
Create different check-in questionnaires for different types of visitors, so your visitors can answer specific questions, accept safety instructions, and submit required documents at registration.
Show your logo and custom message on visitor screens, visitor badges, invite emails, etc. and let your brand identity shine wherever possible.
Get real-time visit logs and reports
.
Stay on top of every visit. Track who has been in your office, when, and why, analyze the trends with graphical visitor dashboard, and automatically maintain an up-to-date visitor log.
Real-time visitor list with all essential info, including name, type, host, etc., in a simple chart view.
Analytical reports on visitor volume, visitor types, registration methods, and more.
Exportable visit logs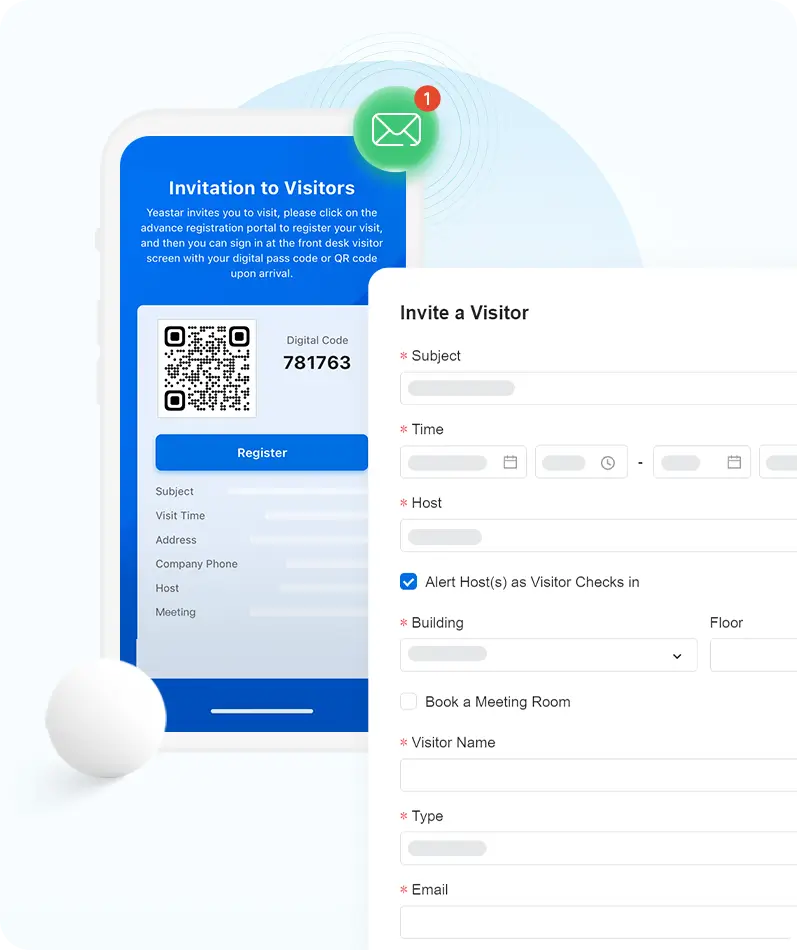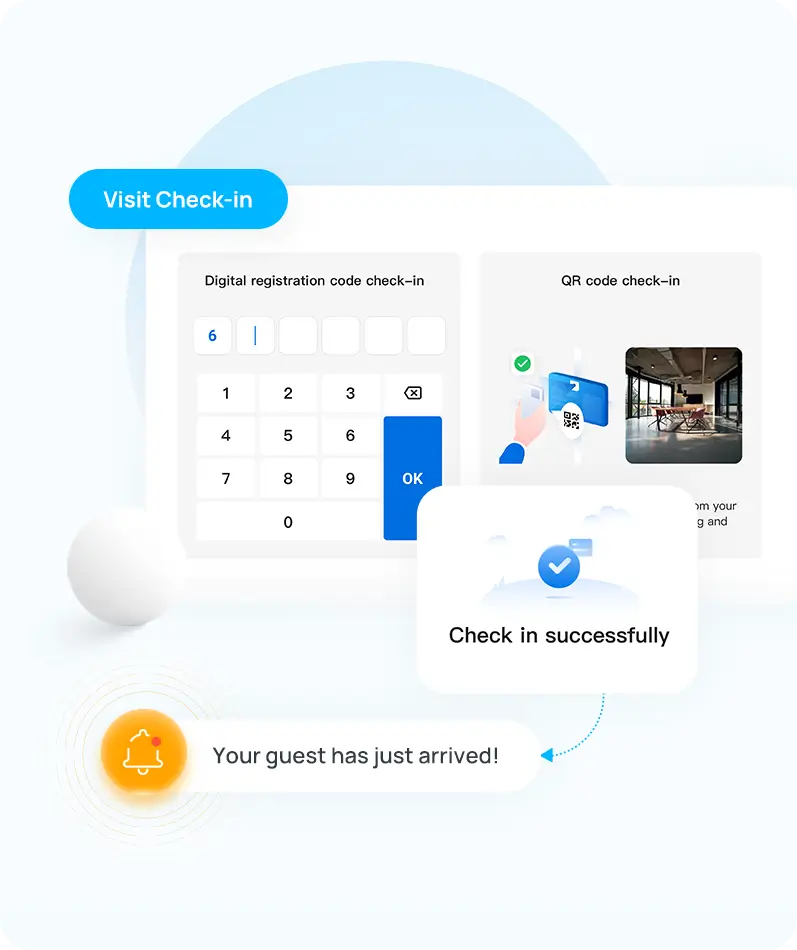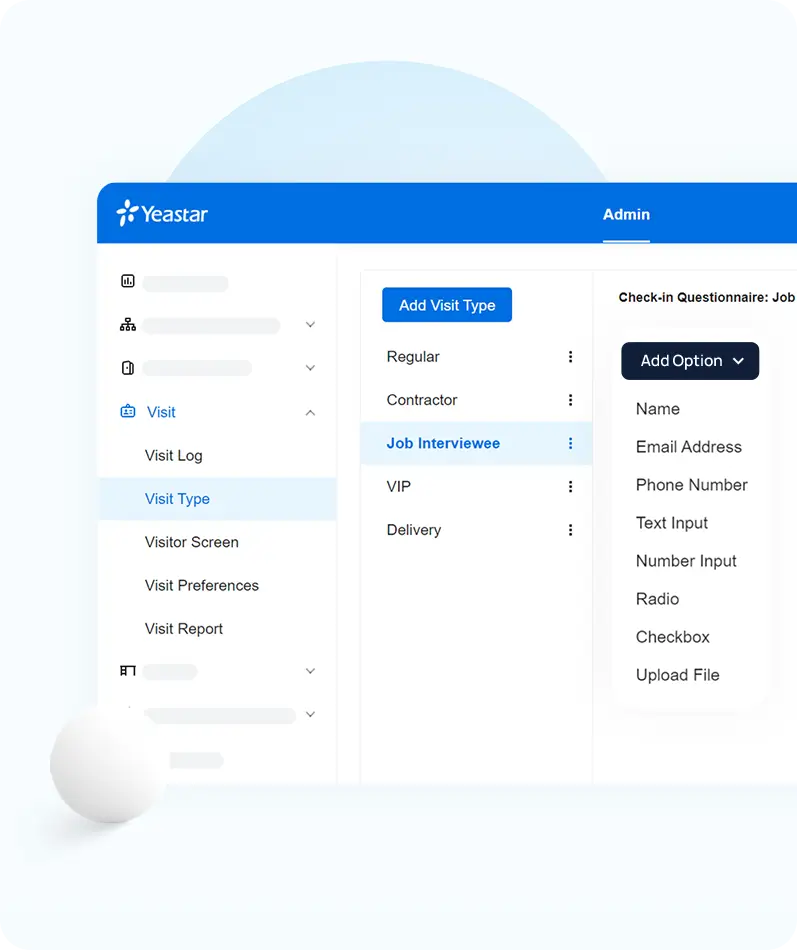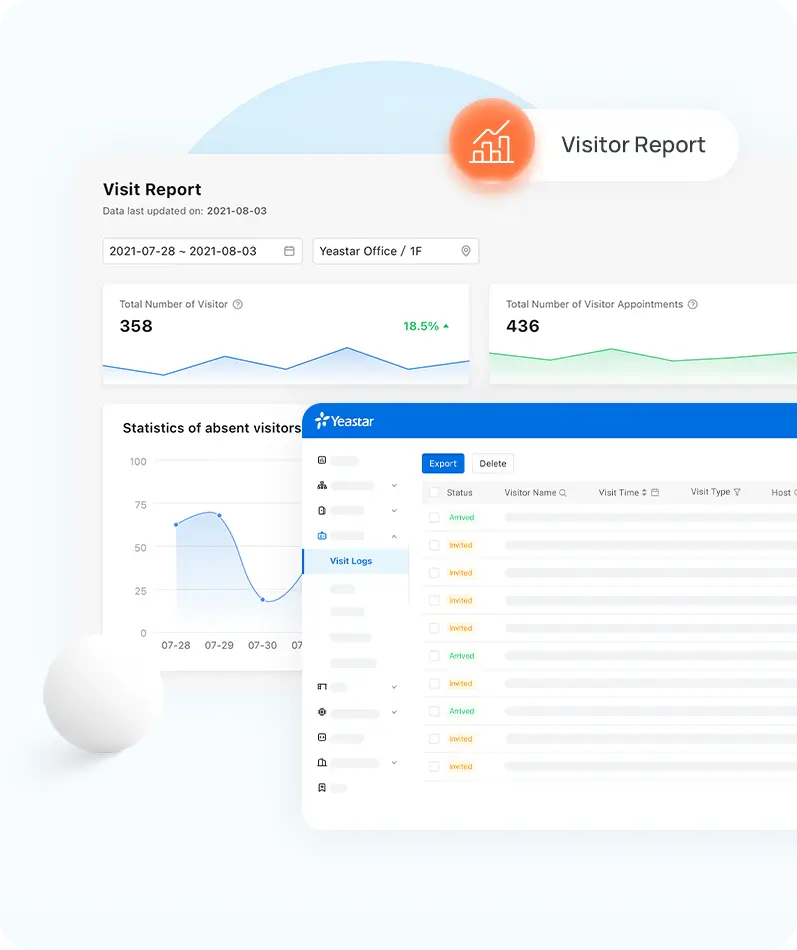 Self-service Visitor Kiosk
Sleek Visitor Screen and Check-in App
Strick a great first impression with a sleek, self-service visitor kiosk at your front desk. Add your company logo, a background image, and a warm welcome text to present your brand identity, while powering effortless & touchless visitor sign-in.
The app is available with the purposely-built Yeastar visitor screens. It can also run on your own iPad or Android tablets.
Visitor Management Software Features
All you need to host and manage visitors with ease
Pre-registration
Add visitors in advance and auto-send invitation to the visitors with direction & all about the visit.
Customizable Sign-in
Create multiple check-in flows & ask specific visitor screening questions for different types of visitors.
Host Notifications
Notify hosts automatically as soon as the guest check-in, reducing subsequent wait time.
Badge Printing
Automatically print badge passes so employees know who is visiting and where they should be.
Group Invite & Check-In
Provide a streamlined, fast check-in experience for large groups or events in clicks.
Multi-location Support
Deploy the system to new sites and provide a consistent experience across locations.
Powerful Integrations
Native integration with Microsoft Teams, Active Directory, Google Workplace, and more.
Analytics and Reporting
Get insight into visitor volume, who hosts visitors and more. Export visitor data in a few clicks.
Discover how the solution will manage your visitors
It's a simple system to use, quite intuitive and user friendly.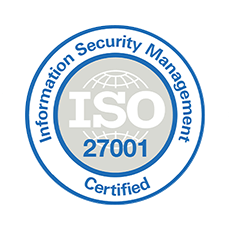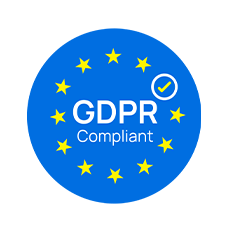 Our Customers
Frequently Asked Questions
Why is visitor management system important?
Visitor management software sets companies free from the heavy pen-and-paper work and enter into the era of digital management. Besides the streamlined visitor check-in process, the solution collects, records, and analyzes visitor data in an automatical manner. And the automation of visitor screening and document signings, such as NDAs and waivers, helps to ensure your visitor meet your health & safety requirements, protecting your workplace from potential security threats…Learn more.
What to look for in a visitor management system?
When choosing a visitor management system, there are 9 essential features you should look for, including visitor pre-registration, customizable check-in flow, custom branding, visit logs…Explore why and learn more detailed information.
What are the benefits of visitor management system?
Visitor management system can provide many benefits for your business, such as:
Improved physical security by pre-screening visitors before they arrive on-site to ensure they meet your health & safety requirements.
Enhanced efficiency: streamline the sign-in process, reduce waiting time, and eliminate manual errors. You can also automate tasks such as sending invitations, collecting documents, and verifying visitors' information before the visit.
Increased visitor expereince: strick a positive impression and make your visitor feel valued and appreciated at every touchpoint. You can personalize the sign-in process, the visitor badge design, and notifications to show your care and brand identity. Visitors also benefits from reduced wait time and clear instructions provided through the system.
Reduced costs: save money by reducing staff workload and security risks. You can also leverage the data collected by the system to optimize your resources and operations.
How do visitors sign in with visitor management system?
Yeastar visitor management system is a cloud-based solution that allows visitors to sign in using their own mobiles or a Visitor Screen at the reception. Here are three simple steps:
1. Scan the QR code on the Visitor Screen to access the sign-in page, or show your visitor check-in QR/digit Code (for pre-registered visitors) to complete the check-in in seconds.
2. Fill in the required information to check-in and get visit approval from the host (this can be completed in advanced for pre-registered visitors.)
3. Receive the auto-printed visitor badge that show your visitor identity.
Can I create different sign-in flows for different visitors?
Yes. With Yeastar Visitor Management System, you can customize your visitor types and create different sign-in flows for each. This way, your job interviewees, contractors, VIP guests, delieveries, etc., can answer specific visitor screening questions and you can deliver a customized end-to-end experience for each.
Is Yeastar VMS cloud-based? Can I use iPad or tablet with it?
Yes. Delivered through Yeastar Workplace platform, Yeastar Visitor Management System is a cloud-based system that offers optional Visitor Screen hardware, which is installed at the reception for self-service visitor sign-in. For companies wishing to use their own hardware, we also offer intuitive Visitor Screen App that can turn an iPad or Android tablet into a visitor kiosk.