BACK
How to Choose a Visitor Management System: 9 Must-Have Features to Look for
4.3 min read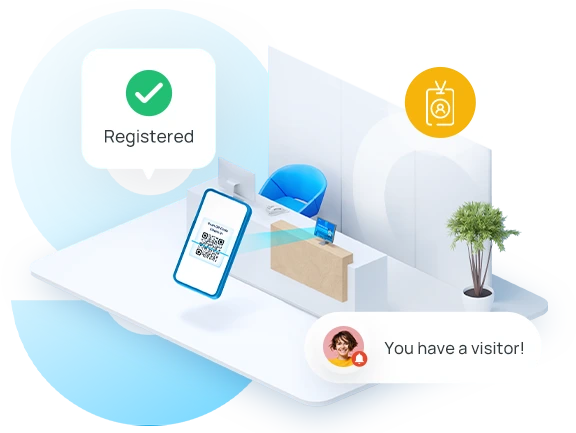 An effective office visitor management system can help you stay organized while streamlining experiences and making a positive impression on clients and guests. But with so many options available on the market, it can be overwhelming to choose the right one.
We've listed the top nine must-have features you need to look for in a visitor management system so you can pick the one that best suits the unique needs of your workplace.
What is a Visitor Management System?
A visitor management system (often referred to as VMS) is software designed to help modern organizations manage people coming to their offices, who could be contractors, VIP guests, or delivery men.
Compared with the traditional approach that handles incoming office visitors manually (for example, using a logbook), adopting a visitor management system helps make things easier. Offices can save time and manage every step of the procedure on one integrated platform, such as visitor check-in, health screening, access control, and more.
Related: Why Modern Businesses Need a Visitor Management System
9 Must-Have Features You Need in a Visitor Management System
Now let's dive in and see what are the must-have features that make the best visitor management system.
1. Pre-register a Visitor
When selecting a visitor management system, being able to pre-register a visitor is a crucial aspect to consider. To pre-register means to register a visitor's information ahead of the visit, and it can provide numerous benefits such as enabling a faster check-in process, avoiding long queues in the reception area, and enhancing the security level of your workplace.
Additionally, pre-registering would trigger your visitor management system to send an email invitation containing the details a guest needs to come to your office like directions, safety requirements for being onsite, etc. This way, both parties are aware of the upcoming visit and can prepare accordingly. Learn details on how it works.
2. Send Automatic Notifications to Hosts
Are you still notifying the host of a visitor's arrival by phone or in person? Can a visitor management system offer a better way?
So, a visitor notification system allows you to send automatic notifications to hosts. This means that, upon check-in, the host will receive an email or a message prompt letting him/her know that the guest has arrived.
This way, the guest would experience less wait time in the lobby, the host can be instantly notified, and the receptionist staff can focus their energy on more important tasks. A win-win for all.
3. Customize a Check-in Flow
Check-in flows are the digital version of visitor sign-in sheets. It's one of the most effective features to help you streamline visitor experiences.
When a visitor arrives and checks in using the visitor management system, they'll be guided to go through the check-in flow, filling in the questionnaire to collect necessary information, like who is your contact person and what is the purpose of the visit.
To take visitor management to the next level, opt for a visitor management system that allows you to customize the questionnaire per visit type, so you will be able to create different flows for different types of visitors, like a delivery man or a job interviewee and thus create a smart and personalized experience.
4. Fast Visitor Check-in
Choose a visitor management system that will assist you in developing an easy check-in process so that people are not kept waiting at reception or wandering around an unfamiliar facility. This functionality will also enable guests to rapidly check in without the assistance of front desk staff for organizations that get a high volume of arriving visitors every day.
Visitors are typically sent a unique check-in pass, which they can use to self-check-in on the visitor screen or a check-in kiosk. Quick, simple, and painless. The host will also be notified in advance of their guest's arrival so that they can greet them promptly.
5. Branding-friendly Welcome Screen
As probably the very first item visitors would notice as they enter your office, a well-designed welcome screen would set a positive tone and strike an excellent first impression on guests. In addition to enabling a smooth check-in process, you can further take advantage of it to boost your corporate by configuring the interface. For example, selecting a preferred color theme, adding your company logo, and writing a nice welcome message.
6. Visit Log
A good visitor management system will keep a detailed log of all visitors, including their contact information, the time and date of their visit, and the purpose. This is important for safeguarding workplace security and can also be useful for tracking traffic patterns. Having this information readily available in one central location lets you quickly identify potential security issues or patterns that may require further investigation.
7. GDPR-Compliance
Ensuring GDPR compliance is crucial for any organization that handles personal data, and choosing a visitor management system that meets this requirement should be a top priority.
When evaluating visitor management system options on the market, look for those that are GDPR compliant and have built-in features like consent forms to ensure visitors are aware of the use of their personal data.
8. Real-time Dashboard
If there's a dashboard that can tell you at a glance how many visitors are you expecting today and how many have arrived and left, that would help optimize operational efficiency in terms of managing visitors and guests. Therefore, choosing a visitor management system with a robust real-time dashboard will empower related personnel to track who is on-site at any given moment and quickly identify potential security threats.
9. User-friendly Interface
It is also essential to have an interface that is easy to use. When it comes to selecting a system for managing visitors, the ease of use of the system is one of the most significant considerations that should be taken into consideration. You need a straightforward system to navigate so that you can roll it out to your employees and receptionist staff.
Streamline Guest Experience Today with an Easy-to-Use VMS
Save time and money with a user-friendly system for welcoming visitors and employees Yeastar Visitor Management System comes with all the essential features you need to streamline experiences. It also offers the following nice-to-have features for you to take visitor management to the next level:
Visitor Badge: Consolidate visitor check-in and badge printing in one place
Reports & Insights: Analyze visitor trends and spot patterns
Health Screening: Help you conduct health screening and better promote workplace safety
Global Scalability: Easy to scale and synchronize information if you have multiple locations
To learn more information, schedule a demo or start your free trial today.