BACK
Why Modern Businesses Need a Visitor Management System
3.3 min read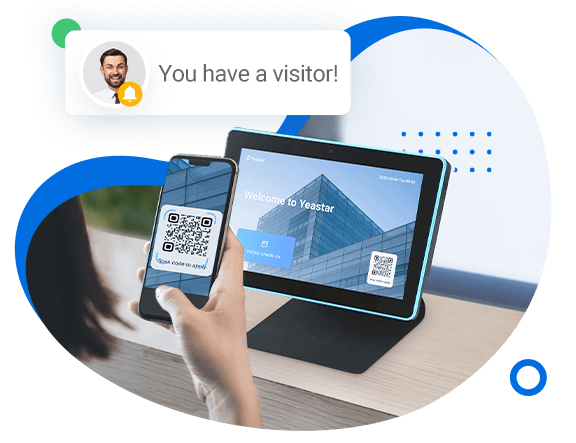 Stop Worrying about Who's Coming in
Businesses, schools, hospitals, and other organizations usually need to welcome and manage visitors on a regular basis. What first hit your mind when it comes to managing company visitors? Is it pen and paper sign-in sheets or manual badge printing? These traditional visitor management methods have become increasingly inefficient and insecure in the modern workplace.
With the rise of security concerns and stricter regulations comes a more secure, reliable, and streamlined solution—a visitor management system (VMS).
In this blog post, we will explore why today's businesses need a visitor management system, what benefits it can bring, and how to choose the right one that fits your specific needs.
What Is a Visitor Management System?
An efficient visitor management system can track the movement of visitors in and out of the premises and provide businesses with valuable insights into patterns and trends. With a VMS, businesses can also streamline the check-in process and automate many different aspects of guest management, making it easier to manage visitors and improve business security. Below we'll discuss some of the key reasons why businesses need a visitor management system.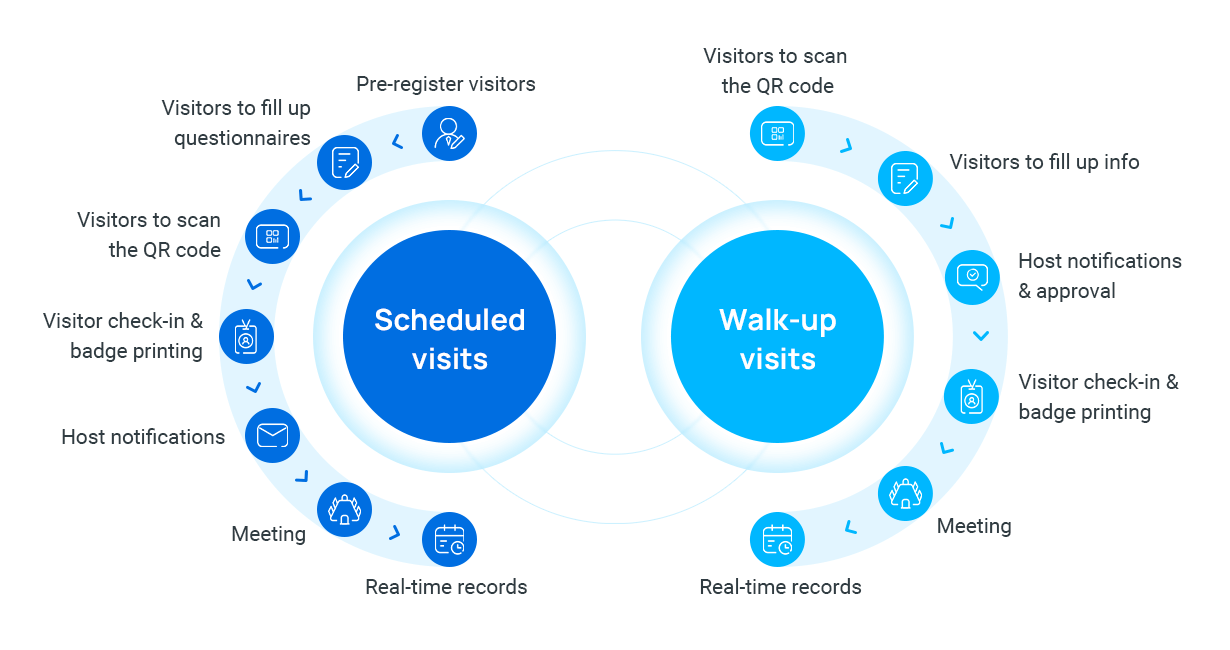 The Benefits of Having a Visitor Management System in Place
Enhanced Security
Do you know that nearly 30% of companies reported an increase in "physical security incidents" in 2022? That's a solid reason why modern businesses need a visitor management solution in place. It allows you to keep track of who comes into your facility and manages all visitor information. With ID scanning, digital signatures, and photographs, you can easily identify anyone entering the premises.
This technology also helps prevent unauthorized access by ensuring visitors only enter approved areas within the building. Additionally, it enables you to spot and address any potential security risks quickly. In case of an emergency, you can quickly trace and identify individuals who have been on your property.
Better Visitor Experience
Long lines and confusing check-in procedures can be frustrating for guests. With an efficient visitor management system in place, guests are able to check in and get started without wasting time waiting for approval. It not only enhances the overall experience but also creates a positive impression on their minds.
Moreover, a VMS ensures that visitors feel welcome and valued right from the moment they enter the premises. It allows them to easily navigate through the building, locate meeting rooms or other destinations without getting lost or confused. Such small gestures go a long way in creating a lasting impression of your company on your visitors.
Efficiency and Time-Saving
Traditional manual methods of tracking visitors, such as logbooks, can be time-consuming and prone to errors. With a digitized visitor management system, businesses can automate many tedious administrative tasks for your front desk, such as filling out visitor logs, printing visitor badges, and manually sending notifications to hosts about their visitors' arrivals.
Visitor management software allows businesses to pre-register visitors, collecting their detailed information online before they arrive. It reduces waiting times and ensures a smooth visitor check-in experience for visitors. Businesses can also set up questionnaires with custom fields, such as health and safety declarations, to capture additional information relevant to their operations.
Compliance with Regulations
Many businesses need a visitor management system to comply with regulations. Many industries are subject to strict regulations pertaining to visitor management, such as healthcare and government. Such regulations usually involve collecting necessary information, screening visitors against watchlists, creating an audit trail, and enhancing visitor data security.
VMS provides a digital record of all visitor interactions and professional-looking reports for audit and compliance purposes, as well as automates many aspects of compliance management. These digital logs eliminate the need for old-fashioned paper logbooks that can compromise privacy and make it easier to identify any non-compliance issues.
Professional Image
Having an efficient visitor management system in place shows that the business is modern, organized, and takes safety seriously, thus projecting a positive image to visitors and clients.
Instead of having to fill out forms or waiting for someone to manually write them an ID badge, with a digital system, guests can simply scan the QR code, print out their own badge, and be on their way within minutes. The modern and streamlined process gives off an impression of professionalism and organization.
In addition, visitor screens and badges can be customized with the company logo and branding, which can help to reinforce brand recognition and create a sense of professionalism.
To Sum Up
A visitor management system is vital for businesses, providing advanced security measures and a streamlined check-in process for visitors. It also ensures compliance with regulations, protecting both the company and its guests. Investing in a visitor management system portrays professionalism and responsible security measures, leading to success now and in the future.
---
Yeastar Workplace is a comprehensive platform for flexible-first workplace management that includes a cloud-based visitor management system, providing features such as pre-registration, self-check-in, email notifications to hosts, customizable questionnaires, visit logs, visitor screen support, etc. Start a free trial today to try out everything!