BACK
Yeastar Workplace New Updates (June 2023): Wayfinding, Visitor Badge, and More
4.2 min read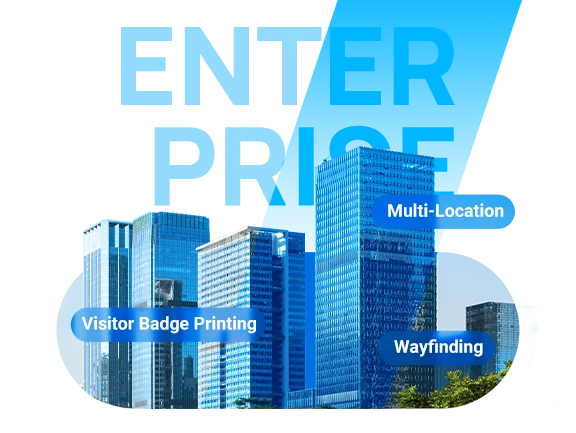 Thrilled to ship you the latest update of Yeastar Workplace! We have several exciting new features in store for you—Wayfinding, Visitor Badge Printing, Multi-location Management, and more. Together, these newest features will help you streamline daily operations and build a more intuitive employee experience.
Let's now dive in and explore what's new in this update!
New Feature Deep Dive: Robust Workplace Solution for Enterprises
Watch the recording of our live-streaming event for a complete walk-through of all the new features and live demos!
Wayfinding: Easier Navigation, More Time Saved 
Meeting rooms can be difficult to locate if they're scattered across different floors, especially in a multi-floor or multi-building office setting. Employees can easily get lost and waste time checking rooms one by one. Good wayfinding design can help everyone better navigate their workspace and connect with the people and resources they need, whether they are office visitors, remote workers, or newcomers trying to fit into the new environment.

With the latest update of Yeastar Workplace, you can build a solid wayfinding system by creating wayfinders for meeting rooms. Once done, display the wayfinder on a digital signage (meeting room displays, touchscreen kiosks, large TV screens, etc.) and place the device in places like hallways and corridor intersections.  This way, you will have directional signage at every key entry to point directions where people need the most.
The reception area is another ideal place to set up a wayfinding signage as visitors can refer to it for directions and navigate their way around after checking in.
Where to find it?
Enter the Admin Portal, you will see a new tab on the left navigation bar – Wayfinding. Here, you can create wayfinders for your meeting rooms. Enter room details such as Floor, Direction, Distance, etc., and the System will generate a link for you to convert your device into a wayfinding signage. Except for directions, employees can also check the upcoming schedules of each room and quickly locate available resources.

The new Wayfinding feature is available for Standard and Pro Plan. For more information about Wayfinding, please visit HERE.
Visitor Badge: Automatically Print as Guests Sign in
Visitor badges are ID badges for people who visit your office. With it, guests can be easily spotted among employees, and their reason for the visit can be quickly known without checking. Installing a visitor badge system can bring various benefits, such as enhancing office security, simplifying visitor management, etc.

Our Visitor Management System now supports visitor badge printing since this new update. It will help you create an even more seamless and automated visiting experience. Connect Yeastar Visitor Screen to your printer, and once guests sign in, their visitor badges will be automatically printed out in seconds. As the host, you may ask the receptionist colleague to print the badge in advance and give it to the guest upon arrival.
You don't need to worry about the badge design as we're offering you two templates in this new update (There'll be more. Stay tuned!). You can decide on what kind of visitor information should appear on the badge, such as job title, name of the host, visiting time, etc.

Please note that automatic badge printing is available for Brother Printers at the moment, and you can visit HERE to learn how to set it up. You can opt for printing visitor badges manually if you use printers from other brands. Check HERE for more information.
Centrally Manage Multiple Branch Offices in One Place
Managing users, resources, and visitors for one office is simple, but doing it for both headquarters and branch offices at the same time can be quite tricky, especially when there are time zones involved.
We want to make things easier for our Yeastar Workplace users. By adding multiple buildings in the new "Location" tab, you can distinguish the system settings between each location, including language, time zone, and working hours. Each user can select their preferred office based on where they are, and only information relevant to the selected location will be shown to the user, such as the Office Map, resources, and schedules.

With a central platform, administrators can manage resources and bills more effectively. Staff members who frequently travel between offices can also use the platform to reserve a desk or meeting space so they can get to work as soon as they arrive.
See HERE to find out more information about configuring Building and Multiple Locations.
Latest Updates for Yeastar Room Display
Use Room Display DS7510 as a LoRa Gateway
As of this new update, your Yeastar Room Display DS7510 can also serve as a LoRa Gateway for your device network, thanks to its embedded gateway module. Smart sensors, desk screens, wall switches, and more can collaborate with Yeastar Workplace via DS7510 to transmit data.
Room Display DS7510 & Access Control Integration
Also, DS7510 officially supports access control integration with this update. Now you can connect it with your existing access control devices to grant meeting room entry to only authorized users, adding an extra layer of security to your workplace. Check HERE for a step-by-step guide on how to set up.
Yeastar Display App & ProDVX
ProDVX is a brand that develops and produces high-quality and state-of-the-art hardware for digital communication and solutions worldwide. If you happen to have a ProDVX display at hand, the good news is you can have it work as a full-featured Yeastar Room Display or Visitor Screen with our display apps. The LED bars can also work as an indicator to show the room status via different colors.
More Enhancements and Optimizations
Updated interface for the Schedule tab to create a more convenient view for users to know their schedules.

Export meeting services together with meeting schedules to keep better track of the third-party services ordered and manage bills.
Quickly create a new meeting schedule by copying details from a past meeting schedule.
See all new feature optimizations HERE.
Ready to Try them out?
Itching to try out the new features? They're officially available as we speak, so hop over to your portal now and give them a go. If you're new to Yeastar Workplace, sign up for a 30-day free trial here to start exploring our platform and see how we can help to make changes to your workplace.