BACK
Capitalize on Adding Voice Calling to Microsoft Teams
6.8 min read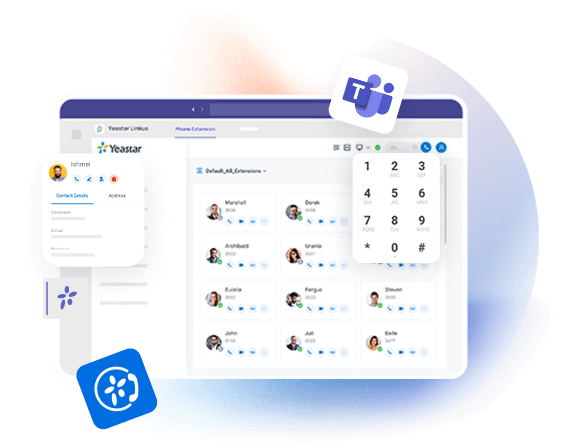 Microsoft Teams has seen tremendous growth for the past few years, developing an enormous customer base of more than 280 million monthly active users as of FY23 Q2. With this growth comes the surge in demand for making calls on Teams.
As of June 2022, Teams Phone had more than 12 million PSTN users, nearly two times the number a year ago. As Gartner predicts, by 2024, around 20% of the total Microsoft Teams active users will adopt telephony services for external calling.
It is also worth noting that Microsoft Teams is particularly popular among companies with 50-200 employees. SMBs are generally more open to embracing cloud communication solutions due to their cost-effectiveness, flexibility, scalability, mobility, and ease of use. According to research, around 61% of SMBs are transitioning to VoIP cloud business phone systems.
This burgeoning market presents a massive opportunity for communication service providers.
Ways to Add Voice Calling to Microsoft Teams
Microsoft Teams Phone Standard
Microsoft Teams Phone is a cloud-based phone system that allows customers to make and receive calls within their organization directly in Teams, but not to external phone numbers. It includes features such as call transfer, auto attendants, and call queues.
Microsoft 365 Business users need an $8/user/month add-on license to use Teams Phone, while Microsoft 365 E5 users can use it as part of their existing license.
Microsoft Calling Plan
Microsoft Calling Plan is a hosted phone service that connects Teams Phone to PSTN for external calling, which means Microsoft acts as Teams users' telephony service provider. It is available in 35 markets, with some countries and regions having limited availability.
Calling Plans come in 3 license options—domestic, international, and Pay-As-You-Go. Microsoft offers a Teams Phone with Calling Plan package that includes a domestic calling plan at $15/user/month. Mind the price as the Calling Plans' costs remain fixed regardless of the actual usage.
Direct Routing
Microsoft Direct Routing allows businesses to connect supported, customer-provided Session Border Controller (SBC) to Teams Phone so that they can use virtually any PSTN trunk and configure interoperability between existing telephony equipment and Teams, such as PBX and analog devices.
As a popular alternative to Calling Plans, Direct Routing as a Service (DRaaS) connects Teams users to the PSTN through a cloud-based SBC that is managed and maintained by a third-party provider, offering wider coverage, more flexible pricing models, greater flexibility, and advanced features.
Operator Connect
Microsoft Operator Connect Program enables PSTN calling within Teams using cloud-managed solutions from participating operators, but may not have the flexibility to accommodate complex telecom needs.
Voice-enable Teams in a Cost-effective Way with Yeastar
For businesses looking for a more affordable way to bring business communications to Microsoft Teams, Yeastar offers a free embedded calling app that comes with no extra charges! Yeastar P-Series PBX System integrates enterprise-grade calling capabilities with Teams for internal and external communication without switching between platforms.
By installing "Yeastar Linkus" through Microsoft AppSource, Teams users will have enterprise calling capabilities right on their familiar interface. They can see all company contacts, personal contacts, and contacts synced from Microsoft 365, CRM, and other platforms in one place and make calls directly. The calls will be made through Linkus Desktop Client.
The best part of this integration? It saves you the hassle and cost of setting up an SBC or purchasing Teams Phone licenses and Calling Plans.
Why Yeastar's Microsoft Teams Integration Solution
Easy to Sell to Your Customers
Lower costs
With Yeastar's integration solution, customers can make calls from Teams using Linkus without buying Teams Phone licenses, unlike other options such as Calling Plan, Direct Routing, or Operator Connect. Plus, this integration is included in Yeastar P-Series Enterprise Plan, so no extra charges apply for P-Series Cloud/Software Edition users.
As a service provider, you can offer a bundled package of P-Series Cloud Edition and SIP trunking services specifically tailored for Teams users. With the added benefit of low upfront costs, you have the flexibility to set more competitive pricing that differentiates from Microsoft Calling Plan and other DRaaS providers and creates opportunities for increased profitability.
More advanced features
Microsoft Teams is built for general use with basic phone system features, such as auto attendants, call forwarding, call transfer, call queues, music on hold, etc. However, it may lack some efficiency-enhancing and customer-facing features catering to various demands. For example:
| | | |
| --- | --- | --- |
| | Microsoft Teams Phone | Yeastar P-Series PBX System |
| IVR | One-level IVR | Multi-level IVR |
| Call Routing | Lack of advanced call routing options | Simultaneous, linear, round-robin, time-based, and more routing rules |
| Queue Monitoring & Management | N/A | Real-time drag-and-drop Queue Panel and customizable Wallboard |
| Call Reporting | Minimal analytics | Detailed reports on call volume, call duration, wait times, and other metrics |
| CRM & Helpdesk Integration | Middleware or APIs needed | Direct integration with HubSpot, Zoho CRM & Desk, Salesforce, Bitrix24, Odoo, Zendesk, etc. |
More devices supported
Teams Phone has limited compatibility with certified desk phones from specific brands, such as Yealink, Crestron, Polycom, and AudioCodes, which can be a significant limitation for businesses that have heavily invested in their current telephony infrastructure.
However, Yeastar's P-Series offers extensive flexibility by supporting virtually any SIP-based phone. It allows for the auto-provisioning of a wide variety of models from popular brands like Yealink, Fanvil, Cisco, Snom, Poly, Gigaset, Grandstream, and Htek. Additionally, Yeastar provides VoIP gateways as part of a one-stop solution, enabling seamless integration and a hassle-free experience for customers who want to retain their existing analog phones.
Ease of configuration and management
Direct Routing may require more technical expertise and configuration for some features. However, Yeastar P-Series integrates with Microsoft Teams in just 3 easy steps:
Install Linkus Desktop Client as the endpoint for making phone calls.
Install "Yeastar Linkus for Teams" on Microsoft Teams
Log in to Linkus within Teams to access contacts and make calls
As for system administration, IT admins may also find it difficult to set up simple tasks on Microsoft Teams Phone due to inherent limitations. Some administration tasks still require PowerShell scripting. Whereas Yeastar simplifies the phone system administration with an intuitive online management portal, where IT admins can easily have a full picture of what's happening, perform tasks such as adding users, assigning extensions, and setting up call routing, get instant alerts on critical events, create regular and scheduled backups, and more.
Easy to Start for Service Providers
Embedded App vs. SBC Direct Routing
Direct routing requires an SBC to connect Teams to a telecom provider, making Teams the office phone system. Microsoft only supports certified SBCs for Direct Routing. SBC requires technical expertise and regular maintenance. It needs to be properly configured with correct SIP settings, such as transport protocol, port number, and media bypass mode. PowerShell commands are required for some configurations. On the other hand, it also incurs additional costs for hardware, hosting, bandwidth, and outbound calls.
Yeastar takes a different approach to avoid the expense and complexity of deploying SBCs for direct routing. With Linkus Web Client embedded on Teams to enable calls, the calls are actually made through Linkus Desktop Client. While it involves downloading a desktop softphone, it hardly has any impact on the user experience, and Linkus itself provides a range of advanced call management features that better complement business communications for Teams users.
A shortcut to selling cloud PBX and UCaaS
Service bundling flexibility
With Yeastar P-Series, you can create your own service packages, add on SIP trunking, bundle IP phones and other hardware, and wrap up other ancillary services. Set your own prices, provide level 1 support, and control your margin—the ownership is totally yours.
Efficient central management
Yeastar provides a central management platform (YCM) for service providers to create PBX with different capacities, see all PBX and customer details, scale up or down system capacity, manage subscriptions, monitor real-time PBX status, and simplify PBX configuration with templates—all in one place.
Turnkey solution for cloud PBX & UCaaS
Yeastar offers a turnkey solution for launching cloud PBX services quickly while owning customer relationships. It is based on a high-availability architecture that protects against downtime and allows for elastic scaling. It eliminates server setup costs, requires minimal technical expertise, and involves lower upfront investments. With the white label option, you can even re-brand P-Series Cloud Edition as your own to strengthen your brand recognition and create customer loyalty.
Download P-Series Cloud Edition Solution Brief
More Microsoft Integration Opportunities
In addition to the Teams integration solution, Yeastar P-Series also integrates with Microsoft 365 and Outlook, providing a more complete and smooth calling experience and workflow on Microsoft services. It is a great advantage for businesses that use Microsoft for their daily work. Furthermore, for service providers, these integration solutions can also expand and improve your portfolio, especially if you are a Microsoft partner, creating more opportunities for cross-selling.
Microsoft 365 Integration:
Sync Azure Active Directory users and create extensions automatically
Share Outlook and Teams contacts for centralized management
Enable secure Single Sign-on (SSO) with Microsoft credentials
Sync Teams user presence and update in real-time
Microsoft Outlook integration:
Click to call from the Outlook contact list, mailbox, or calendar
Receive screen popups and see the caller's profile
Save call info to related contact's record
Auto-create new contacts for unknown calls
Flexible Deployments
While cloud phone systems are popular among SMBs, we understand that some customers may have specific deployment needs or prioritize on-premise control and security. We've got you covered.
P-Series PBX System is a versatile and scalable solution that can meet the communication needs of businesses of all sizes. In addition to the Cloud Edition, the P-Series is also available in Appliance and Software Edition.
The Appliance Edition is a plug-and-play solution that comes pre-installed on a hardware appliance. It is easy to set up and use, even for businesses with limited IT resources. It also offers a range of telephony interfaces, including FXS, FXO, GSM, and PRI, which can be customized to meet your specific needs.
The Software Edition is a more customizable solution that can be installed on your own physical or virtual servers. It gives you greater control over the system and allows you to tailor it to your specific requirements. Supporting up to 10,000 users, it is ideal for large enterprises with high call volumes.
Ready to reach a broader Teams user base?
Schedule a 1:1 demo to see how Yeastar and Microsoft Teams integration works and discuss your specific needs and goals with us. We are pleased to learn about the specific market situation you are facing and help you determine the right option to go with, build a competitive offer, and win customers.