BACK
Determine Your Best Approach to Voice Enable Microsoft Teams
3.8 min read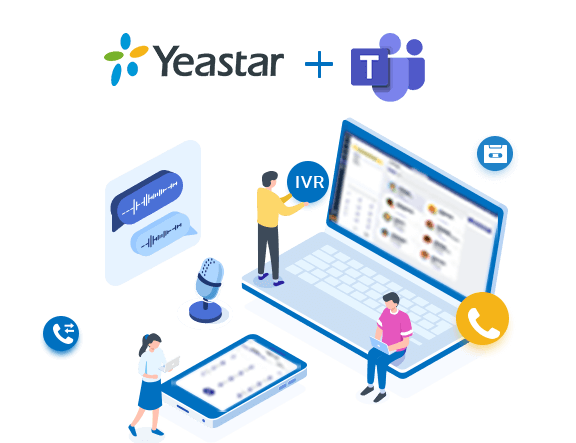 Microsoft Teams is a world-leading collaboration and productivity tool that unifies chat, file sharing, audio, video, meeting, calendar and, app integration in a single shared workspace. Teams app provides its users an easy approach to communicate and collaborate with co-workers and engage with clients and customers at any time, from anywhere across the globe, and on any device of their choice, as long as there is internet access.
A voice-incapable Microsoft Teams may be an impeccable employee engagement master but never a customer engagement expert. Phones are not dying. Customers still prefer personal calls despite having other options such as email, social media, and support chats. They like to speak to a live person instead of waiting for a long time for an email or any cold automatic programs. From this perspective, phone calls are essential for businesses and sales. That's why organizations are looking for a voice-enabled Microsoft Teams solution so that users can communicate with people internally or outside the company within the same app without opening a new window.
The good news is that Microsoft offers Calling Plan and Direct Routing options to get business voice-enabled on Teams. In doing so, Teams client across any device is transformed into a regular phone where users can reach colleagues and customers via inbound and outbound calls with external phone lines, greatly increasing work efficiency and enhancing customer engagement.
Enabling Phone System and Calling Plan in Microsoft Team
The easiest and quickest way to bring voice capabilities to Teams is to get a Phone System add-on license and Calling Plan natively in Teams. Most small- to medium-sized enterprises (SMEs) users favor this option because it's a turnkey solution and 100% on the cloud.
With this option, the phone number is assigned to Teams users, and therefore you can make and take calls outside your organization, and get access to some standard calling features such as IVR, call queues, voicemail, speed dial, and contacts.
With that being said, this option is yet far away to replace the entire business phone system considering the Calling Plan providing limited availability in certain markets, and the calling features being too basic to cover many daily business operations. Also, it is not the best substitute when your organization requires a connection to an existing phone number or third-party telephony equipment. Under all these previous circumstances, the SBC Direct Routing option might be the perfect fit for you.
engagement.
Using SBC Direct Routing to Connect to Microsoft Teams
Compared to Microsoft Teams Calling Plan, Direct Routing provides an unparalleled engine with flexibility, reliability and, interoperability to link the phone system you want to the Teams environment. You can preserve your own phone number and reuse your current telephony devices via a Session Border Controller (SBC) hardware device, thereby reducing your loss of initial investment to a minimum.
With business voice-enabled by direct routing, Teams users can get an easy tap into optimized calling quality, and a broad range of advanced telephony features like customized IVR, flexible call routing, call recording, etc.
Using this option, you need to purchase SBC Direct Routing equipment and then get this unit installed and deployed. But they can be complex to configure and run so you have to let your trained staff member or an IT professional to assist with the deployment of the solution. Besides the fact that it requires a technical expertise, it is not a small amount of money that SMEs can afford on such costly equipment.
But the question is are there any other ways out to bring voice capabilities to Microsoft Teams if your organization is not technically and budgetarily ready to migrate your phone system to Microsoft Teams with Direct Routing? Don't worry, Yeastar is here to provide an easy shortcut to help you!
engagement.
An Easy Shortcut: Yeastar for Microsoft Teams
Seeing the uptick in the demand for the voice-enabled Microsoft Teams solutions, we recently unveil the Yeastar for Microsoft Teams Integration solution, providing an easy, simple and cost-effective alternative to a self-deployed Microsoft Teams Direct Routing solution.
Yeastar for Microsoft Teams aligns the advanced technology of Microsoft-certified Direct Routing with award winning PBX system (S-Series VoIP PBX, Cloud PBX, and K2 IP-PBX) to deliver secure, high quality business voice on Microsoft Teams. Besides, users require the Microsoft 365 Business Voice (without calling plan) add-on, Phone System add-on, Common Area Phone or E5 licenses to use calling in Microsoft Teams.
Unlike a self-deployed Microsoft Direct Routing solution, this integration solution allows you not to worry about the hassle of deploying the complicated SBC equipment. Because we have done this for you and it's all in the cloud! All you need to do is just a few clicks on the interactive Web GUI, and the voice capability is instantly enabled on your Teams App. What's more, it's a pay-on-demand subscription base solution, whose cost is nowhere near that of the SBC equipment, significantly easing the financial burden of SMEs.
With this integration app, Microsoft Teams will deliver a complete UC&C solution without complicated configurations and expensive SBC equipment:
Enable high-quality business calls made or received within the Teams App from anywhere on any device
Preserve connection to the existing phone numbers and any intercom endpoints
Customize IVR scripts as per your business needs
Set up advanced call routing to forward, transfer, hold, and mute calls
Access advanced calling features like call recording, ring group, voicemail to email, and more
Enjoy a consolidated UC&C experience on a single platform
Save you time and money with simplified configuration and administration
Yeastar for Microsoft Teams, available now from the Microsoft AppSource with a 30-day free trial, empowers organizations with easy access to enterprise-class business voice natively from the Teams application anywhere anytime. You can experience the solution with Yeastar Cloud PBX free trial.