What is a
visitor management
software?
Visitor Management Software tracks and manages visitors entering a facility. Built to streamline safety, security, and compliance processes, the system uses technologies to make visitor sign-in process more efficient and consistent by documenting and gathering information. With the system, users can pre-register a guest visit and grant exclusive visitor sign-in identification to keep control of facility access.
Visitor management
software benfits
Enhances a business's overall security
Improve overall visitor experience by streamlining the sign-in process
Reduce burden on front desk staff for tasks around onboarding, vetting, pre-approval and termination for visitors
Gain better visibility into visitor activity
Meet safety and compliance requirements
Visitor management
software features
Preregistration. This allows organizations to preregister their guests and send emails prior to the guest visit. The emails can be set as template to gather or deliver necessary visiting information.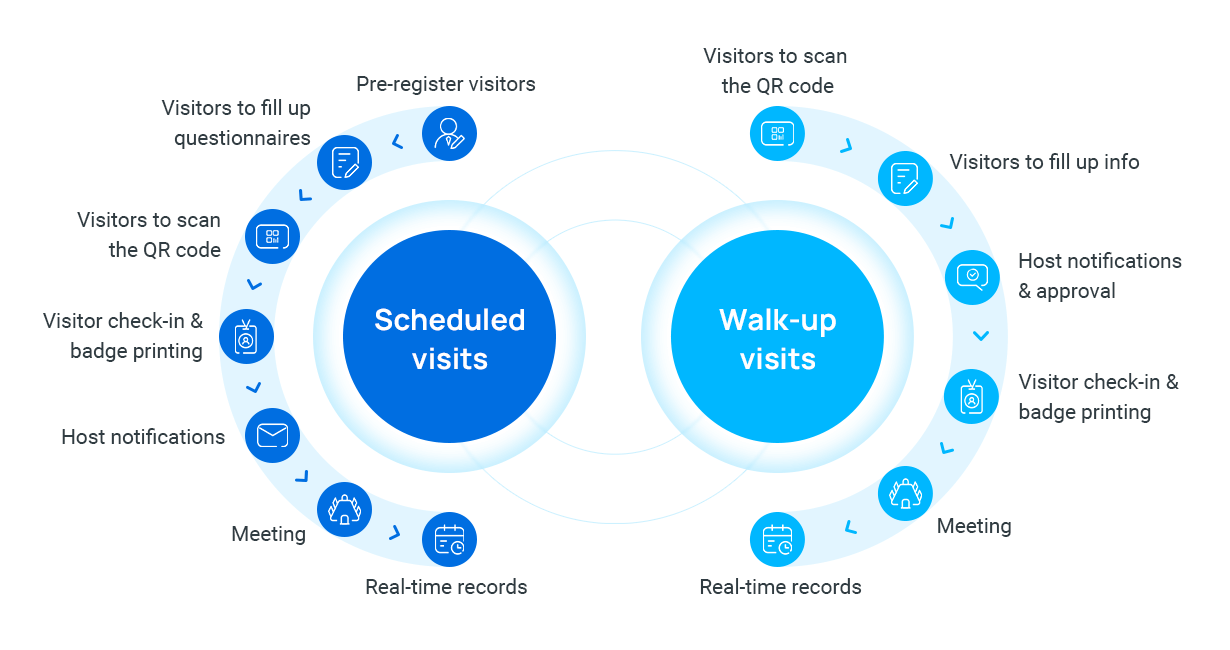 Self Check-in. This allows visitors use a visitor kiosk (loaded with a VMS) or mobile application to sign-in their visit as they enter the building.
Digital Document Signing. This prompts visitors to sign a digital agreement or form, like NDAs and waivers, on a tablet or screen when they enter the premises.
Visitor Badge Printing. Visitor Badge are digital or printable cards that contain a visitor information. It typically includes the visitor's name, date of visit, dates valid, visitor's company name, validity code, visitor type, etc. A robust visitor management system should support custom visitor badge design & automatic badge printing features to streamline workflows for the security and receptionist.
Visitor Screening. Set criteria visitors must meet to come on-site, including proof of vaccination and watch list screening. Some visitor management solutions allow to set different check-in flows, so different types of visitors can answer specific questions, submit particular documents, and etc. while they register a visit.
Host Notifications. Included as a part of visitor notification system, this feature automatically alerts the hosts on the arrival of their visitors.
Visitor Tracking and Reporting. This automatically captures and records visitor logs such as arrival and departure time, duration of visit and more. The data come in handy via intuitive visit log and reporting dashboard that analyze attendance, office visitor types, peak visiting time, etc.