BACK
Meeting Room Scheduler – What Is It and Why Your Business Needs It
5.2 min read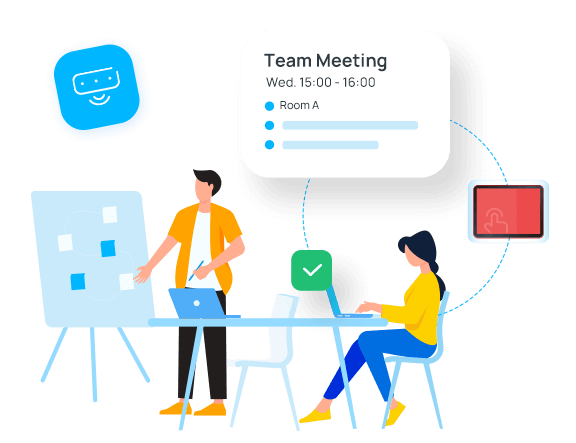 A modern workplace requires modern business solutions for tasks that tend to be time-consuming – such as having a person responsible for booking rooms.
In today's business world, where all the tasks that don't actually require human assistance are being delegated to technology, it was only a matter of time before scheduling took that path too – and truly, what a blessing it's been.
If you're not familiar with room scheduling software yet, you're in the right place – in this article, we will talk about what it is, why your company should consider investing in it, and how to choose the right one for your business.
What Is a Conference Room Scheduling Software?
Meeting room scheduling software is a business solution that allows an organization to better manage their office space and the way it is used. In many cases, hardware and software are both used to achieve the most accurate results and ensure that the scheduler shows real-time availability of meeting spaces.
With this software, an employee can check whether there's an available room for their meeting and schedule it, while the employer can better understand room usage in their office.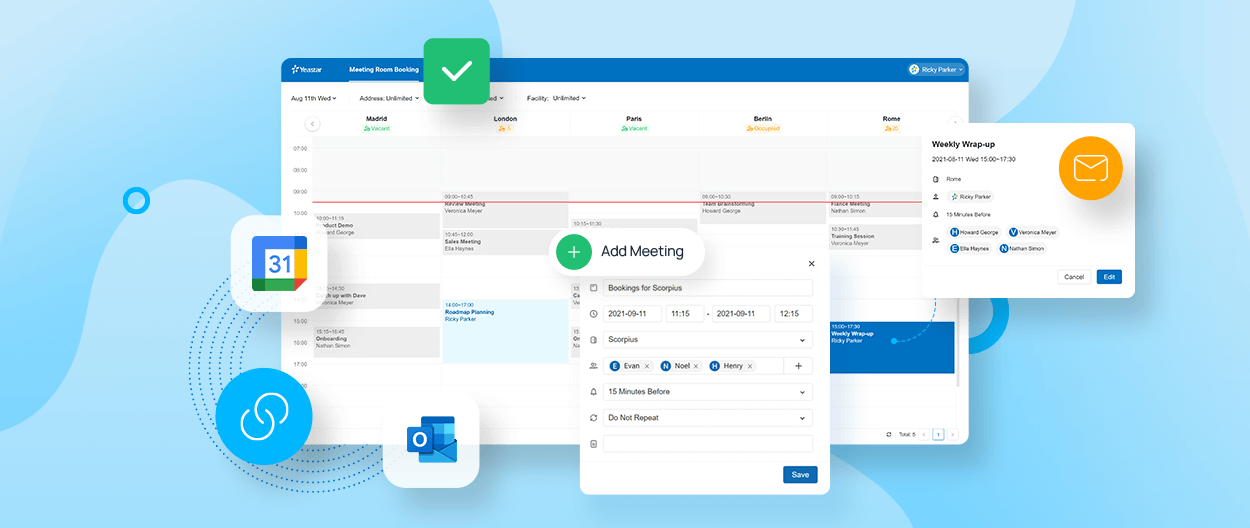 Why Do You Need a Meeting Room Scheduling Software?
There are plenty of reasons why your company should invest in meeting room scheduling software – below you will find just some of them.
To Minimize the Chances of Unattended Reservations
There might be a situation in which someone will have to cancel a meeting at the last minute. In such circumstances, contacting the right people to cancel the booking is probably the last thing on the person's mind – however, with room scheduling software, one doesn't have to worry about that, as a few clicks are all it takes for the room to be shown as available again.
To Prevent Double Booking Meeting Rooms
Anything can happen, especially if a day is a very busy one. There might be a situation where a secretary or someone else who is responsible for keeping up with room availability forgets to mark a room as booked, resulting in the double booking. While generally, it is not a big deal, it does delay a meeting, as then the organizer has to check whether one of the other conference rooms is free to use.
With room booking software, an organizer books a room on their own, therefore ensuring that on the day of the meeting, the room will be ready for them to use.
To Provide Valuable Data
A meeting room scheduling software provides you with important data about how much the conference rooms in your office are used – thanks to this information, you can get valuable insights about whether the office space you have now is enough, too small or too big, and some rooms end up never being used. This is a great way for companies to increase the efficiency of their conference room usage.
To Provide Employees with More Independence in Terms of Meeting Space
Instead of having a dedicated member of staff responsible for scheduling meetings and monitoring room availability, an employee can reserve a room on their own – this is especially useful if the said person also has other responsibilities, as it takes the task off their shoulders and allows them to dedicate this time for some other activities.
To Make Conference Room Booking More Convenient
This is especially true if your room scheduling software is integrated with a calendar system – instead of having to have a few different applications, your employees can book conference rooms at the same time they schedule meetings in their calendar, all within one app on their mobile device.
How to Choose the Right Conference Room Scheduling Software?
With so many service providers releasing their own room scheduling software, how can you know which one will be the best one for you and your employees? Here are a few things that indicate the software you are considering is a good choice.
Simple Interface
When it comes to applications used in a company, it's important to choose one that will have a simple user interface. If the interface is difficult to navigate, trying to get familiar with it will be time-consuming for employees, which is something probably neither you nor your employees want.
Integration with a Calendar System
By choosing room scheduling software that integrates with the most commonly used calendar applications, such as Google Calendar or Outlook Calendar, you are making room booking even easier for your employees, as instead of having to switch back and forth between different apps, they can do it all within one page.
Integration with Meeting Room Displays
By combining meeting room scheduling software with meeting room displays, you can take the scheduling experience to the next level. On the one hand, digital signage installed outside the meeting room shows room availability through 3 different colors, so that employees can quickly distinguish whether the room is available at a glance. On the other hand, in case of ad hoc meetings, it is quite convenient to book the room with a simple tap. All reservation information is synchronized in real time between the meeting room booking software and the room displays both ways, ensuring a smooth and conflict-free reservation experience.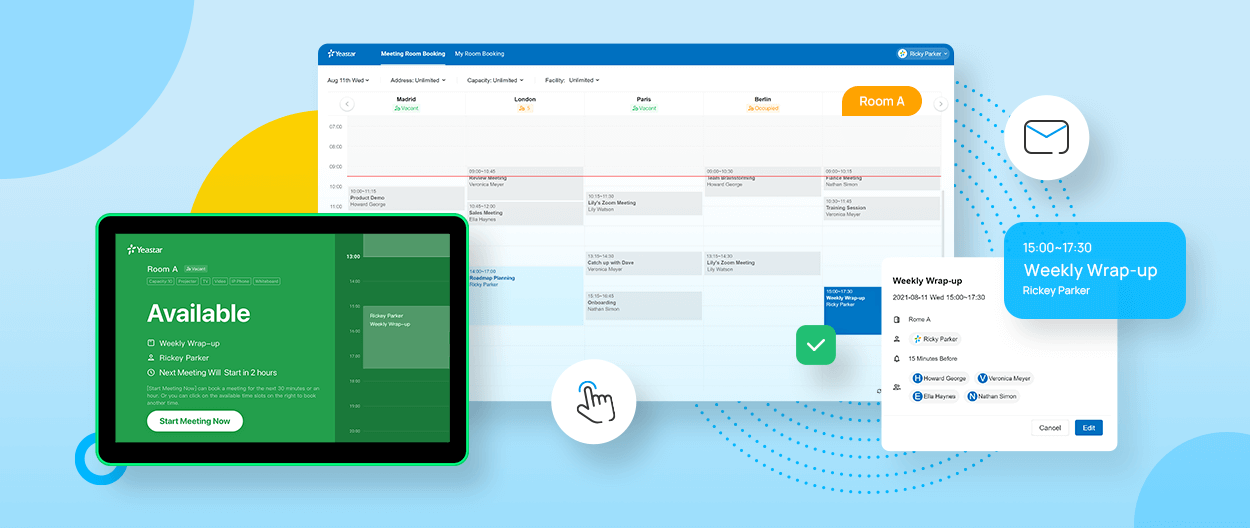 Data Collection and Analysis
The best idea would be to go for a room scheduling software that not only collects data but also displays it in a simple way so that you can clearly see how much the coworking space is actually being used – it can also help you save money, as if there are plenty of rooms that are simply not being used, you might decide to switch to a smaller office.
Other Features to Look For
Although the features we have mentioned are what you should consider the most, there are a few others that, while not essential, make your life so much easier.
First of all, look for a business solution that comes with occupancy sensors for the real-time availability of your meeting rooms. In case the meeting times pass (and the room is booked) or it ends sooner than it was supposed to, the software will automatically change the status of the room to 'available' instead of 'in use'.
You should also look for software that provides you with many customization options so that you can adjust it to your company's needs.
Summary
A room scheduling software is a business solution that allows business owners to better manage the coworking spaces they have in their offices.
There are plenty of benefits of using this tool, but the most important ones are that it minimizes the chances of unattended meetings, makes booking meeting rooms more convenient, prevents double booking, provides valuable data about the coworking space, and gives your employees more independence.
If you don't know which room scheduler to choose, check out Yeastar Workplace – an all-in-one meeting room booking solution.It has all the crucial features we have mentioned above, such as Google Calendar and Outlook Integration, a simple user interface, touch-screen room displays, smart sensors and more to facilitate a seamless experience.
Conference Room Scheduling Software – FAQ
Does room scheduling software integrate with the calendar app?
As we already mentioned, it depends on the software you are using – however, most reputable applications should allow it.
What do smart sensors do?
For example, with the people counting sensor, you can not only see which rooms are occupied but also how many people are in the meetings. The room comfort sensor supports temperature, humidity, light, CO2 concentration, and TVOC detection and display these data on the E-ink screen in real-time.
What kind of data does room scheduling software present?
This depends on the software. Yeastar Workplace, for instance, shows you the rooms usage rate, the total number of meetings, meeting density, meeting types, and more.
For more details on Yeastar Workplace solution, simply get a free trial, or get in touch and speak to our team today.