BACK
What is Room Display and How to Choose One
5.3 min read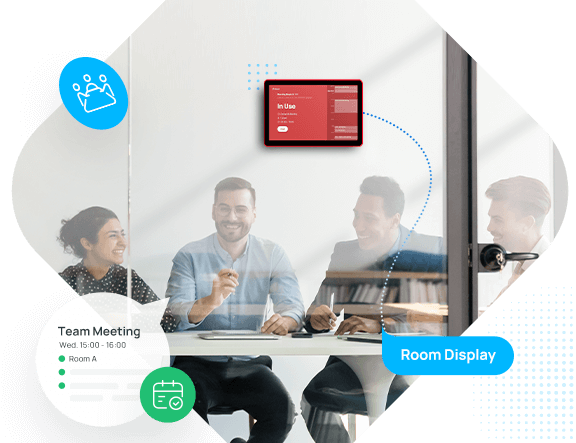 When it comes to optimizing the working environment, how to streamline the way people work can be a vital but delicate matter. We've been cooped up in there for quite some time suffering from lack of the right solution. Among all the hi-tech devices, Room Display can be a differentiator – a small investment to ease communication in the workplace and save your workers from time-consuming tasks.
Still feeling all at sea? Read on to see what is Room Display, the choices you have, and how they can help you to achieve your goal.
What is Room Display? 
A Room Display is a touch-screen digital signage mostly placed at the entrance of a meeting room or related office space. It is usually mounted on the wall or glass window to show room-relevant information such as the Room Name, Availability, Schedule, and could offer interactive room booking operations. Designed to provide an array of improvements in using the meeting rooms, Room Display devices require purposely-built software embedded in them. Through the combination of hardware and software, what features can you get is decided in this way. A Room Display commonly presents some or all the following possibilities:
Help you to find the space you already booked
Indicate a room's real-time availability, even from a distance
Display the upcoming schedules of a room (including who has booked the room and for how long)
Allow walk-up room reservations for ad-hoc meetings, team collaboration, etc.
Provide check-ins and check-outs functionality to reduce no-show reservations
Provide the ability to extend a current reservation
Sync the room schedules with calendar systems to avoid data silos
Integrate with workplace analysis system so you can understand how your room is used and what can be optimization
To add-up, saying that Room Display works only for office meeting rooms is not precise enough. It can be deployed in any scenario that needs space scheduling and management. Hotel conference halls, shared commercial studios, and university classrooms are just a few examples.

How to Choose a Room Display?
As an emerging technology in the digital workplace, many companies with the ambition to grow are still evaluating it. But once you decide to move to the next page of the workplace, here are some key Room Display features that you can't miss:
Room Information: Show the needed information of the room, including the room name, facilities, next coming schedule, etc.
Room Availability: Indicate the real-time availability of the room. If you are using open-plan office, room displays with additional built-in green/red background lighting will make it easy to see from a distance if a room is available or not.
Ad-hoc Room Booking: Provide access to start an instant meeting or book on it directly
Upcoming Schedule: Guide the upcoming meetings and the meeting schedule of the day
Reservation Check-ins/outs: Extend or end the in-progress meeting
Analysis & Reports: Generate the report of your room utilization (requires software system though)

What Hardware Choice Do You Have? 
For companies that would like to try out this new idea first before investing too much in it, there are tons of choices available. In general, these choices fall into two hardware categories:
Commercial iPad or Android Tablet as a Room Display
Placing tablets outside of your meeting rooms as Room Display can be quite flexible. You may choose different models of iPad or just whichever Android tablet that is budget-friendly and install app on the tablet to perform basic digital signage features. This option, however, is disappointing in that they are not designed for dedicated use as a Room Display, which leads to significant pitfalls such as short device run-time due to power supply limit, lack of hardware-demanding features, application interoperability issues, device mounting issues, and lack of protection or direct technical support.
Purposely-built Room Display
Many suppliers like Crestron, LG, or Philips build dedicated Room Displays for meeting rooms and co-working spaces. These devices come with WiFi, touch screen, mounting case, and pre-built hardware modules like LED lights and NFC/RFID scanners that commercial tablets don't have. But some of these devices are too specific to fulfill business needs. For example, they may be integrated with a specific Calendar System when they are developed. And people who don't use the calendar system will have no choice but quit. Moreover, some of these devices are not equipped with built-in room booking software. You will need to spend extra time to find a perfectly compatible application and deal with different hardware and software suppliers at the same time. That's not easy work.
Either way above seems a fine start to explore a digital Room Display solution. Well, the precondition is if you let go of the flexibility or compatibility. Is there any solution built to solve the dilemma?
You Don't Have to Find a Balance in the Sacrifice
Choosing a vendor that provides both the Room Display hardware and Meeting Room Booking Software could save a lot of trouble. You don't need to worry about hardware-software compatibility and can embrace all advantages of a purposely-built solution. At Yeastar, we do this for you.
Fit well into any modern office, Yeastar Workplace solution includes everything you need right out of the box. Our touch-screen Room Displays come with pre-built software – Yeastar Meeting Room Booking System, which is capable of room scheduling, calendar integration, workplace analytics, and more functionalities to help you create a frictionless workplace.
With the integrated system, Yeastar Room Displays come into need in the following way:
Offer Real-time Availability of the Meeting Room
Mounted outside of the meeting room, Yeastar Room Display is equipped with tri-colored LED light. Employees can sit still and take a glance to find the room they need with the traffic-light-style room availability indicator. Having an unexpected instant meeting? Only take a few seconds to find and book an unoccupied room.
Provide Right Usage at Right Place
Right on the Room Display screen, detailed room information like room name, facilities, upcoming meeting info and schedule of the day are all listed logically. Just customize them on your own. For cases like public areas, hiding the meeting topic and organizer from the display is also available. Plus, in case of prolonged or early-ended meetings, you can simply tap a button on the screen to extend your room reservation or release your reservation early.
Prevent No-Show Bookings
Check-in mechanism makes Yeastar Room Display smarter. With it, you can require your employees to check-in their booking in 15 mins (or any preferred duration) before their reservation starts. If nobody check-in, the room will be automatically released, which makes your meeting room available for another booking and prevents money/hour loss.
Customize Your Room Display Openly
To reflect the brand's values, Yeastar Room Display offers customization on company logo, background image, and theme colors. Play your own magic with it.
A Green Product with Cost-effectiveness
Yeastar Room Display has a competitive price compared to other mainstream tablets.
Even when you are using it, the built-in energy saving settings can help you save the power consumption to the maximum by turning off the screen when you don't need them.
Install Easily
Installation can always be the first step to deploying a new solution. Yeastar Room Display is suitable for different types of walls or glass. It takes only minutes to finish the installation of them in your office.
More Details: Download Yeastar Room Display Datasheet
Not Just Revolve, Evolve.
Standing in the centre of digital transformation, the need of a digital workplace has become non-negligible. Barriers are lying around to make your working experience stagnate. That's why people have been spinning in circles. Now there is a mature technology. Are you ready to take the first step?
Yeastar Workplace provides essential space scheduling components including Room Displays, Online Room Booking Software, and Smart Sensors for businesses to make the most of their existing room resources, minimize administrative works, and improve employee productivity. You can take this opportunity to create a free account and experience how the solution will work for your business. You can also schedule a personalized demo with us and let our workplace expert showcase the features and opportunities for you.