BACK
Inbound Call Center: What It Is, Benefits, How to Choose
7.8 min read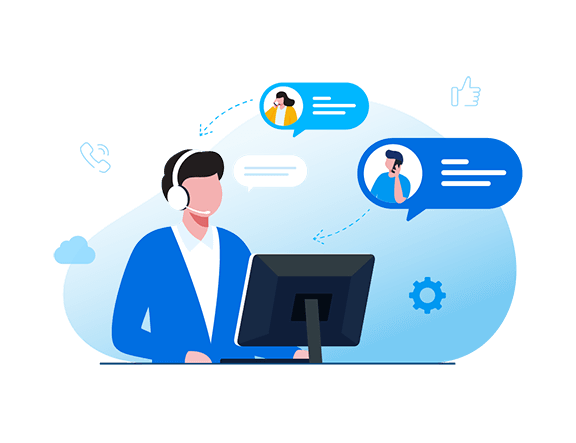 Inbound call centers have been around for a long time, and their purpose is to help businesses connect with customers. Inbound call centers can be used for a variety of purposes, including marketing, customer service, technical support, and sales.
It's essential for businesses looking to set up an inbound call center to do their research first to find a reputable call center solution provider that fits the business's needs.
This article will discuss what an inbound call center does, how it works, its benefits, and how to choose the right solution for your business.
What Is an Inbound Call Center?
An inbound call center is a type of call center that primarily handles inbound phone calls. Inbound call centers are often used by businesses that receive a high volume of incoming customer calls, such as tech support, sales, customer service, and appointment scheduling. Excellent inbound call center services may improve customer satisfaction by offering timely support and help.
An inbound call center system is a business phone system that takes all your incoming calls for your business and automatically routes calls to the appropriate department or agent based on the information provided by the caller. You will also have access to real-time performance metrics of inbound call center agents so that you can improve efficiency at all times.
How Does an Inbound Call Center Work?
Inbound call centers work in many different ways, but the basic process is generally the same. When an incoming customer call comes in, it is routed to the appropriate agent or team of agents. The inbound call center staff then handles the call according to the customer's needs.
In some cases, the inbound calls may be automatically routed to the next available agent based on factors such as the time of day and the type of call. In other cases, the customer may be placed on hold until an agent is available.
Inbound call centers typically use a variety of software programs and tools to help manage the flow of calls and keep track of customer information. These tools can include call routing software, customer relationship management (CRM) software, and reporting and analytics tools.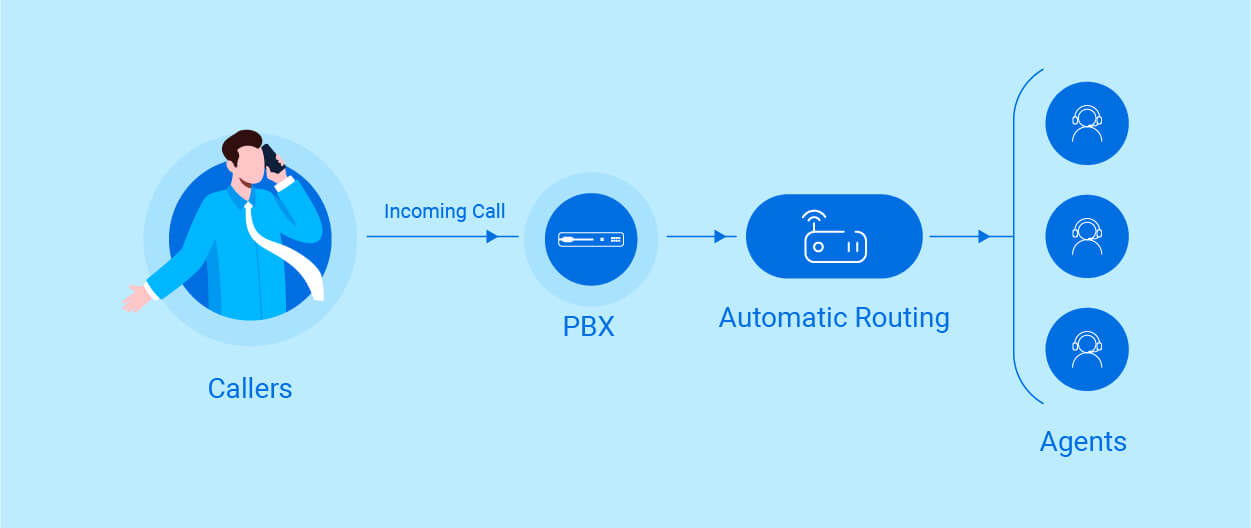 Inbound vs. Outbound Call Centers – What's the Difference?
You're not alone if you're not familiar with the difference between inbound and outbound call centers. Many people aren't aware of the different types of call center services available. In a nutshell, inbound call centers handle incoming calls from customers, while outbound call centers make outgoing calls to prospective customers.
An outbound call center is a contact center that primarily makes outgoing calls to customers. Outbound call centers are sometimes referred to as telesales centers. The primary purpose of an outbound call center is to generate leads and sell products or services.
There are certain key distinctions to be made between inbound and outbound call centers. Here are some of the most important ones:
An Inbound call center deals with customer inquiries, while an outbound call center is focused on selling products or services to customers.

An Inbound call center is usually associated with a company's customer service department. Outbound call centers are often associated with a company's sales department.

Inbound call centers typically use VoIP or other software to handle calls. Outbound call centers typically use a predictive dialer to make outbound calls.

Inbound call centers are focused on customer satisfaction. Outbound call centers are focused on generating leads and sales.
It's worth noting that many call centers offer both inbound and outbound calls. These types of call centers that deal with incoming and outgoing calls are sometimes referred to as omnichannel or multichannel call centers.
Key Features of Inbound Call Center Systems
Inbound call centers typically offer a wide range of features. Some of the most common ones include:
Interactive Voice Response (IVR)
Interactive Voice Response (IVR) systems allow customers to interact with a computer system using voice commands. IVR systems are often used to route calls to the appropriate customer service representatives.
Call Monitoring
Call monitoring allows managers to listen in on customer calls in real-time. This feature is often used for quality control purposes. The customer service manager can use call monitoring to listen for areas where agents need improvement. To ensure exceptional customer service, call monitoring is often used as a way to coach agents on how to handle customer inquiries.
Call Recording
Call recording is used to record customer interactions. Much like call monitoring, it is helpful for quality control and coaching purposes. Additionally, some businesses use call recording to protect themselves from legal liabilities. It can also create a library of customer interactions to train new call center staff.
Call Reporting
Call reporting provides managers with information about how call center agents are performing. This information can include the number of calls an agent has answered, the amount of time they have spent on each call, and the number of customer complaints they have received. Additionally, historical reporting can be used to track trends and spot patterns.
Real-Time Wallboard
A real-time wallboard allows managers and agents to see how the call center is performing at any given moment, including the quality and efficiency of each agent's calls and the overall volume of traffic that comes through the call center. This information can be used to identify areas where the call center needs improvement.
Customized Waiting Experience
You can proactively help customers waiting on hold feel valued by personalizing their waiting experience. Inbound call center software can provide information about the wait time or queue position, offer advanced queue callback options, or give custom announcements.
Automatic Call Distribution
Call routing is carried out via an automatic call distributor. It takes various elements into account to determine how to route calls, such as the time of day, the nature of the call, and the customer's location.
Self Help Options
By linking automated IVR with self-service instructions, customers can help themselves without agent involvement, significantly speeding up the call process.
Benefits of Inbound Call Center Systems
Taking advantage of inbound call center solutions can provide many benefits for your business. An Inbound call center can provide your business with many advantages, from increased customer satisfaction to lower operating costs.
Here are five benefits of using an inbound call center for your business:
Better Overall Customer Experience
Every customer wants to feel that they are being taken care of, and this starts with the first contact. Call center systems can help route calls to the right agent, monitor calls, and record them for later review. This helps improve customer service by reducing wait times and improving call quality, while also helping with retention rates because customers will be more satisfied with their interactions with your business.
More Efficient Operations
Equipped with the right tools, employees will have more time focusing on customer service, allowing them to improve both the service quality and speed, which translates into improved customer retention rates. A well-designed inbound call center system can also help you lower overall operating costs by reducing agent turnover rates and improving productivity levels through better training programs.
Easier Management of Higher Call Volumes
If you have a business that experiences high call volumes, an inbound call center can be a great solution. This is because they are designed to handle large amounts of calls without sacrificing quality. It means that your customers will still be able to get the help they need, even during peak times.
Increased Sales and Leads
Though outbound services are typically used to generate leads and sales, inbound services can also help. This is because they can provide a higher level of customer service, meaning that your customers will be more likely to do repeat business with you if they feel like they are being taken care of. A happy customer is also likely to share their good experiences with others, leading to more word-of-mouth marketing for your business.
Cost Savings
An Inbound call center can also provide cost-saving benefits for your business. They can manage their resources more efficiently, which leads to lower costs. Additionally, businesses should consider using a cloud call center to help further reduce costs. Cloud-based solutions are becoming more and more popular due to the many benefits they offer, such as scalability and affordability.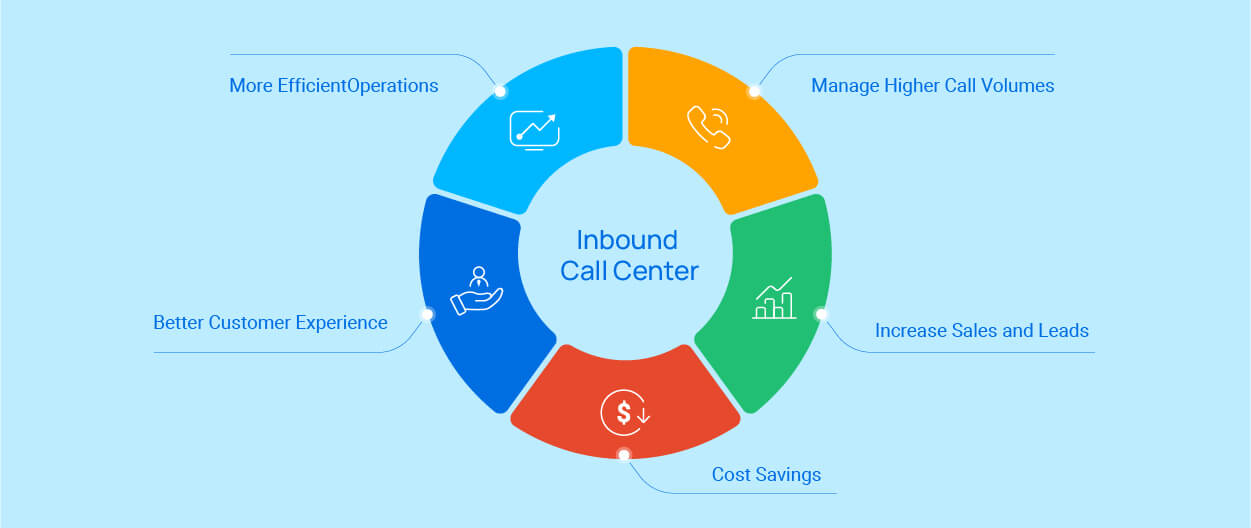 Which Industries Can Benefit From an Inbound Call Center?
Many businesses can benefit from using an inbound center, below are just a few examples.
Healthcare
It is vital to provide patients with high-quality customer service in the healthcare industry. An Inbound call center can be beneficial for a healthcare business, as they can manage patient calls, schedule appointments, and handle other administrative tasks. A call center can help improve patient care and reduce the workload for employees.
Financial Services
Financial service businesses often have high call volumes, as customers need help with various tasks such as opening accounts, transferring money, and more. An inbound center can be an excellent solution for these businesses as they can manage high call volumes and provide quality customer service.
Retail
It is important to provide customers with a positive shopping experience and outstanding customer service as a retailer. An inbound call center can help do this by handling customer orders, returns, and complaints. Additionally, an inbound call center can also help to increase sales by providing product support and handling orders.
Ultimately, any business can benefit from an inbound call center by having a dedicated team of professionals handling customer service inquiries.
How to Choose the Right Inbound Call Center System for Your Business
There are several things to consider when choosing an inbound call center system for your business, as it is not a decision to be taken lightly.
What is the initial and ongoing costs?
The three main factors that impact the overall cost of your inbound call center system include:
Hardware costs (headsets/phones/other equipment)

Software costs (licensing fees and maintenance)

Training costs (on-site or online training)
In addition to these three main factors, you should also consider how much downtime you can tolerate during the implementation process. A poorly chosen inbound call center system may cause more frustration than it's worth if it causes your team to lose productivity while they learn how to use it properly.
Does the feature set address your specific needs?
When it comes to functionality, not all systems are created equal. Make a list of the features you absolutely need, and those that would be nice to have but you can live without. It will help you focus on what is important and avoid wasting time on features that are not necessary or do not suit your needs. And be sure to understand how to use the features you choose.
Are you looking for an on-premise or hosted solution?
When you choose a hosted system, all of the services and updates is managed by the provider of your inbound call center system, which can benefit businesses who have limited IT resources. As for a premise-based solution, the system resides at your location, meaning you stay in complete control of it and are also responsible for maintaining everything from updating security patches and running backups on servers to keeping equipment running smoothly.
Does it Compatible with your current equipment?
Before opting for a call center software, it is important to consider the current hardware that you have in place, such as headsets and IP phones. Whether or not those devices can be used with the new system? There may be costs associated with replacing existing equipment as part of transitioning into a new platform.
Yeastar VoIP Inbound Call Center Solution
Yeastar P-Series PBX System gives full backing. It provides an economical call center solution that includes all the essential features – ACD queuing and distribution, IVR, visual call management, call recording &monitoring, real-time wallboards,reports, and more – to power customer service sophistication, operational efficiency, and help SMEs impress their customer, empower their agents, and elevate their business.
Learn more about our call center solution in the brochure or schedule a 1:1 personalized demo to see everything in action.