BACK
Landline Connections Shutdown, Yeastar All-IP Migration Solutions Rise
3.2 min read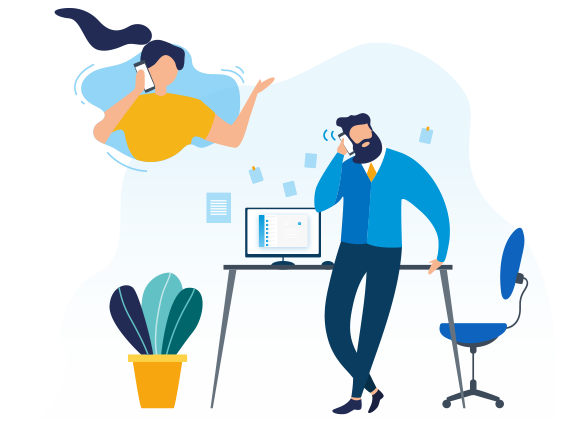 All IP is coming-Deutsche Telekom AG will convert all landline connections to All-IP technology by the end of 2018, and British Telecom wants to retire ISDN by 2025. While 2025 may seem a long way off, ISDN will be completely shut down first in Germany in 9 months. Major telecoms companies are switching from conventional fixed network telephony to modern IP technology all over Europe nowadays.
According to statista.com, the fixed telephone lines reached the highest number of 1,261 million in 2006. It kept in almost same level in 2004-2009. However, from 2010-2017, it presented a downward trend. The landline connections is still an essential technology, the transition from circuit-switched to packet-switched services is now a dominant trend.
What does All-IP mean?
All-IP refers to the conversion of the previous transmission technology in telecommunications networks to IP-based communication. The abbreviation IP stands for "Internet Protocol" and refers to a communication technology on the Internet, with which information can be transmitted digitally and packet-switched.
All-IP now enables telecommunications providers to provide the customers with all services, such as telephony, fax, TV, Internet and mobile in a single network, the so-called Next Generation Network (NGN).
How do you benefit?
As all services transformed to IP-based, you shall obtained them all from only one telecommunications provider. The age of using different services with different providers is now behind us.
Reduce costs in all aspects
Thanks to the new technology, you can optimize telephone communications and overall operating costs. ISDN hardware is obsoletely due, All-IP devices are more cost-saving in the long run, especially for the industry that is struggling with decreasing or flat revenues. In addition, carriers will offer cheaper solutions to attract more customers at this time.
Connect anywhere at anytime
All-IP has set up a flexible and consistent product world, which is the basis for a location independent and cross-device mode of working. Communications and collaboration within your colleagues and your partners will be more simplified and efficient, at all times, everywhere and with any device.
By switching to IP telephony, you can improve and secure the voice quality with Codec and Quality of Service (QoS). Thanks to the high-definition voice technology, you can now enjoy calls without noise and reverb.
The All-IP technology is future-proof, bringing with it a multitude of interesting and helpful applications. For example, you can use more voice channels and more numbers; you can easily use fax machines in All-IP networks using protocols such as T.38; callers can be pre-qualified and forwarded to the right contact person, etc.
How can Yeastar help with the All-IP Migration?
In fact, current Yeastar products are already All-IP capable. To better help our customers easily and quickly migrate from ISDN to All-IP, and have flexible and smart choice in Yeastar All-IP products depending on their own situations, Yeastar has proposed these two dedicated All-IP solutions:
For traditional PBX customers:
If you are using the traditional PBX with limited budget on a complete replacement of the existing devices, you can take a phased transition. Yeastar VoIP Gateways help with the transition by combining the traditional analog or ISDN PBX and analog devices with SIP service providers. The Yeastar VoIP Gateways All-IP migration portfolio includes TA Series Analog VoIP Gateway, TE Series PRI VoIP Gateway, and TB Series BRI VoIP Gateway. In this way, you don't have to abandon your old traditional ISDN PBX and your business communication can be successfully transmitted to All-IP technology.
Recommend Products:
For customers with multiple communication needs:
If your traditional PBX is too old to continue serving you, or you are the one that go with the tide of the time, then you should turn to Yeastar fully functional S-Series VoIP PBX. It supports ISDN, PSTN, FXS and VoIP terminals on an All-IP connection. With Yeastar S-Series VoIP PBX, you shall experience all the latest, most comprehensive features of All-IP technology.
Recommend Products:
| | |
| --- | --- |
| S412 | 8 VoIP Users, 8 Concurrent Calls, Up to 4 CO/BRI Ports, up to 8 FXS Ports |
| S20 | 20 Users, 10 Concurrent Calls, Up to 4 FXS/FXO/BRI Ports |
| S50 | 50 Users, 25 Concurrent Calls, Up to 8 FXS/FXO/BRI Ports |
| S100 | 100 Users (expandable to 200), 30 Concurrent Calls (expandable to 60), Up to 16  FXS/FXO/BRI Ports |
| S300 | 300 Users (expandable to 500), 60 Concurrent Calls (expandable to 120), Up to 24 FXS/FXO/BRI Ports |
How to Migrate?
The situation is different with the business connections. In Europe, companies need to be aware of the shutdown details, and it is wise to address the shift to All-IP at an early stage.
If you still have any doubt in All-IP migration, just click HERE to drop us a message. Act Now and you will have a chance to get a customized All-IP migration solution for your company.