BACK
Top 4 Benefits of Voicemail to Email
3.5 min read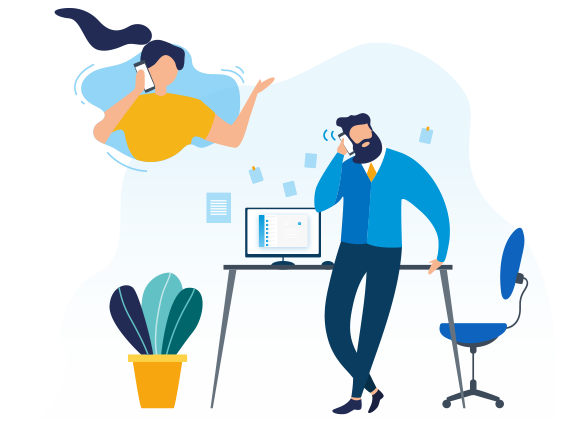 Voicemail offers businesses chance to catch up with their customers when calls are not answered timely. However, in the ever-changing technology world, it is never enough to receive all the messages that your customers leave. Quick response is always what matters. The advent of voicemail-to-email technology, one of the VoIP intuitive business communication features, greatly improves the efficiency and somehow circumvent the pitfall of the voicemail that it is easily ignored unless people aware its existence.
Voicemail to email usually serves as a free feature that most business phone systems provide. But as regards the price to pay for this feature, the benefits it brings are more than expected. Very often, voicemail to email works by emailing users notifications of new voicemail messages. But apart from that, there are still many add-on values. Here we select 4 top advantages that businesses are most likely to benefit from the voicemail to email.
1. Improved Responsiveness
According to a survey conducted in 2017, the average American worker spends 5.4 hours each weekday checking work emails, which means that as a communication tool, email is for sure a fast and effective way to reach people. Voicemail to email service takes advantage of this greatly. It allows businesses to get immediate email notifications and retrieve voicemail message by listening to the audio file attached in a matter of minutes, to which, as a consequence, response time is saved to a large extent. And even when a quick return of calls is not allowed in some circumstances, short emails could still be sent to the caller to acknowledge that the message is received, which helps keep customers from waiting too long and tarnishing their enthusiasm. Voicemail to email service lowers the possibility of voicemail messages being ignored and missed, and, in addition, offers a chance for people to make a faster response.
2. Greater Mobile Agility
Voicemail to email service helps release workers from the worries of missing important voice messages while they are out of office. This feature allows them to listen to recorded spoken voicemail messages anytime anywhere. No matter they are waiting in lines, browsing news with their tablets, or on a business trip outside the office, as long as a voicemail is left and recorded by their extensions, it will be sent to the designated email address immediately. Simply by checking the email, either in smartphones, PCs or tablets, users can retrieve the voicemail and make a response as quick as possible, free from any geographical limitation. Voice to email service ensures greater mobile agility to workers and brings them closer to their businesses. But this is not the only way to reach your voicemail box when your extension is not by your side.
The alternative is to check voicemail through web interface or mobile clients designed for your phone business system. For example, Yeastar users are granted with the convenience of checking their voicemail on their own smartphones with Linkus mobile clients installed. By installing the client designed to cooperate with Yeastar S-Series VoIP PBX, users can use their mobile phone freely anytime anywhere as a work extension and, of course, retrieve their voicemail messages as they long as they need.
3. Free Voicemail Archive
There are times when lamentations are heard that special voicemail messages are deleted by phone carrier after it had been left dormant for a couple of days. Thankfully, with modern voicemail to email service, there is a way to save these important messages before they disappear forever. In other words, your email box is somewhat turned as a free voicemail archive if the feature in your phone system is configured correctly. This is realizable because voice attachments can be stored in the email folder in form of audio files. When email notification enclosed with audio files of voicemail is sent to your email box, you can save them after first reading and retrieve them whenever you need as long as they are not deleted. In addition, you can either choose to restore these voicemail files on any devices you want by downloading them from the email.
4. Easier voicemail management
Without voicemail to email, users need to sit by their extensions dialing PIN code to retrieve voicemail and manage them by punching phone buttons, which is very often onerous and time-consuming, for searching the exact message you want through the entire voicemail box is just like navigating in a maze, let alone that the size of the phone screen reduces the possibility of any smart and easy management. However, things are different with the voicemail to email service. With this feature, managing voicemail becomes as easy as managing email. You are allowed to manage voicemail in the email folder, categorizing, renaming, deleting, or even forwarding them to your colleagues if needed. And what is even better, with a quick browse of caller ID clearly displayed in the email subject, a selection of one very necessary voicemail is possible in a minute or even a few seconds, greatly reducing the time spent in searching. In cases when your email is unavailable for some reason, the convenience mentioned above could also be realized with an intuitive and powerful web interface designed for your phone system, like the one Yeastar designed for S-Series VoIP PBX, where you can also manage your voicemail as easy as possible.