BACK
Episode 4: Four Types of Modern Offices That Require an Efficient Workplace Management Solution
4.1 min read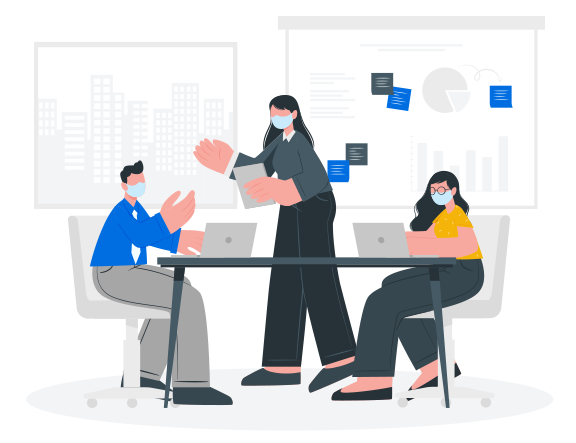 Episode 4: Return to the Office (R.T.O)
In the last episode of this blog series, we will be diving into the R.T.O trend. Find out
Why asking people to return to the office is triggering the Great Resignation
How an efficient workplace management solution can help you give what employees really want
Asking Employees to Return to the Office is Triggering the Great Resignation
Things have changed a lot in the world of work ever since the pandemic hit. Employees today want to have more flexibility in work and greater work-life balance. So, asking them to return to the office triggers anxiety, stress, and even Great Resignation, and they are ready to leave if those values don't align with their own.
Here are some stats for you to get a clearer picture.
40% of workers surveyed would prefer to work from a combination of locations, rather than working exclusively at a corporate office or from home. (Gartner, 2022)
64% of the workforce surveyed would consider looking for a new job if they were required to return to the office full time. (ADPRI, 2022)
71% of the workforce surveyed say they have considered a major career move this year. (ADPRI, 2022)
Why Your Workforce Doesn't Want to Return to the Office
Except for no daily commute and feeling more productive at home, employees also worry about their health and safety going back to the office. Leaving their homes means exposing themselves to potential risks in the office or during public transportation.
If it's a hybrid work arrangement, employees will have to book resources before they come into the office, such as desks and meeting rooms. It'd be quite a bummer to have to walk around and hunt for a desk or meeting room if you want to work on site. And imagine this happens every time you come into the office. Therefore, uncertainty over resources may be another factor behind employees' reluctance to return to the office.
An Efficient Workplace Management Solution Supports Your R.T.O Plan
An efficient workplace management solution composes a meeting room booking system, a desk booking system, and a visitor management system. It supports your office's R.T.O plan and creates a safe, comfortable, and flexible workplace experience for your employees.
Give Employees Certainty over Resources
The desk booking system and the meeting room booking system, which are usually kept on one platform, present all reservations made within your company in a bird's eye view and synchronize in real-time. Most importantly, the systems allow employees to plan ahead if they need to come into the office tomorrow or next week.
Moreover, some workplace management solutions support integration with common business apps, such as Outlook, Google calendar, and Microsoft Teams. Employees can stay with their calendar of choice and make reservations without switching back and forth between platforms.
An efficient workplace management solution makes resource booking a breeze for your employees and prevent double bookings, giving employees the confidence they need to enjoy in-office work.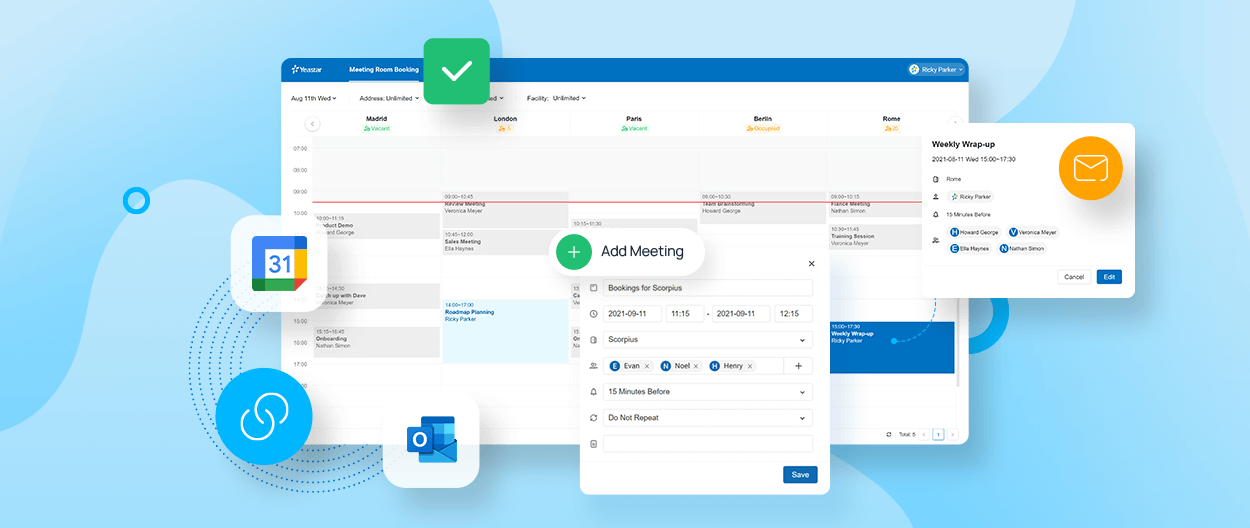 Prioritizing Employee Safety & Wellness
Health policies, like mask mandates, need to be put in place to assure employees of safety and wellness. As the office administrator, you have been granted access to manage all desks and meeting rooms on the platform. Set some desks as 'Unbookable' on the desk booking system to space out seats, so you can implement social distancing and make sure employees collaborate within a safe distance.
Safety is something to start with. The ultimate goal here is to create a work environment that employees want to come into and enjoy staying in. There're workplace management solutions on the market that incorporate smart sensors to detect real-time comfort indicators for your meeting rooms. Temperature, light, humidity, CO2 concentration, TVOC, and other real-time data will be displayed on the booking system, empowering employees to find and book a comfortable room for meetings.
Related: Smart Sensors – the Link Between the Physical and Digital Workplace
Pre-screen Visitors Before They Enter
Your office will welcome lots of visitors per day, like job interviewees, contractors, delivery men, etc. The visitor management system will act as a guard to keep your workplace safe. It lets you set up health-related questions on the system. For example, have you been vaccinated, are you experiencing coughs and fever in the last seven days, etc., and visitors will be asked to complete those questions before they enter your office – allowing you to know instantly if a visitor doesn't meet your criteria for entry. This step will significantly help to reduce risks and better protect your employees. Besides, the visitor management system tracks guests in a visitor log, which will be of big help if you ever need to trace contacts.
Retain Employees and Attracts Talents
Amid the Great Resignation, retaining and supporting your employees is more important now than ever. Your R.T.O plan must be enabled, and an efficient workplace management solution will certainly give you a competitive edge during the Great Resignation. Because it helps to connect your distributed teams and also create a company culture that's built on trust, individual responsibility, and productivity.
Besides, adopting hybrid work will certainly go a long way to attracting talents in the market. According to LinkedIn's 2022 Marketing Jobs Outlook, 87% of employees want to remain remote most of the time. Therefore, adopting the right workplace tech and giving your workforce the opportunity to mix working from home and coming on-site will help you attract more talents going forward.
Create an Office Experience That Your Employees Look Forward to
Creating a successful hybrid work model requires implementing greater workplace flexibility coupled with the right technology to provide employees with access to everything they need to do their jobs, whether they're working from the office or their dining room table.
Yeastar Workplace's Meeting Room Booking System is composed of a cloud-based platform, room displays, and smart sensors to help businesses and organizations streamline space allocation and save in-person collaboration from unnecessary scheduling conflicts.
In the coming months, a Desk Booking System and a Visitor Management System will be incorporated into Yeastar Workplace, which will transform it into a one-stop workplace management solution, ready to empower your hybrid office and beyond.
Start a free trial and explore what kind of possibilities your office holds in hand in the fast-evolving world of work.