BACK
Smart Sensors: the Link Between the Physical and Digital Workplace
4.7 min read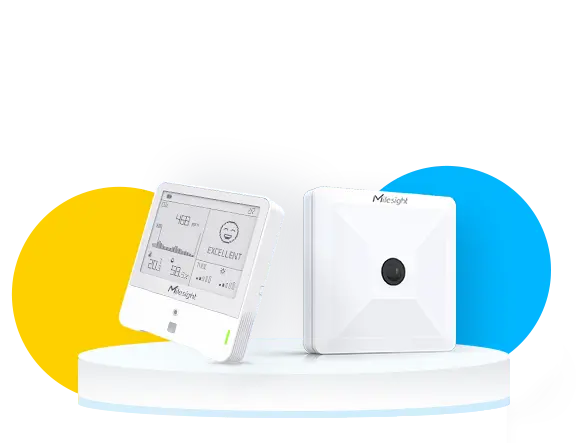 Employee efficiency has to do with a lot of factors.
In today's new norm of hybrid working, one of the unique advantages the office has to offer is that it boosts face-to-face in-person interaction, freeing employees from video conferencing fatigue. Therefore, there has been an increasing number of businesses paying greater attention to creating a more dynamic and collaborative work environment that fuels efficiency.
Workplace scheduling, space management, and even indoor environment all contribute to employee productivity, and the impact is now greater than ever. How to capture the necessary data to serve our workplace transformation? IoT and smart sensor technology might hold the answer.
Why Adopt Smart Technology in Your Workplace
As the world becomes interconnected, the physical world must be translated into digital format to serve various purposes. When it comes to your workplace scenario, there is actually a whole lot of data waiting to be uncovered and activated. That's where smart technology comes in clutch.
A smart office is a technology-optimized space made of several smart devices to connect and engage employees with their work environment. Smart workplace technology can help employees do their best work in a variety of different ways to improve efficiency and well-being. In addition, workplace leaders will also have access to valuable, real-time data to make more informed business decisions.
What Are Smart Sensors?
Smart devices like IoT sensors are used to collect and deliver information about objects and the environment in the workplace. Smart sensors come in a variety of forms and are used to monitor a wide range of items, such as how many people are in a room, if they are occupying a certain spot, the temperature and humidity around, etc. Workplace leaders can leverage this information to optimize space resources and reduce real estate costs.
As an all-in-one workplace scheduling solution, Yeastar Workplace introduces 2 types of sensors to facilitate smart space utilization – People Counting Sensor and Room Comfort Sensor. Read on to have a closer look.
Meeting Room People Counting Sensors
A common dilemma around meeting room booking is that the reservation status does not match the actual availability. It is quite common when all rooms are shown as booked but some still sit empty. Without real-time space usage data, employees simply have no way to determine which reserved rooms are actually being used, especially in a large workplace complex. That's not necessarily the case when you have occupancy or people counting sensors in place.
Let the Data Flow
Featuring a detection area of up to 48 m2 and 95% accuracy, the AI-based people counting sensors keep capturing occupancy and attendance data which is synced to our online booking platform and room displays seamlessly. Employees can see not only all bookings but also real-time occupancy status either online or on the spot instantly to avoid double booking and interrupted meetings.
No More Ghost Meetings
The term "ghost meeting" refers to a scheduled meeting where no one shows up. With people counting sensors continuously detecting if a room is taken or not, booked yet abandoned and early-ended meetings will be freed up automatically and become bookable again.  These smart sensors deliver reliable data that is less prone to human error and requires almost no user-specific training.
Free from Privacy Concerns
Give your employees peace of mind about privacy and confidentiality. Compliant with GDPR, our people counting sensor collects 100% anonymous data and no one can be identified. It is important to clarify that we use object detection instead of facial recognition so that no images will be collected or stored. Only the counter values can be transmitted through the LoRaWAN® network.
A Central Pane of Glass
Yeastar Workplace provides a management portal for users to allocate smart devices to different meeting spaces and see in real-time their online/offline status. These smart devices are equipped with Wi-Fi for straightforward Web GUI configuration.
Meeting Room Comfort Sensor
The other type of sensor Yeastar Workplace offers has to do with employee well-being – Room Comfort Sensor, also known as ambient or environmental sensor. It is used for the monitoring and measurement of indoor temperature, humidity, light, CO2 concentration, TVOC, etc., ensuring a comfortable working environment around the clock and putting your mind at ease. The data will be shown on the E-ink screen with an emotional indicator in real-time. It is also equipped with a traffic light indicator and buzzer to indicate device status and threshold alarms.
As for installation and configuration. Batteries, DC power supply, and NFC configuration are supported. With an NFC-enabled smartphone, you can not only quickly finish the configuration but also save the settings as a template and apply it to multiple devices.
Datasheet Yeastar Workplace Smart Sensors
The Patterns, Trends, and Results of Your Meeting Room Booking
It is not surprising to hear employees complain about inadequate meeting rooms, but is this necessarily the case?
One of the top challenges facing facility managers upon space planning is a lack of space usage data. In this case, there will surely be a gap in their understanding of space usage patterns such as what kind of space is needed, how large it should be, and how often it is used. Chances are the actual space utilization is much lower than expected, for example, some specific areas are constantly booked while others are often unoccupied.
Data collected through your workplace scheduling solution, including smart sensors, will give you a true picture of your office space efficiency. Yeastar Workplace comes with an intuitive analytics dashboard where you can track and measure essential space usage metrics including:
The total number and length of all meetings.
The total hours saved from automatically released meetings.
Room utilization rate: the total length of time spent in meetings divided by the total bookable time. It helps you determine whether your current meeting room resources are sufficient.
Meeting event density: the percentage of rooms in meetings during a given time period. It reflects the busiest time of day or date when rooms are hard to book.
Recaptured hours: the proportion of time saved via auto-released meetings to the total meeting length and the trend over a certain time frame.
Smart device status: the online/offline status of all connected smart sensors, room displays, and other devices. Click to manage them directly on a cloud-based platform.
Meeting types: the percentage of planned meetings and ad hoc meetings respectively.
With actionable insights into how your meeting space is used, facility managers can make data-driven decisions about the number, capacity, and layout of meeting rooms, stay responsive to changes in headcount, and forecast future demands.
Need to Measure How Your Workplace Is Utilized?
Smart sensors are a quite cutting-edge technology nowadays and one of the most important links between the physical world and the digital world for enterprises undergoing digital transformation. Yeastar Workplace introduces 2 different types of sensors for office use to optimize space utilization and environmental comfort, and you can also have all the data related to meeting room booking at your fingertips for analysis and decision making. What about a closer look? Click below to schedule a customized 1:1 demo to see these smart sensors in action.