BACK
Episode 3: Four Types of Modern Offices That Require an Efficient Workplace Management Solution
4.6 min read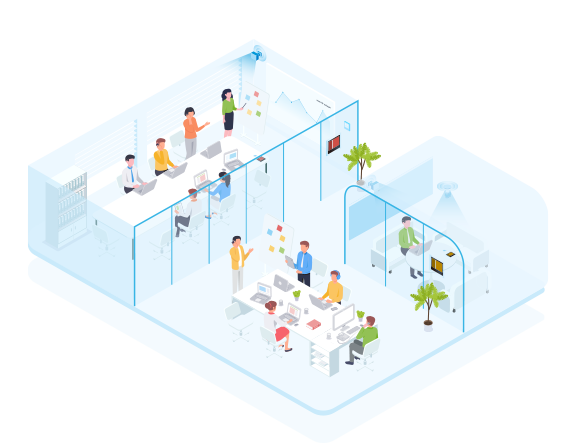 Episode 3: Co-working Spaces
Co-working space is certainly a buzzword trending rapidly in the world of work. It's a kind of office space shared by people from different companies and teams to save on real estate costs. Those who work hybrid also see it as a perfect alternative to coffee shops and home offices.
So, in today's episode, we're going to discuss how an efficient workplace management solution can give fresh momentum to this kind of shared, flexible workplace, help them avoid chaos, and get the most out of the business.
Co-working Spaces are Shaping the Future of Work
With hybrid work now taking center stage, co-working spaces are also gaining traction in recent years. Here are some stats for proof.
The number of people working in coworking spaces worldwide is predicted to double between 2021 and 2024, reaching 5 million people. (Statista, 2022)
According to projections, there will be some 41,975 coworking spaces worldwide by the end of 2024. (Statista, 2022)
The global flexible workspace market is expected to grow from USD 33.23 billion in 2020 to USD 73.03 billion by 2026. (Stratview Research, 2022)
As we can see, the market is growing strong, and together with the hybrid work trend, there'll be more and more people choosing to work in a co-working space. It opens a window of opportunity for co-working office owners to make a profit.
How to Stand out in the Business?
Running a co-working space involves a lot of work. Space reservations, resource utilization, office security, contact tracing…the list goes on, and it's true that you have a lot on your plate as an office manager. You will need better tools than just pens and spreadsheets to efficiently handle reservations and improve customer experience.
Workplace management solutions combine office space bookings and visitor management in one platform. Investing in this kind of modern workplace technology will certainly help you maintain a competitive edge and stand out among your competitors.
Unleash the Full Potential of Your Co-working Space
Let's dive in and see how an efficient workplace management solution can unleash the full potential of your co-working space.
Create a Smooth Booking Experience
It's time to leave manual bookings behind. The office space (meeting rooms and desks) booking system can create a smooth booking experience for people who come to work in a co-working space (the members).
The system brings huge convenience to members by allowing them to make a reservation within seconds on the intuitive and user-friendly interface. If you want to take space reservations in your co-working office to the next level, opt for one that supports third-party integration with Outlook Calendar, Google Calendar, or Microsoft Teams. This way, members can also book a meeting room or desk on their calendar of choice, without having to switch back and forth all the time.
Most importantly, the space resources they booked will match their needs. For a video conference, they can filter and search a room that has AV equipment; for team collaboration, they can book an entire zone so the team would sit at desks next to each other; for recurring reservations, select a time range (Every Week, Every Month, etc.) and the system will do it for you.
Some workplace management solution also includes hardware options, such as room displays. It's a kind of digital signage that comes with a touch screen and displays the room/desk occupancy status using color signals. In case of ad-hoc reservations, members can easily identify available space resources and book them on the spot.
Keep Reservations Well-organized
Every reservation is clearly presented in a time grid and synced in real-time on the office space booking platform, which greatly helps to prevent double bookings, aka booking chaos. Besides, the system administrator, i.e., the co-working office owner, has been given more access so they can stay on top of everything and avoid chaos.
For example, if a room or desk is temporarily under maintenance, you can set its status as unbookable to prevent people from booking it. Or you can help cancel the reservation and switch to other available rooms or desks fast and easily. If you notice a room is booked and yet no one shows up, you can help cancel it and make the space available again on the system.
Fully Utilize Your Space Resources
The members are required by the booking system to check in for their reservations. If not, the space will be released manually by the office managers. But if you want to up your game, go for a workplace management solution that comes with smart sensors. Not only will they collaborate with the booking system to auto-release ghost reservations, but they're also a great tool to ensure every space is being used to its fullest.
For example, occupancy sensors or people counting sensors. They detect occupancy and will auto-release a booked room or desk if no one shows up. Then, the room/desk status will be immediately refreshed on the online booking system (also on third-party calendar apps if integrated and room displays) and ready for the next reservation. Also, space utilization data will be collected and turned into actionable insights for co-working space managers to understand what's happening in the office and make adjustments accordingly.
Visitor Management and Contact Tracing
Coworking spaces often welcome a lot of visitors, from clients of the companies housed in the space to interviewees and food or package deliveries. With people coming and going all day, it's essential to have a system to track visitors in real-time to ensure office security and trace contacts.
In addition to the office space booking system, an efficient workplace management solution also offers a visitor management system that helps you track visitors in real-time, differentiate between clients, delivery men, and contractors, check visitor history (if necessary), streamline the visitor registration process, enhance security, and trace contacts with minimum costs and efforts. Most importantly, you don't have to juggle between platforms as it's in the same place together with the office space booking system.
Some visitor management systems also support integration with broader coworking management software and access control systems, allowing you to build a more well-rounded and cohesive tech ecosystem.
Get the Most out of Your Co-working Office Today
Set your co-working spaces up for success with the right workplace technology that caters to your needs. Yeastar Workplace is ready to empower your co-working spaces and make you stand out in the market.
It is a one-stop workplace management solution designed for modern offices and the future of work. Except for an easy-to-use meeting room booking system (that comes with booking software, room displays & smart sensors), a desk booking system and a visitor management system will be revealed in the coming months.
If you're ready to get the most out of your co-working spaces but have no clue on where to start, request a demo with us today and our product experts will help you find out.