BACK
Don't Just Take Our Word for It. See What Our Customers Say about Yeastar Workplace
4.6 min read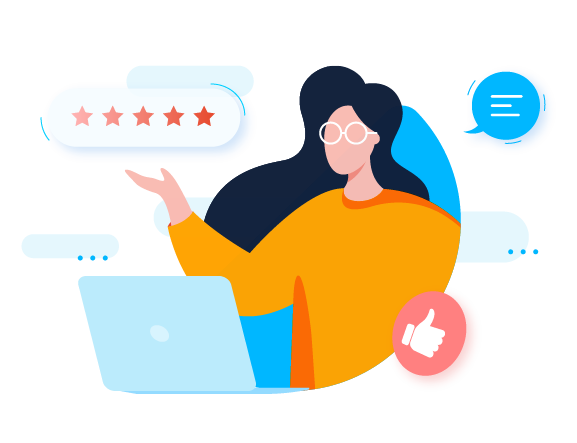 Are you tired of the complicated and time-consuming process of booking a meeting room? Did you ever take a good amount of time searching room by room? Do you have employees who book rooms but do not show up, leaving them empty? You're not alone. We have seen these issues over and over again with our clients and been able to solve them—for good!
That's Yeastar Workplace, our all-in-one workplace scheduling solution for employees to find and book meeting rooms that best suit their needs quickly and efficiently. Read on to see what happy customers and partners had to say about it. These testimonials will give you a good idea of how Yeastar Workplace makes a big difference in the meeting room booking process and meeting space utilization.
Easy to Set up and Use
We are impressed at how easy it was to set up and configure the system. The configuration steps were straightforward and within a matter of hours, the system was ready to use.
– Qingwei Sum, Engineer at Eemont Private Limited
It is easy and straightforward to implement Yeastar Workplace for a team, a large enterprise, or a co-working environment. The system runs in your browser and can be configured with just a few clicks even if you are not particularly tech-savvy. Add rooms and amenities, set up booking rules, and create custom permissions, as simple as that.
On the other hand, your employees do not need any training to start using the system. The interface is rather intuitive and user-friendly where you can see all rooms and bookings in one place in a grid view clearly. Simply click on an available time slot, make a reservation, and add attendees, and there you go.
As for room displays, wall-mounted and glass-mounted options are both supported to suit your preferences. They also come with PoE (Power over Ethernet) capability so there's no need for additional power outlets or wiring.
Real-time Room Availability
Yeah, Yeastar!!! Yeastar Workplace is the ultimate solution to manage our meeting rooms. With the bright display and its colors, you see the availability of rooms connected to the same floor at a glance. The intelligence of Yeastar Workplace helps us to enhance the workload of the rooms and also saves time, cause no resource is unused because of the wrong occupation.
– Thomas Sobirey, CEO at datatechfactory GmbH & Co. KG
Besides the online booking platform, Yeastar Workplace also includes interactive room schedule displays to show real-time availability and daily meeting activities and enable employees to book rooms for ad-hoc meetings directly on it.
If it shows the room is free to use, you can tap the "Start Meeting" button to book it immediately for an impromptu meeting or select an available time slot on the right of the screen to reserve it in advance for a future meeting.
Right before scheduled meetings, there will be a "Check-in" button on the screen for upcoming attendees to confirm their reservations and secure the room. If no one checks in, the room will be automatically released for others to book.
If a meeting is in progress in a room, the display outside will show this room is occupied to avoid interrupted meetings. If your meeting ends earlier, just tap the "End" button to check out and the room will become bookable again.
Even better, you can adopt more customization settings to match your company's branding, such as logo, background image, and theme color, hide the meeting details if needed, and turn it off during unbookable hours to reduce power consumption.
No More Double Bookings
The Yeastar booking panel is a real add-on to our meeting room. After a lot of video meetings and team meetings, we came across the problem that the meeting room was double booked. Now with the Yeastar booking system and room booking display, we can see quickly if the meeting room is available. The integration with Microsoft 365 makes it even more user-friendly to book a room.
– Bart Boeters, VoIP & Project Engineer at BICT Groep
With Outlook and Google Calendar integration, you can select meeting rooms while creating events right on the calendar app. Ideal for distributed teams and a hybrid workforce, Yeastar Workplace enables all the reservation information to sync and flow seamlessly among the online booking system, room displays, smart sensors, and your calendar app, ensuring that room bookings will not overlap with each other. It not only eliminates the hassle of switching back and forth between different platforms but also further centralizes room reservation information, effectively reducing scheduling conflicts and double bookings.
Smart Space Utilization & Management
Yeastar Smart Workplace Integration with AI sensor is a winner for us as it addresses the much-needed automated smart room management that is currently missing in the market for a truly connected IoT space management solution.
– Alvin Chng, Director at QondaSystem
The AI sensor is helpful in releasing the meeting room that is booked but empty so it is available for booking again. The ambience sensor can help us understand the conditions of the room so we can know if the room is conducive for meetings or if its conditions need to be improved.
– Thomas Sobirey, CEO at datatechfactory GmbH & Co. KG
Yeastar Workplace is a "smart" solution as it incorporates IoT sensors to collect and translate real-world data for office space efficiency and employee well-being improvement.
Mounted on the ceiling, the People Counting Sensor continuously detects if a room is taken or not so the room will be automatically freed up if it remains unoccupied beyond the preset time due to no-show or early-ended meetings. It makes sure that every square foot of floor space is used as efficiently as possible. By the way, the data collected is 100% anonymous to protect the privacy of customers and staff.
As for ambience monitoring, you can deploy the Room Comfort Sensor to measure temperature, humidity, light, CO2 concentration, and TVOC in real-time. These data will be visualized on the E-ink screen with a vivid emoticon indicator of room comfort level, helping you create a healthier and more pleasant environment to work in.
To help workplace leaders have a better understanding of how their meeting space is being used, Yeastar Workplace also introduces an Analytics Dashboard where you can keep track of essential space usage metrics and trends. This usage data serves as the starting point for you to access workplace efficiency, spot optimization opportunities, and make informed decisions about the number, capacity, and layout of meeting rooms.
---
Yeastar Workplace makes meeting room booking and management much easier and faster. That's not just us talking—that's what our customers say! Ready to see it in action? Start a free trial today to experience everything for yourself.
At Yeastar, nothing matters as much as making sure our partners and customers succeed. Using Yeastar Workplace now? What about taking a minute to leave us your reviews, feedback, or any thoughts here? Your insights are incredibly important to us.