BACK
Workplace Strategy: Why You Need It & How to Develop an Effective One
3.6 min read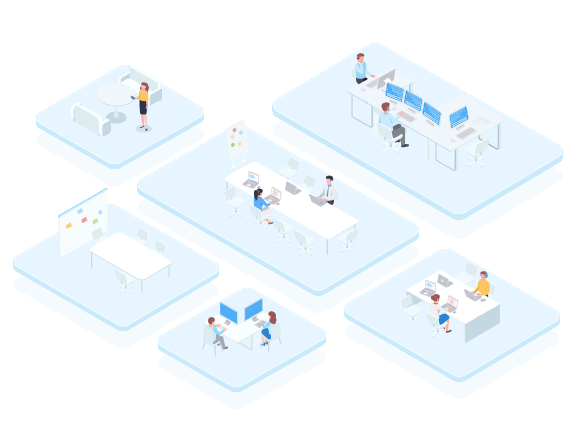 Employees spend a lot of their time in the workplace, which is why you want to make sure that the space becomes more than just a place they have to commute to five times a week and that they can't wait to leave. When done right, work settings can have a positive impact on the employees' productivity and empower employees to do their best to help the organization with its business objectives. Such efforts can be called a workplace strategy.
In this article, we will talk about what workplace strategies are, why it is a good idea to have one in place, and how to develop an effective one.
What Is a Workplace Strategy?
To put it simply,a workplace strategy is the alignment of the work environment and the company's processes in order to achieve business success. It usually involves data analysis, research and getting employee feedback, among other things, and it is done to improve the efficiency of the space the company already has.
It's important to note that this is a very individual matter, as there's no 'one-fits-all' strategy since the company's business goals play one of the main roles in developing one. What works for one workspace, might not work for another – even if they are both owned by the same company.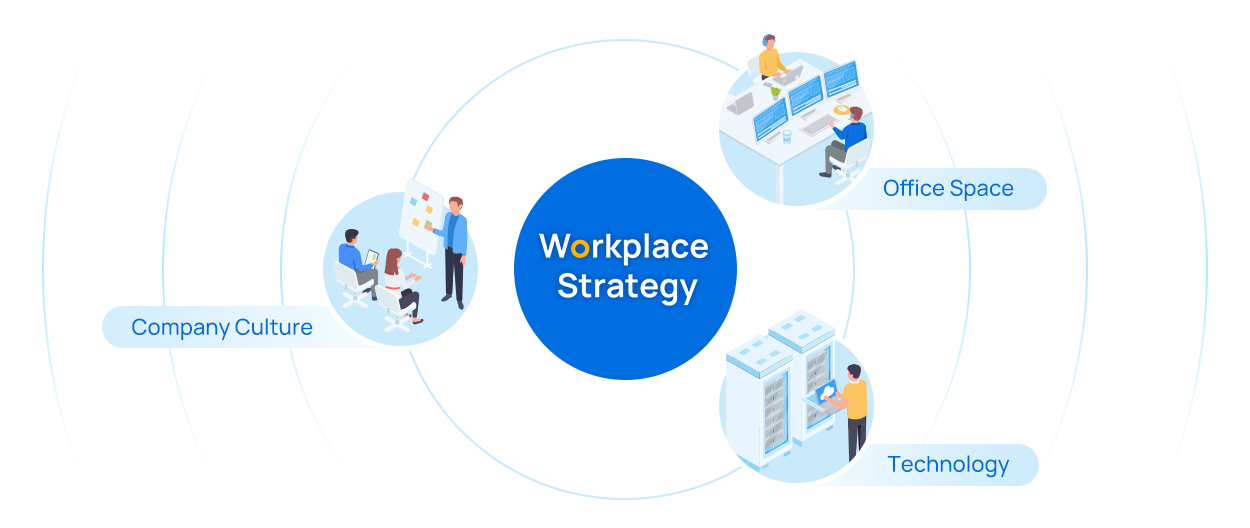 Why You Should Consider Introducing a Workplace Strategy
Almost every business can benefit from having an effective workplace strategy in place, whether they have the staff all working in the office or a hybrid workfordce. Here are three advantages that you should care the most about.
It Can Reduce Costs
When it comes to workplace strategies, one of the first things you will have to do is do some research about whether the way your office space is utilized in the most efficient way. During this part, you might find out that there's a large part of it that's not being used most of the time, only generating costs and that you can actually easily transfer into a smaller space, thus lowering the overhead.
It Can Improve Employees' Work-Life Balance
A workplace strategy doesn't only focus on material things and the physical space – it also includes things like when employees are expected to be in the office, or, in the case of remote workers, during which hours they are expected to be available. Having established working hours can help your employees with creating a work-life balance, which, in turn, can positively impact employee satisfaction.
It Can Improve Employees' Performance
Having an office space that is uncomfortable for your employees can affect their productivity. An effective workplace strategy takes into account employee expectations – and, as has been proven by research,happy employees mean increased productivity.
How to Develop a Workplace Strategy
Integrating workplace strategy into your organization involves much more than simply changing the décor at your office. It means evaluating the current structure, culture and processes of your organization to ensure that they reflect the needs of those who work there. Below, you will find a short guide on how to do it.
Understand the Current Situation in the Workplace
The first thing you need to do when you try to develop a workplace strategy is to define your goals and business objectives – if you don't know what it is that you want to achieve, you won't be able to come up with an effective strategy.
The second step is understanding how the situation looks at the moment. Corporate real estate costs tend to be very high, so it's important to either utilize every bit of the property or move to a smaller one that will be used 100%.
Also, take into account employee experience – is there anything they would like to change in the office or in the way the workplace operates? You can learn a lot from your listening to your employees.
Plan Your Workplace Strategies
Once you have an idea about how the situation looks, you can start coming up with ideas. If you need help with this step, you can always get in touch with facilities management and workplace consultants – a team of professionals that will help you organize everything you have gathered while doing your research, and transform it into a workplace strategy perfect for your company.
Share the Strategy with Your Team
In order to effectively introduce a workplace strategy, each member of your team needs to be aware of what it entails and what is their role in it. Once you have finished preparing your workplace strategy, share it with everyone in the organization so that every person knows what the action plan is.
Once everyone is aware of the workplace strategy, you can start the last step, which is implementing and tracking. It might take a while before you see actual results, so it's important to closely monitor the progress.
Summary
A workplace strategy is an alignment of a business's processes with the work environment for better results and lower costs. There are many benefits connected with a workplace strategy – for instance, increased productivity, reduced costs, and higher employee engagement.
Once you introduce workplace strategy into your business, you can focus on developing other things, such as adding new technologies, so that you can be sure your employees reach their full potential.
The right technology is the starting point of a successful workplace strategy. At Yeastar, we provide an all-in-one workplace scheduling solution for employees to find and book meeting rooms and other office space that best suit their needs quickly and efficiently. Sign up for free trialtoday to experience it for yourself!