BACK
Yeastar Ranks Highest in Customer Satisfaction for SME Premises and Hosted PBX
5.2 min read
This year Eastern Management Group, one of the most experienced communications technology research firms in the US, surveyed more than 4,000 IT managers globally who reported on a range of experiences as a customer of one of 33 Premises and Hosted PBX companies evaluated, including Cisco, Avaya, RingCentral, etc. Each provider has been quantitatively rated on 12 Customer Satisfaction Measurements.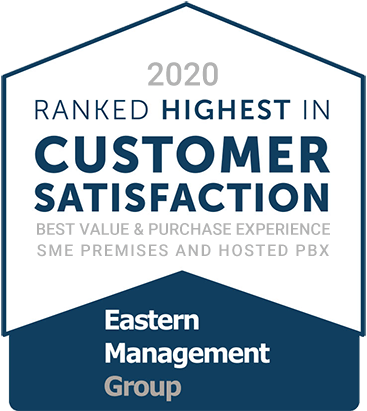 According to the Group's 2020 Customer Satisfaction Report of Premises and Hosted PBX, Yeastar is recognized as winner in two SME categories:
Download a free copy of the report to learn more and see how Yeastar outshines the competition.
Yeastar outperforms the industry average in each of the 12 Customer Satisfaction Measurements and is among the front-runners in the Technology and Product, Installation, Value, and Recommend-To-A-Friend categories.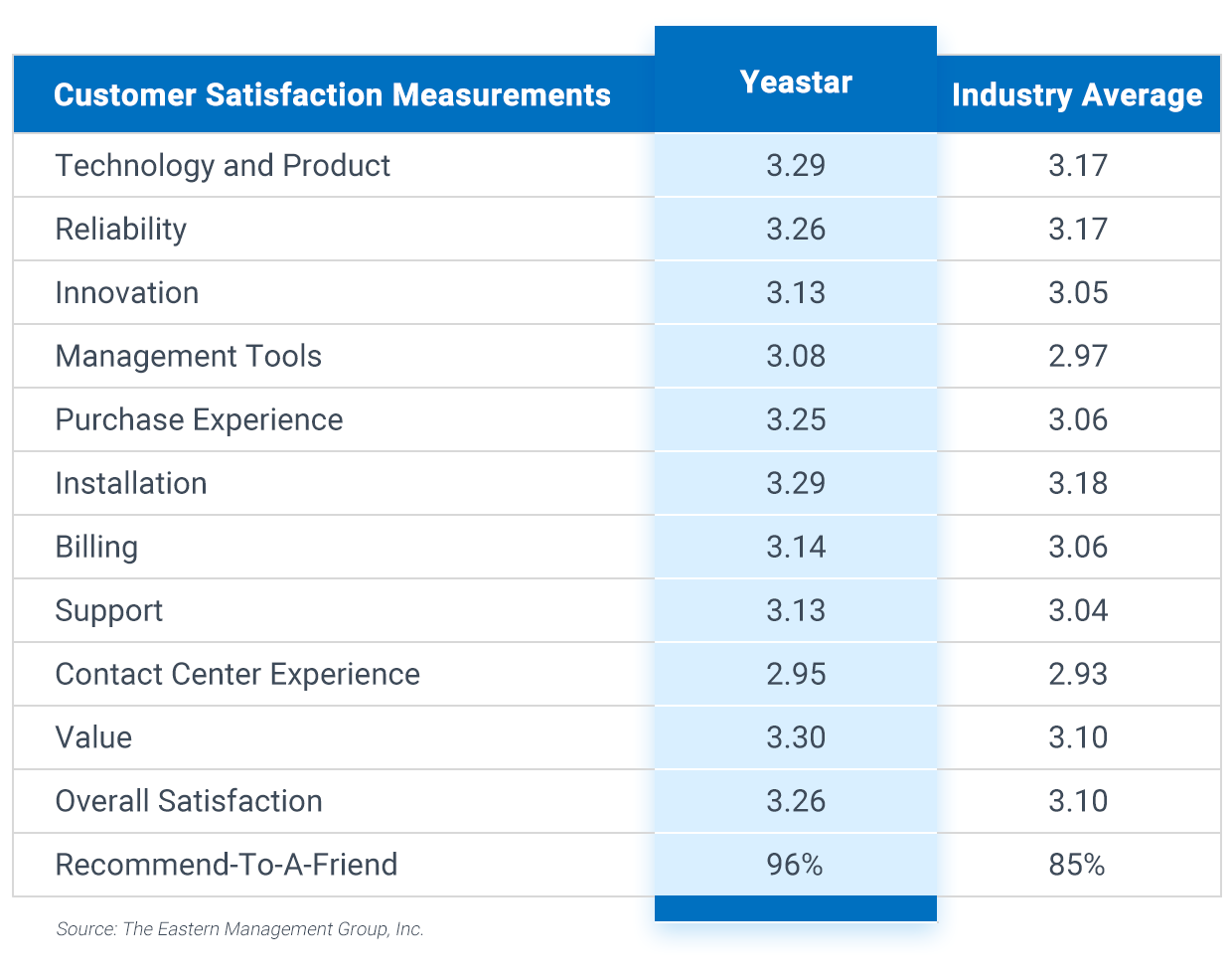 It's our dedication to excellence in every aspect of our business that has enabled us to provide first-class products and services to our customers for over 14 years. See what Yeastar has been doing good to win the awards.

Premised and Hosted PBX
Yeastar provides both on-premises and cloud-based PBX system for customers to choose the deployment option best suited to their businesses. Either way, SMEs can take advantage of a full-featured and easy-to-use business phone system.
Yeastar on-premises PBX system, S-Series VoIP PBX, provides a variety of enterprise-grade communications features, including IVR, ring group, queue, music on hold, etc. It is developed with the modular design that provides customers with telephony connection modules to adapt to the specific way their dial tone is delivered. The easy-to-install modules allow SMEs to quickly add users and scale up concurrent call capacity as their business growth, and also ensure different types of telephony connection, including FXO, FXS, SIP, ISDN BRI, E1/T1/PRI, and GSM/3G/WCDMA.
Thanks to the various modules and connection options, the systems can be put together individually…The time it takes for the system to start up is also very impressive!

– Olaf, Owner of Labitzke Software Studio
Designed with a multi-instance infrastructure, Yeastar Cloud PBX Platform incorporates Yeastar Management Plane (YMP) and easy-to-deploy dedicated Cloud PBX instances for service providers to deliver hosted voice services and unified communications solutions. With all-inclusive features and future scalability, customers can choose to use hosted phone systems with different capacities depending on the size of their businesses or any specific needs, while enjoying a full suite of PBX features.
With YMP, we were able to monetize monthly fees from our customer base to assist with the expansion of our cloud offering and reliability.

– Ciarán Ó Broin at NetTraffic
Unified Communications
Yeastar PBX System is able to unify the communications across all kinds of endpoints, which boosts communications efficiency particularly in today's world where remote working is becoming increasingly inevitable.
We developed Linkus UC Softphone, incorporated with Yeastar PBX System, to deliver a unified communications solution. Available using Microsoft Windows, macOS, iOS, and Android, Linkus easily turns its users' mobile devices and desktops into office extension as long as there is an Internet connection.
Linkus has a range of features that can improve users' call efficiency. It can be integrated with popular CRM platforms such as Zoho CRM, Salesforce CRM, Google Contacts, etc. With Click to Call Chrome Extension and Select & Dial with Hotkey, Linkus users can click to call any phone number on their computer screen. The built-in CTI makes it possible for users to remotely control their desk phones with Linkus Desktop Client (CTI mode) be the visual control panel. Users can also enjoy more UC features on Linkus such as presence, instant message, file transfer, etc.

Plug-and-Play
When it comes to ease of configuration, automatic phone provisioning and user-friendly administration, Yeastar PBX System sets itself apart from the competition. Its plug-and-play and auto-configuration capabilities, for example, ensure a smooth and fast transition that imposes minimal disruption on customers' businesses.
Compatibility with IP Phone Models
Yeastar PBX System supports compatibility with major phone brands in the market to ensure a smooth and efficient phone auto-configuration process, including IP phones from Yealink, Fanvil, Cisco, Snom, and more. Our auto-configuration is also compatible with Yeastar VoIP Gateways.
Compatibility with SIP Trunks
To make configuration easy and quick, Yeastar strives to ensure interoperability with ITSP Partners around the globe with in-depth testing. More than 80 SIP trunk providers have passed our thorough interoperability test and are compatible with Yeastar PBX System.
With Yeastar solutions S-Series, we found the products simple to understand for our partners (no additional users or SIP trunk licenses needed) and of course easy to deploy compared to other PBX manufacturers.

– Nelly, Marketing Manager at Tiptel, France

Auto Provisioning
Instead of manual configuration, our Auto-Provisioning helps customers reduce any operating time by automatically registering phones to the PBX and allows customers to configure them within the web interface of the S-Series or Yeastar Cloud PBX to change passwords and extensions, and any associated user or group settings.
Yeastar Management Plane
Developed for service providers and telecom resellers, Yeastar Management Plane (YMP) is a robust, scalable, and fully-fledged centralized platform, capable of delivering premium class hosted PBX services to business users in the most cost-efficient way. After a quick and simple setup, the users will have immediate access to a cloud-based business phone system. In this way, service providers are able to stay responsive to customer needs with flexible deployment options. All the work is performed through the web interface.
Remote Management
Yeastar Remote Management is a centralized platform for easy management and configuration of Yeastar premises PBXs and gateways, giving customers the power to quickly and securely take control without having to travel to the equipment. At a fraction of cost, customers can access this tool to maximize ease of use for both themselves and their customers.
In this year Yeastar has become one of our main partners and with its collaboration we have met the needs of many of our customers. The solutions proposed by Yeastar are reliable and stable.

– Marco at TP COMMUNICATIONS SAS

Along with our full-featured and easy-to-manage PBX products, Yeastar is committed to providing our customers with the best service and technical support to help them solve their problems in a timely manner possible.
Our sales and technical support teams are always ready to answer questions and provide assistance to our customers. We have been making every effort to ensure that our customers understand even the simplest configurations steps of the features on Yeastar PBX System, through methods like online inquiry, Help Center, blog, and YouTube videos. Besides, Yeastar Online Help is embedded in S-Series VoIP PBX as an online user guide.
We also offer a variety of technical training and certification services for our partners in Yeastar Academy, including courses related to both S-Series VoIP PBX and Yeastar Cloud PBX. From these courses, our partners will gain all the knowledge needed to operate and master Yeastar PBX.
Any inquiry or feedback from our customers are welcomed. Through effective communications between us and our customers, we look to gain better understanding of where we can continue to optimize our products and services as well as our customers' thoughts and needs to drive substantial improvement and higher competitiveness.
Yeastar is the company that supports our marketing activities and is open for participating in video conferences with our clients. Yeastar also always provides us with excellent service and helps us to boost our business every day.

– Magdalena at Acnet
It is the trust and support of our customers that makes it possible for Yeastar to win these recognitions. We will continue to be committed to developing innovative PBX system and Unified Communications solutions with higher value possible and enabling customers success as rewards in the years to come.
As another firm step towards our goal, Yeastar's whole-new product P-Series PBX System has been launched in late October. Better suited to varied needs and higher expectations from today's small-to-medium enterprises, P-Series PBX System boosts greater functionality, optimal usability, and superior user experience to perform beyond any average PBX system.
Learn more about the P-Series PBX System now.