BACK
Attention! Linkus New Version Adds Click to Call and Select & Dial with Hotkey
2.8 min read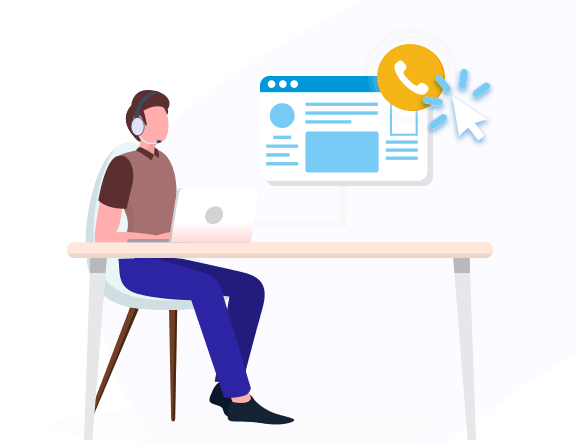 Important Read: Yeastar Click to Call Chrome Extension is updated and renamed as Yeastar Linkus for Google at May 13, 2021.
Let your employees connect calls easier and faster, with no chance for misdials.
We're very excited to release a new version for Linkus Unified Communications App. This Linkus update mainly focuses on the Linkus desktop client with 2 brand-new features to accelerate the call process for your sales, supports and phone agents – Yeastar Linkus for Google Chrome Extension and Linkus Select & Dial with Hotkey.
With added support for the two new features, you can now basically click or select to dial any phone numbers appear on your computer screen via Linkus, without having to copy, paste, and enter phone number manually, or configuring any system integration.
Yeastar Linkus for Google Chrome Extension
Yeastar Linkus for Google Chrome Extension is hot out of the oven! Designed to automate tedious dialing for Yeastar users, it works seamlessly with Linkus Desktop Client that allows you to dial phone numbers directly from your web-based CRM or any websites by a simple click of the mouse. Numbers are automatically transferred to Linkus Desktop Client ready for the call to be made.
Rich features with Yeastar Linkus for Google Chrome Extension and Linkus Desktop Client new version to enable a seamless calling experience:
Click-to-Call from Any web-based CRM: Obviating complex system integration, it allows click-to-call virtually from any web-based CRM when using Google Chrome.
Smart Phone Number Recognition: The extension automatically identifies phone numbers in any web-based applications, emails and websites, and underlines them with intuitive call icon "".
Flexible Number Digit Setting: Some countries have fixed number length while others have variable length format. The extension allows you to define the length of the numbers that you want to be detected as a phone number.
Website Blocklist: Disable auto-detection whenever necessary. Yeastar Linkus for Google allows you to blocklist detection from specific websites or to enable auto-detection only when you need it.
Custom Call Options: You can choose whether to click to dial out immediately from Linkus desktop client or pass the number to Linkus and click the call button to call.
The brand-new Yeastar Linkus for Google Chrome Extension allows users to integrate their communications with every step of their workflow process, and with the websites that they use every day. For more information about new feature configurations, please refer to here.
Head over to the Chrome Store to install the Yeastar Linkus for Google Chrome Extension Extension and upgrade your Linkus Desktop Client to enjoy one-click dialing from any websites today!
Related:  Linkus Mobile Client FAQ

Linkus Select & Dial with Hotkey
Quickly start a call by using a hotkey dialing via Linkus Desktop Client! No matter where a phone number appears on your computer screen, either in a software-based CRM, documents, or any other applications, as long as you can select the phone number, you can dial it directly with Linkus Desktop Client, avoiding misdial while saving time for your agents.
The Linkus Select & Dial with Hotkey streamlines your calling into 2 or 3 simple steps to your preference:
Step 1: Select a phone number from anywhere on your computer.
Step 2 (Custom Call Options):
a. Press the hotkey to dial out the selected number directly from Linkus Desktop Client
b. Press the hotkey to automatically prefill the selected phone number in your Linkus dial-pad, and click the call button to dial the number.
The hotkey for dialing selected number and Linkus Select & Dial call options are customizable in the Linkus Desktop Client settings. If you'd like to learn more about the configuration and applications of the new feature, we have prepared a short video that includes demo presentation to help you.


Related: Video: Yeastar Linkus Quick Start Guide
Other Optimizations
Besides the two new features for Linkus desktop client, we also made optimization on Call Pickup and Conference feature for Linkus mobile client and fixed the bugs for Linkus call pop-up, caller ID display, etc. For more info and details, please refer to the Linkus Release Note.
---
Upgrade Now to Enjoy the New Features and Optimizations
Download the latest Linkus version here to enjoy the new features and optimization. Please note that the new Linkus Click-to-Call feature has to work with Yeastar Linkus for Google Chrome Extension.
Related: 12 Things We Love about Linkus Softphone App