BACK
Recapping Highlights of Yeastar Day 2022 Virtual
4.1 min read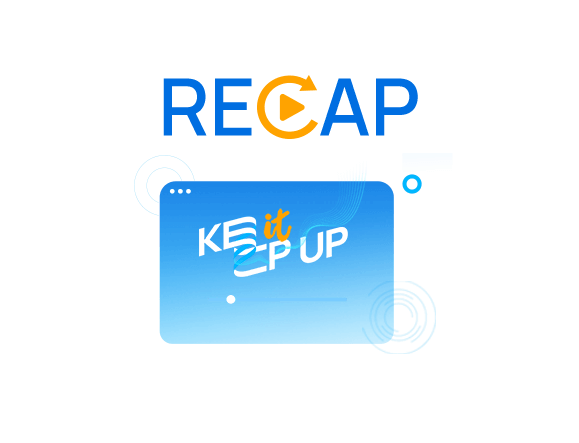 That's a wrap! Yeastar Day 2022 Virtual took place last week on October 20, with more than 1,100 attendees joining us for product announcements, success sharing, and interactive networking. Catch up on all the can't-miss highlights from Yeastar's first- and largest-ever annual virtual event in this  5-min video.
Let's dive in for more details.
Latest Updates of P-Series PBX System
The kick-off of the Product Innovation Session is a complete walk-through and live demonstration of the new features in the P-Series PBX System.
Active Directory Integration
Many organizations use Microsoft directory services to store and maintain information about users and resources. Now with this integration, you can:
easily synchronize users/organization units/groups from Microsoft 365/Azure Active Directory to P-Series PBX System and
enable single sign-on (SSO) so employees can use their Microsoft account to log in to Linkus UC Clients and the P-Series Management Portal.
For the next step, customers can expect more integration with Microsoft 365 such as video conferencing, calendar, contacts, extension status, etc. as well as integration with Google Workspace.
Call Flip & Call Switch
This new feature gives employees extra flexibility and convenience in taking calls. It is now a breeze to transfer live calls among a desk phone, mobile phone, and desktop without interrupting the conversation. Learn more about it here.
See more new features and optimizations from the latest P-Series update here.
A Glimpse into the Future of Yeastar's UC Solution
Besides the latest updates, we also gave everyone a heads-up on what's on the roadmap to assure everyone that we have been working hard to make the P-Series even better.
Unified Messaging
Unified messaging is the integration of different forms of communication such as e-mail, SMS, voicemail, social media messages, and fax on one platform. With this feature, you will be able to receive all messages through Linkus UC Clients and reply to them directly and send messages to multiple contacts in bulk. We plan to start with the support of SMS over SIP Trunking and will add Whatsapp, Facebook, and more platforms later on.
Helpdesk Integration
By integrating P-Series PBX System with helpdesk ticketing systems, besides click-to-call, call pop-up, call journal, and contact sync, you will also be able to turn incoming calls into customer support tickets directly and achieve more efficient and seamless ticket management. Zendesk and Zoho Desk will be supported first in the near future, and you can expect more.
Multisite Interconnect
There has been a no-brainer remote access solution for the P-Series users to connect remote workers, offices, and SIP devices to the central office PBX easily and securely. This feature is about to take a step further. By registering branch phone systems directly to the headquarter PBX, you will be able to synchronize data, make free and direct-dial internal calls, and apply the same dial plan among all locations. Stay tuned!
Hotel PMS Integration
We are also working on direct and easy integration with 3rd-party hotel management software or property management system without any middleware. Customers from the hospitality industry will then be able to achieve effortless internal communications, deliver high-quality guestroom services, and streamline daily operations even more easily. Oracle OPERA and fidelio will be supported first.
Besides the above, the outbound call center solution, Yeastar Central Management major update, Yeastar Partner Portal complete revamp, and more are also under development.
Yeastar Workplace: All-in-one
As for Yeastar Workplace, we announced the highly-anticipated launch of the Desk Booking and Visitor Management System at the event. With this release, Yeastar Workplace is now rounded up with everything needed to manage meeting rooms, desks, and visitors, evolving into a truly all-in-one workplace solution for modern offices, hybrid working environments, and the future of work.
Yeastar Workplace is available for a 30-day free trial now. There's no risk, no obligation, and no credit card required. Click below to try it out!
Introducing Yeastar Workplace Desk Booking System
Designed for the hybrid workplace, Yeastar Workplace Desk Booking System allows employees to easily find and book available workspace that best suits their needs. Supporting desk hoteling and hot desking, it helps facilitate an agile activity-based working environment.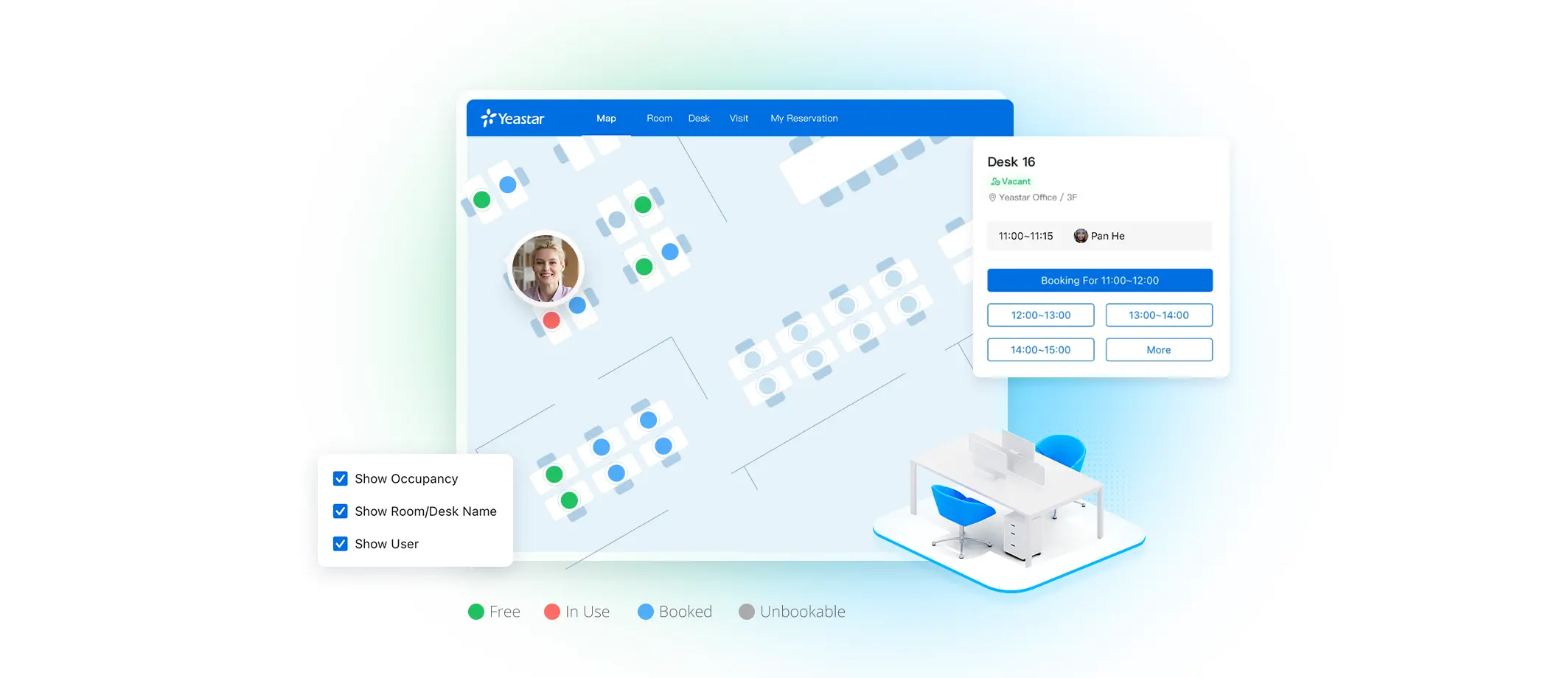 It allows you to:
Create an interactive, searchable, and bookable office map
See the status of every desk and reserve one in advance
See where your colleagues are sitting or scheduled to work
Check-in and out to confirm and cancel your reservations
Auto-release unused desks with real-time occupancy data
Introducing Yeastar Workplace Visitor Management System
Designed to optimize guest experience and secure your workplace, Yeastar Workplace Visitor Management System makes it easy to track, welcome, and process different types of people entering your workplace, such as job candidates, customers, etc.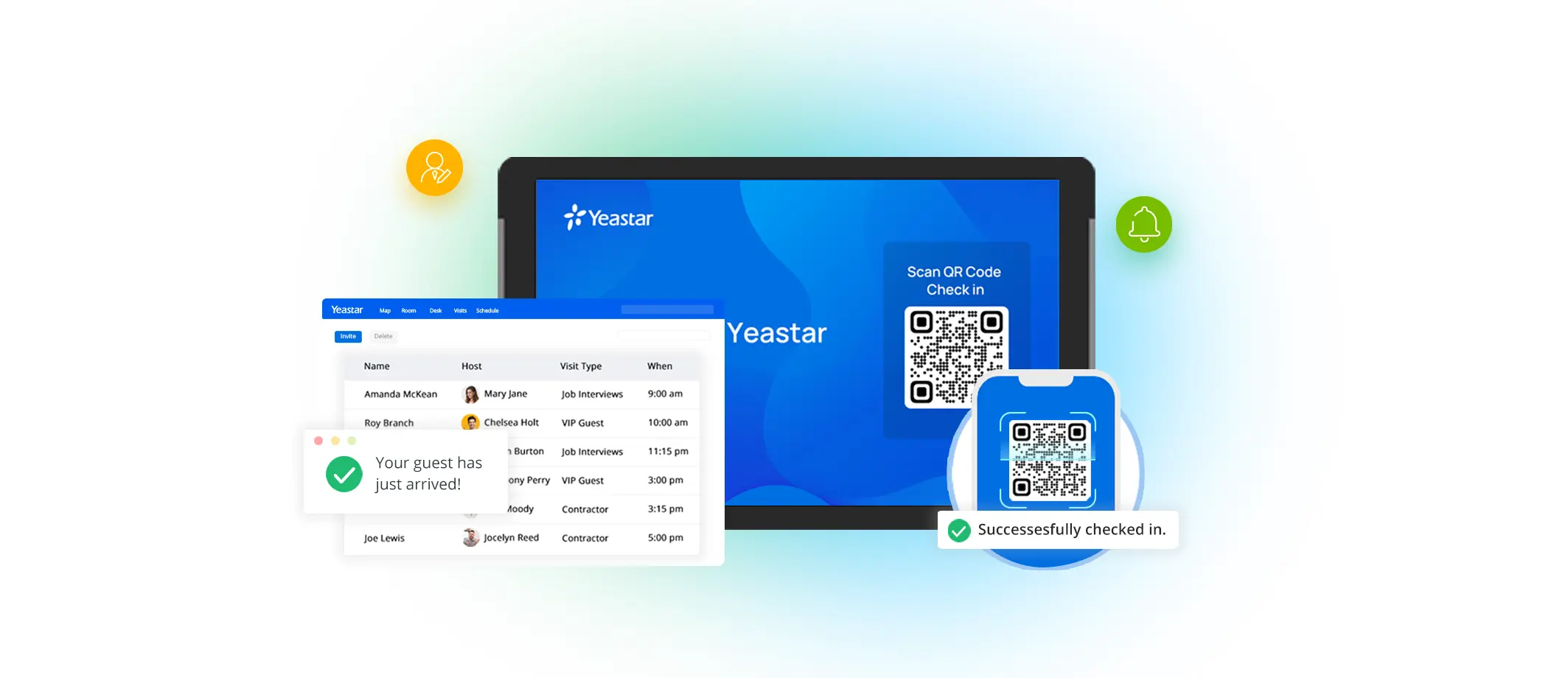 It allows you to:
Pre-register visitors to streamline the check-in process on site
Reduce wait times at the front desk with visitor self-registration
Send email notifications to hosts instantly when guests arrive
Create custom questionnaires, such as for health screening
Maintain historical logs of all visitor activities in your facility
Winners of Yeahs Award 2022
The Yeahs Awards are all about recognizing and celebrating customer and partner success. After more than four months of case collection and selection, we finally announced the full list of winners at Yeastar Day 2022 Virtual and were pleased to have our channel partners share their experiences in driving successful customer adoption.
Congratulations to the following Yeahs Award 2022 winners!
For P-Series PBX System:
Daisy Business Solutions (South Africa)
EDGEMEGA (France)
FICEK ANNA (Poland)
Telcom Sistemi Srls (Italy)
For Yeastar Workplace:
People's Communication Sdn Bhd (Malaysia)
TEKNO SISTEMAS (Spain)
We also presented the Ace Distributor Award to our distributor in South Africa, Even Flow Distribution, who drove the most case submissions and put in great efforts on promoting Yeastar products.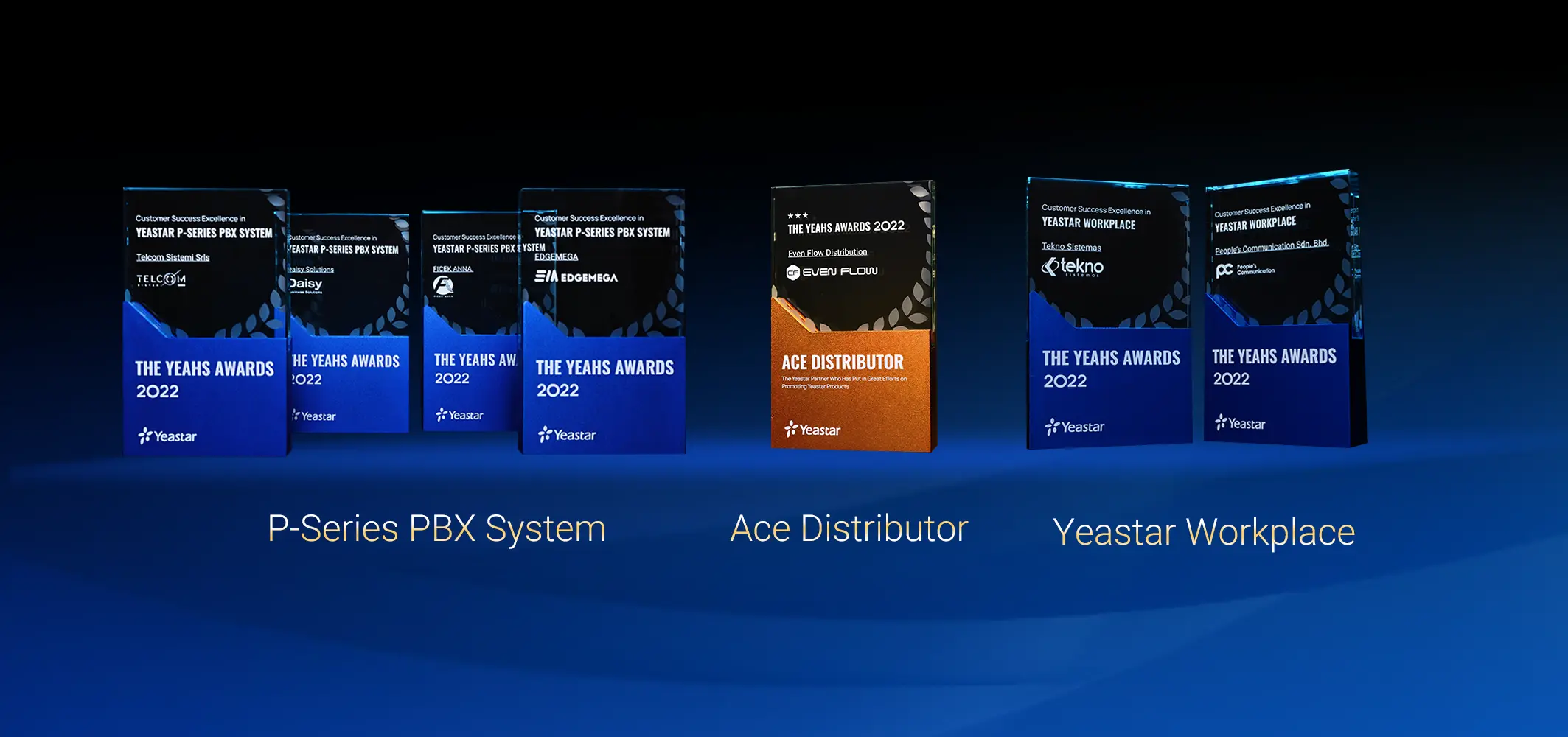 Stay tuned for this year's Yeahs Story Set which will cover success stories from financial, government, energy, and more industries.
Until Next Time
Thank you to everyone who participated and made Yeastar Day 2022 Virtual such a success! Also, thank you to our fantastic Technology Partners who joined us: Yealink, Hikvision, Zoho, Jabra, Snom, Gigaset, Fanvil, VoIP.ms, and peoplefone.
Feel free share to in the comments below your biggest takeaways from Yeastar Day 2022 Virtual. Don't worry if you missed this event or you just want to watch it again. Click here to revisit all the featured sessions.