BACK
P-Series New Updates: Call Flip, Directory Services Integration, and More
4.7 min read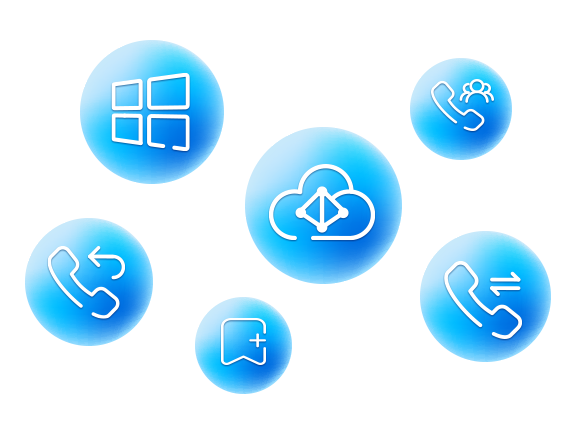 Four months since the last update, our P-Series PBX System has come back stronger with more call features, new integration, and a new subscription plan.
This time's new update includes: Call Flip, Call Switch, Audio Conferencing for Linkus Web Client, Windows Active Directory Integration, Microsoft 365 Azure Active Directory Integration, Remote SIP Service, and finally, a brand-new subscription plan for P-Series PBX System Appliance Edition.
Let's now dive in and explore what each update is all about!
Call Flip & Call Switch
More call features for P-Series PBX System users! Call Flip and Call Switch are useful call features that allow you to transfer an ongoing call to your mobile phone, desk phone, or computer without interrupting the conversations.
Imagine this, you are talking to a potential customer on your Linkus Mobile Client while heading to the office, but the battery is dying. Normally, you would say "Can I call you back?" and hang up the phone, which may come across as unprofessional and risk losing the customer. But now you don't have to. With the newly added Call Flip and Call Switch features, you will enjoy greater call flexibility in situations like this.
How does Call Flip work?
If you're calling from Linkus Web Client or Yeastar Linkus for Google, you can tap the "Call Flip" button on the screen, choose the terminal to which you want to flip the call, and it's done! The same applies to calling from Linkus Mobile Client and wishing to set up Call Flip.
If it's on a desk phone that you're making the call, simply dial feature code *01, and all your extension-connected devices will be ringing. Pick up the call on the device you wish to continue with the conversation.
How does Call Switch work?
Another way to transfer the call without hanging up is to initiate Call Switch. It only takes a few clicks to pull a live call away and switch to your preferred device.
On the home screen of Linkus Web Client, click the "Call Switch" button at the top, find the active call you're on, and switch it from the current device (for example, IP Phone) to your Linkus Web Client.

The same method works for Linkus Mobile Client and Yeastar Linkus for Google. But instead of a button, you will see a blue banner appearing at the top.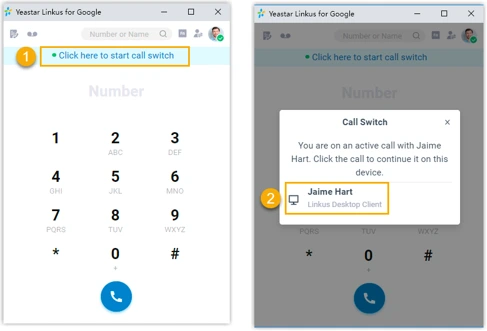 Audio Conferencing for Linkus Web Client
Linkus Web Client, the fully browser-based UC app built for P-Series users, is now supporting audio conferencing, which means during the call, you can invite people (both internal and external) to join and start an ad-hoc audio meeting. It's a lightweight audio-conferencing solution that can meet SMEs' needs and help them improve the efficiency of everyday communication.
Once you upgrade to the latest firmware version, you will find a new button "Add Participant" on the call interface. Click on it, add a third participant, and an audio conference will be initiated with the interface converting into a grid view. You can add up to 8 participants for each session, and as the host, you will be granted access to mute/unmute, add/delete participants, and enable/disable recording with just a few clicks.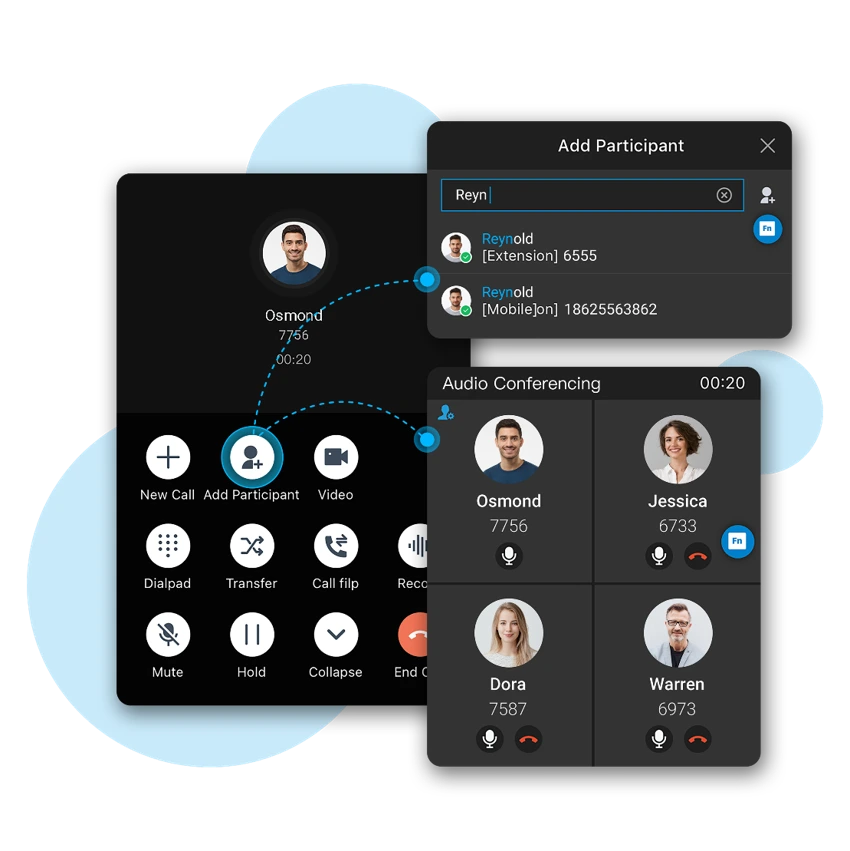 Activity Directory (AD) & Azure AD Integration
Moving on to the next update, new integration! In addition to popular CRMs and Microsoft Teams, P-Series PBX System now officially offers two directory services integration:
Microsoft 365 Azure Active Directory (an Enterprise Plan feature)
Windows Active Directory (an Ultimate Plan feature)
One of the biggest perks of integrating your P-Series PBX System with the above directory services is that you can save time from manually inputting employees' key information, like job titles, phone numbers, and email addresses.
Once you activated the integration, users and organization groups on the Active Directory or Azure AD will be synchronized to your P-Series PBX, with extensions being matched or created automatically for them one by one. They can log in to their Linkus Mobile and Web Clients with Single Sign-on (SSO), saving the trouble of remembering another password and enhancing account security.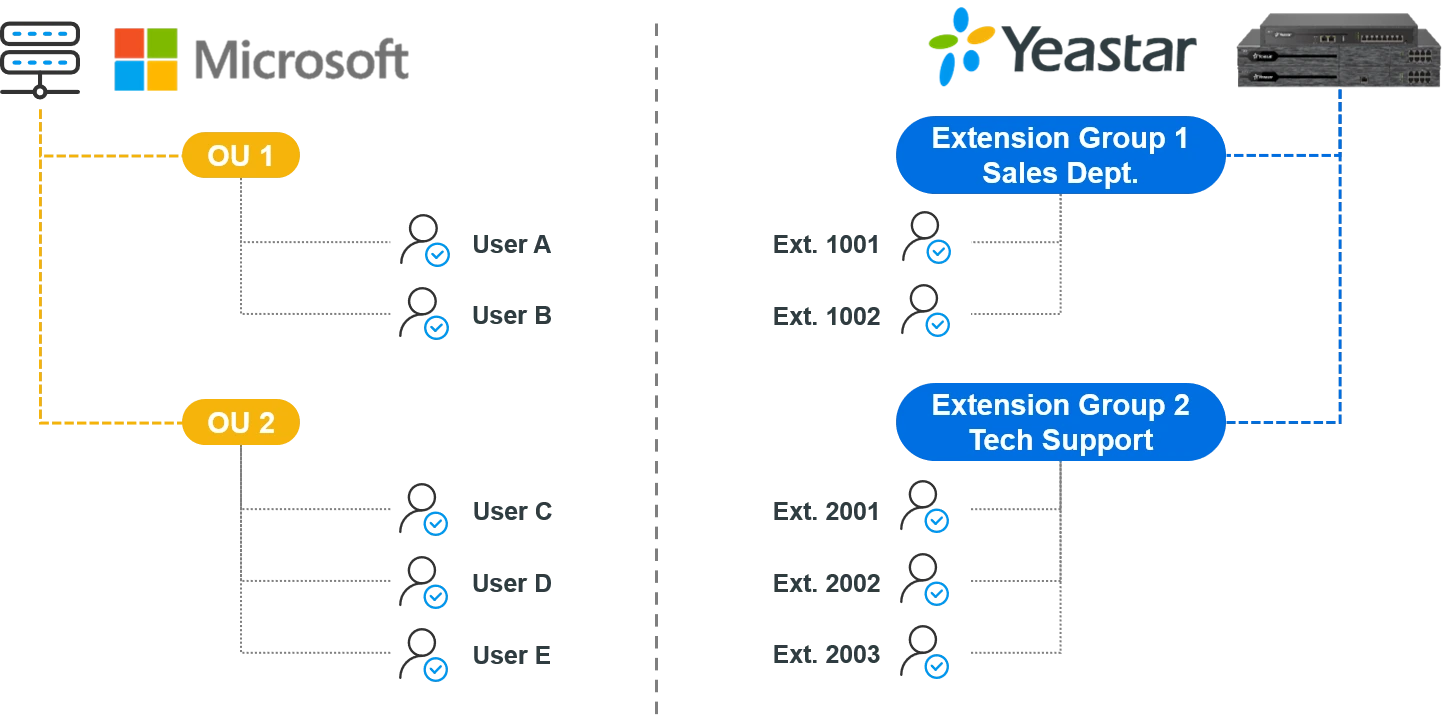 From the administrator's perspective, directory services integration also brings great convenience as it makes account management easier. In addition to automatically syncing users' key information and matching extensions, you will have the flexibility to auto-delete a user's extension number from the PBX system if he is removed from the directory services systems.
Learn how to integrate Yeastar P-Series PBX System with Azure Active Directory here. For Windows Active Directory, please click here.
New Subscription Plan for P-Series Appliance Edition
To better serve our SME customers and offer them greater flexibility, we roll out a new subscription plan (also a new revenue opportunity) for P-Series Appliance Edition – Standard Plan!
Besides regular PBX features and Instant Messaging, the new plan also includes Remote Access Service. It supports remote work and ensures your distributed team can collaborate easily. Assuming you're working from home, you will still be able to leverage Linkus UC Clients to connect with colleagues and clients and securely access the management portal of your PBX and monitor PBX status.
Remote SIP Service
This time's new update also includes a new feature relating to remote access – Remote SIP Service. What if we say there's a better and easier way to connect the remote SIP-enabled devices to your PBX, and it does not involve risky port forwarding and complex network settings? That's where this brand-new feature comes in and saves the day.
Remote SIP Service is listed under the Enterprise Plan and will provide you with the following services:
Custom PBX Domain Name (FQDN)
Easy Remote SIP Endpoints Registration
Granular Security Control
No Port Portwarding & NAT Issues
Remote SIP Service vs. Remote Access Service
You might wonder, what's the difference between the existing Remote Access Service and the new Remote SIP Service? Let's start with what these two services both have. Both provide FQDN, which stands for Fully Qualified Domain Name. It's a customizable PBX domain name service supplied by Yeastar that helps to create an encryption tunnel to establish a secure remote connection between the PBX and remote endpoints.
As regards the differences, firstly, you'll need at least an Enterprise Plan to enjoy Remote SIP Service, while Remote Access Service only requires a Standard Plan. Secondly, as the name suggests, SIP. With Remote SIP Service, you will be able to connect your remote IP phones, branch office PBXs, gateways, or other remote SIP endpoints to your PBX easily and securely. If you have needs such as multisite interconnect or remote gateway registration, Remote SIP Service is definitely a must-have.

To learn more about the two services, please visit here.
Time to Upgrade!
The new features are officially available today. Can't wait to try them out? Hop over to the management portal of your P-Series and upgrade now! If you're new to the P-Series PBX System and interested in seeing the new feature in action, we're giving you a 30-day free trial to have a closer look!
Want to get first-hand news on what's next for Yeastar P-Series PBX System? Sign up for Yeastar Day Virtual Event on Oct 20, which is our most important annual event focusing on everything new about Yeastar, emerging industry trends, and partner & customer highlights.