BACK
Return to the Office: Facts, Updates, and Predictions You Need to Know in 2023
5.2 min read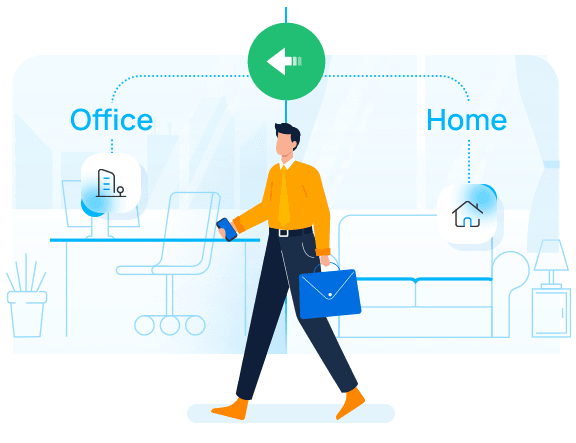 As the world is emerging from the COVID-19 pandemic, many businesses are considering or have already started bringing their employees back to the office. Workers are in a tug-of-war with executives over remote working. The debate continues in 2023.
To give you a quick overview, here we put together some of the most recent and valuable stats about the status quo of the return to the office.
Let's get started.
Key Statistics on Return to the Office
The full-time return has yet to be achieved, with hybrid work becoming a widely-accepted compromise.
Gallup reported that as of November 2022, 53% of employees with remote-capable jobs in the U.S. are working in a hybrid mode, which is on an upward trend, compared to 26% fully remote and 21% on-site.
McKinsey found that 58% of respondents surveyed have the opportunity to work from home at least one day a week and 35% have the option to work from home five days a week.
Employers are shifting work location options from fully remote to hybrid.
Employees generally don't want to return to the office.
Major companies are calling workers back to the office.
Amazon will require employees to be in the office "the majority of the time" (at least three days a week), according to a memo from CEO Andy Jassy last week.
Apple employees have been asked to work in the office 3 days a week since September 2022. "Innovation isn't always a planned activity, reported Bloomberg.
Google has asked its employees in some US locations to return to the office for at least 3 days a week since April 4, 2022, according to a company memo.
Salesforce sales staff living near company locations will be asked to work from the office from Tuesday to Thursday, reported Bloomberg, citing an internal memo.
Twitter staff are expected to be in the office at least 40 hours a week, after the company was acquired by Elon Musk last year, reported Bloomberg.
JPMorgan has asked half of its employees to return to the office five days a week and another 40% to come in a few days a week, as reported by Yahoo Finance.
Disney is asking hybrid workers to return to the office four days a week from March 1, 2023, as reported by CNBC.
More you may want to know
The Best Tech for the Return to the Office
Audio Visual Collaboration
As employees return to the office, hybrid meetings have become imperative in facilitating collaboration between in-office and remote workers and in creating a more inclusive work environment. "56% of meetings in the office are hybrid requiring the spaces and technology to meet the new performance demands," Gensler Research Institute's U.S. Workplace Survey 2022 revealed.
Here are some ways to enhance hybrid meetings:
Video conferencing platforms and on-premise solutions
Audio equipment such as microphones and speakers
Display screens such as TVs and projectors
Interactive tools such as virtual whiteboards and polling software
Besides collaboration boost, businesses are considering adopting more AV technologies such as touchless interfaces, digital signage, large interactive displays, lighting, and sound systems to make the return to the office safer, more productive, and more enjoyable for employees.
Workplace Technology
Businesses also face new challenges of adapting their physical office spaces to hybrid work. In general, this more flexible work arrangement leads companies to replace personal desks with collaboration spaces, reevaluate space demands, and get rid of as much unused square footage as possible.
Here are some cutting-edge workplace technologies for the hybrid workplace:
Room reservation systems for quick and easy meeting room booking, real-time room availability overview, and meeting space resources management and optimization
Desk booking systems for fixed and hot desk management, self-service workspace booking in advance, and creating collaborative team spaces
Visitor management systems for streamlined registration and check-in, optimized guest experience, increased workplace security, and a professional corporate image.
Sensor-based occupancy tracking used to monitor if a meeting room or desk is taken and trigger auto-release for a higher space utilization rage
Ambient monitoring for real-time measurement of temperature, humidity, light, CO2 concentration, and TVOC in the office, helping deliver optimum indoor comfort
Workplace analytics used to collect data on space usage patterns and employee behavior, helping workplace leaders make data-driven decisions about office layouts
Summary
The return to the office is underway. However, as a major gap remains between employees' and employers' expectations for remote work, companies will need to make a strong argument for more in-office days, otherwise, the rush to the office may cost them.
Many companies that currently allow employees to work fully remotely are likely to opt for a middle-way approach in 2023, by requiring their staff to go to the office with some frequency, most likely 3 or 4 days a week. With this upward trend, audio-visual and workplace technologies have been gaining popularity to equip and transform physical office space.
As a flexible-first workplace platform, Yeastar Workplace provides a comprehensive hybrid working solution that includes room & desk booking, visitor management, and workplace analytics. Sign up for a free trial to get instant access to a collection of tools designed for flexible working.