BACK
Yeastar Workplace New Updates (April 2023): Display Apps, E-ink Desk Screen, and More
4.5 min read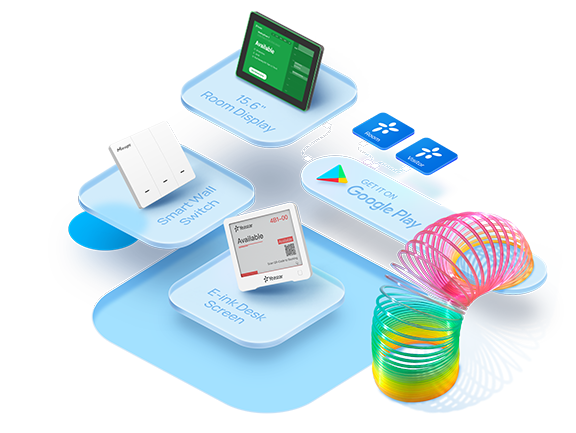 Flexibility is a key factor in running a successful hybrid workplace. So, in this update, we're launching several cool new devices and enhanced features to better support you in prioritizing workplace flexibility.
Let's now dive in!
Let's Put "Flexible" First Live Stream: New Update Deep Dive
If you missed out on our recent live stream, don't worry. Watch the replay to have a full look at this new update:
New Room Display and Visitor Screen Apps for Android
Want to see room availability at a glance but lack a room display? This problem might have bothered you in the past, but not now. For this update, we're bringing you two new display apps for Android—Yeastar Meeting Room Display and Yeastar Visitor Screen, and both are ready for download in Google Play.

So as of right now, even if you don't have a Yeastar Room Display or Yeastar Visitor Screen at hand, you can just download the app to your Android tablet and enjoy full features.
Download Yeastar Meeting Room Display App HERE, and get the app for Yeastar Visitor Screen HERE.
How to make best use of the app?
With the Yeastar Meeting Room Display app, you can easily convert an Android tablet into a Yeastar Room Display to build an easy room booking experience, maximize utilization, and eliminate double booking,
Color signal meeting room availability in real time
Book a room and check in on the spot
Release the room if the meeting finishes early
Auto-release booked but unused rooms
Synchronize schedules with MS Teams, MS 365, and Google Workspace
Meantime, if you want to strike a wonderful impression on visitors to your office, download the Yeastar Visitor Screen app to transform your Android tablet into a powerful reception assistant.
Fast visitor check-in process via QR code scan
Allow walk-up visitors to self-register on the spot
Boost your corporate image with a branding-friendly interface
Take headshots on the spot for visitor badges (Coming soon)
Device requirements
To use the app, please make sure you meet the following requirements:
System requirements: Android 8 – Android 12
Screen size: 8" – 15.6"
iOS will come soon
Fellow iPad users, please don't feel disappointed as the iOS version is well on the way and will be launched in our upcoming release. Stay tuned!
New E-ink Desk Screen, New Hybrid Work Enabler
An efficient desk sharing plan will help businesses thrive in the new hybrid working world. However, it can be difficult to keep up a high utilization rate while also ensuring that everyone can find a seat when they arrive.
That's where we come in to help! Meet Yeastar E-ink Desk Screen, a new desk booking device to help you effectively introduce hot desking. The e-ink technology is energy efficient, and a desk screen powered by e-ink is perfect for both the environment and your hybrid office.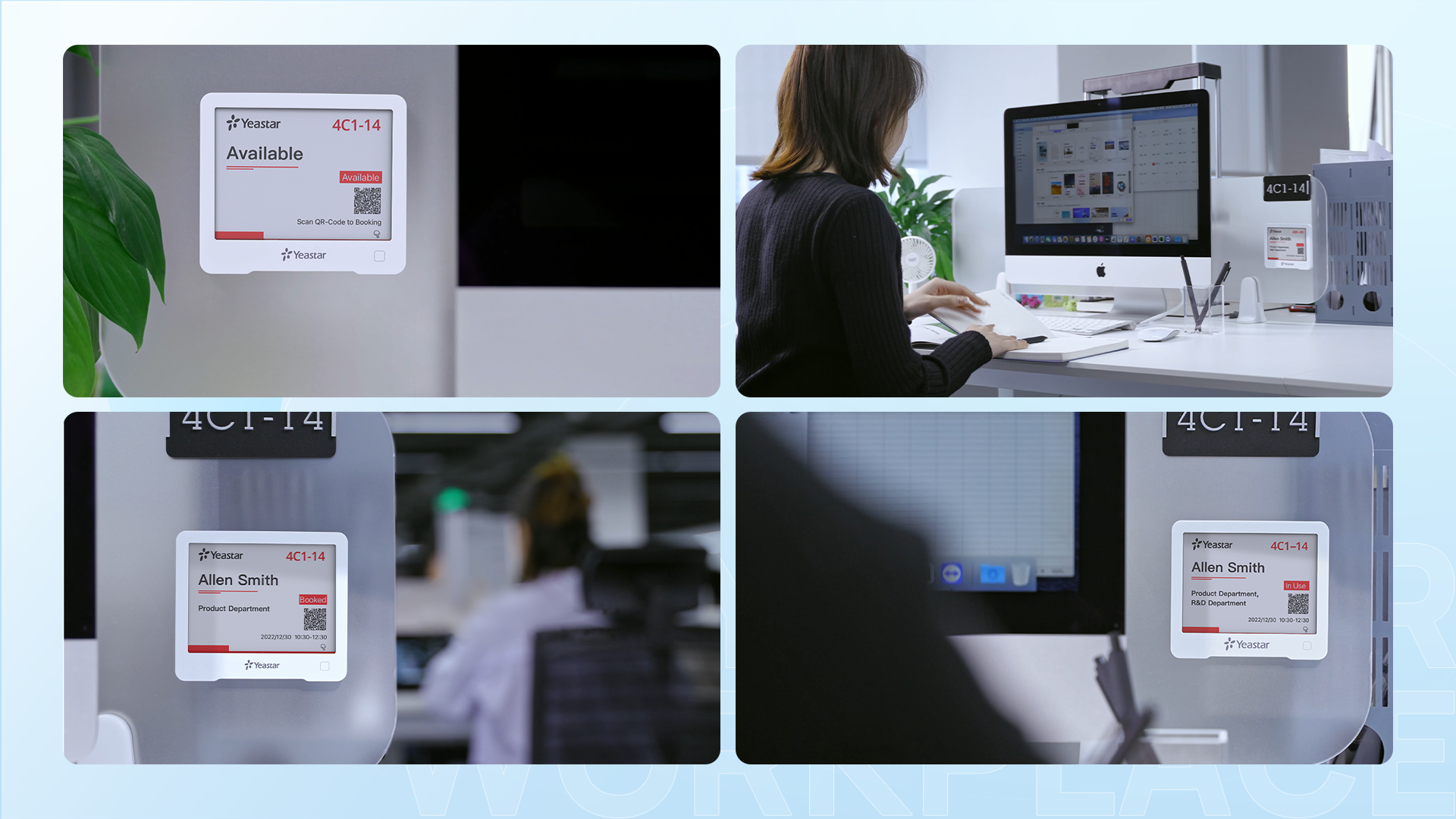 Yeastar E-ink Desk Screen works in tandem with our desk booking system to display desk status in real time. By scanning the QR code displayed on the screen, employees can book a desk right away and avoid the time-consuming desk hunt. Besides, E-ink Desk Screen and Yeastar Desk Occupancy Sensor are the best combos to optimize space utilization. They will work together to eliminate ghost booking and make sure the availability is always up-to-date.
For more information, you can refer to its datasheet HERE. See HERE for a step-by-step guide on how to install it.
More Cool New Devices
The ecosystem of Yeastar Workplace is expanding with more cool new devices that are ready to supercharge your workplace.

Yeastar Smart Wall Switch
Yeastar Smart Wall Switch is an IoT-powered wall switch made for modern meeting rooms that will provide a smarter experience while saving energy.
With it, meeting room lighting can be switched on/off remotely as people check in/out. It can also follow your pre-set working hours and will cut the lights off during non-work hours. See its datasheet HERE to learn more about this new device.
Room Display DS7315
You already know Room Display DS7310, which is our best-of-breed meeting room scheduling tool. The DS7315 has the same amazing features as the DS7310 but with a larger screen—a sleek 15.6" touchscreen. In addition to meeting room booking, DS7315 will also make it easier to authenticate user identity or grant entrance access via facial recognition. So if you need a larger screen, just go for DS7315!
Check DS7315's datasheet HERE to explore more information.
More Features to Improve Workplace Flexibility
Meeting Service Upgraded
When booking a meeting room using Yeastar Meeting Room Booking System, staff members can also schedule meeting services like catering and post-meeting cleaning in one stop. We improved this feature in this update to give it more flexibility. Now you can
Add external contacts to deliver meeting services (For example, a third-party caterer.)
Allow booking multiple meeting services
Call meeting services directly via the Yeastar Room display

Meeting Attendee Check-in Count
Attendee Check-in Count is a brand-new feature added to Yeastar Meeting Room Booking System. It's designed for large-scale conferences or training sessions where the host needs to know how many people have actually shown up and how many did not. There're two easy ways to count attendance—QR code scan or facial recognition on room displays.

Send iCalendar Schedules as Email Attachments
You will now additionally receive an ICS file as an attachment with the email notification each time you book a meeting room or desk or create a new invite. With it, you can easily import the schedule to your iCalendar, Outlook Calendar, or Google Calendar to enjoy a more seamless experience.
Invite Group Visitors
Now you can create group invites on the Yeastar Visitor Management System. As you click the INVITE button on the top left, you will see a dropdown letting you choose whether you're inviting an individual visitor or a group visitor.
The best part about this new feature is that you don't have to register everyone individually if you need to invite a large group of people. Only one key contact (or the group leader) needs to be added to the system, and the rest of the group can register themselves using a registration link. Fast, easy, and hassle-free!
Prioritize Flexibility Today with Yeastar Workplace
Can't wait to get your hands on the new features? They're officially available as we speak, so hop over to your portal now and try them out!
If you're new to Yeastar Workplace and have been looking for a workplace platform to streamline experience and efficiency, CLICK HERE to get a 30-day free trial and try it today! Before you begin, you might want to watch a few demo videos to get a better idea of what our platform is and how it can help to future-proof your office.