BACK
Multiple Registrations for One Number with SIP Forking
2.1 min read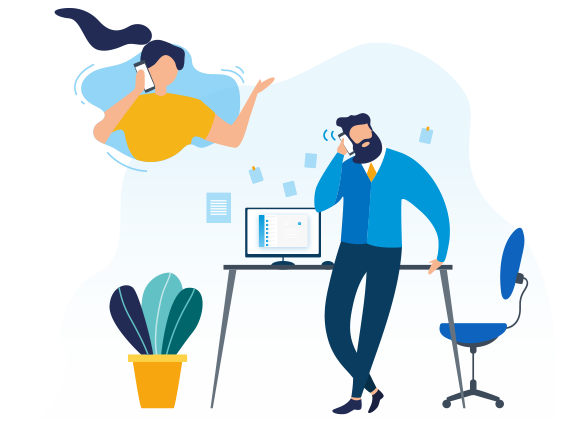 When we are off the office, work from home, we don't want to miss calls. So you may ask, is it possible to set up two or more terminals to ring simultaneously with one single call? Is it possible to have two phones with the same extension number? Or in other words, do you want to use your extension number with multiple phones, like your desktop IP phone and softphone in your smartphone? SIP Forking, an awesome VoIP feature that allows multiple registrations for one extension number so one single call ring two or more terminals at same time.
What is SIP Forking?
SIP forking refers to the process of "forking" a single SIP call to multiple SIP endpoints. This is a very powerful feature of SIP. A single call can ring many endpoints at the same time.
With SIP forking, you can register one extension number to multiple SIP endpoints, so to let your desk phone ring and mobile softphone ring at the same time, and you will be able to take calls from either device.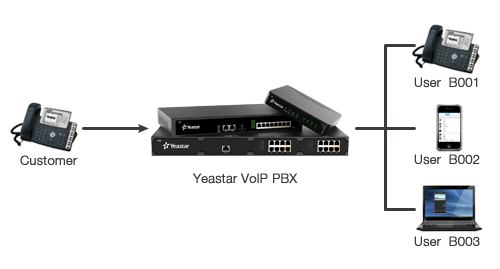 How does it work?
SIP forking simplifies the process of setting up call rules and features controlling how incoming calls are handled. A SIP fork sends a single call to multiple endpoints.  This can be done with more than one phone network endpoint simultaneously, or to multiple endpoints following a particular order.
For example, you would use SIP forking to ring your desk phone and your Android SIP Phone at the same time, allowing you to take the call from either device easily. In the same manner, SIP forking can be used in an office and allow the secretary to answer calls to the extension of his/her boss when he is away or unable to take the call.
Example:
User Jason working at the Marketing department uses the extension 1008. When necessary, he also works from home. He uses the following devices to communicate and no important call is missing.
Here is a short video clip that explains how SIP forking can work for your business.
SIP Forking in Yeastar S-Series VoIP PBX
Yeastar S-Series VoIP PBX fully supports SIP forking, which enables an extension number to be registered by multiple SIP terminals simultaneously. The value of concurrent registrations limits how many sip endpoints the extension can be registered. The default limit in S-Series is 5.
You can configure this feature by logging into the web configuration panel of your S-Series VoIP PBX and following the path: "Settings" -> "Extensions"-> "Add/Edit Extension".
Stay Connected Anywhere Anytime
Except for the SIP forking feature, Yeastar S-Series VoIP PBX provides a powerful mobility solution for road warriors and off-site employees. Like:
Linkus Unified Communications Softphone: powerful desktop/mobile softphone that enables all office extension features right at your fingertips anywhere. Talk, text, and collaborate with your team as if you were in the office and never miss a call.