BACK TO BLOG
Guide to Staying Connected with Remote Offices and Road Warriors
It can be a challenge to connect all of your employees when they don't all work under the same roof.
How do you keep everyone synchronized with efficient communication when you have several office locations, have traveling salespeople, you're attending trade shows, and have team members that work from home?
Yeastar IP PBXs offer remote office connectivity and mobility features for your road warriors and off-site employees.
Remote Office Connectivity Options
Thanks to the internet, work is less about place and more about access.
Connecting remote offices and the growing number of work from home employees can be done both efficiently and cost-effectively with Yeastar phone systems.
Yeastar PBXs make it simple to combine multiple types of dial tone via the good old PSTN (public switched telephone network), SIP trunks (with automatic provisioning for Yeastar supported SIP trunk partners), a digital PRI/T1 connection, P2P mode.
When multiple remote Yeastar PBXs are connected you can enjoy:
Free inter-office calls
Shared trunks among multiple locations
Lower costs
Increased flexibility and employee productivity
Yeastar PBXs can be linked together via IAX trunking, SIP trunking, private IP, or LAN. Here's a sample application of two Yeastar S-Series VoIP PBX in different locations, connected to each other: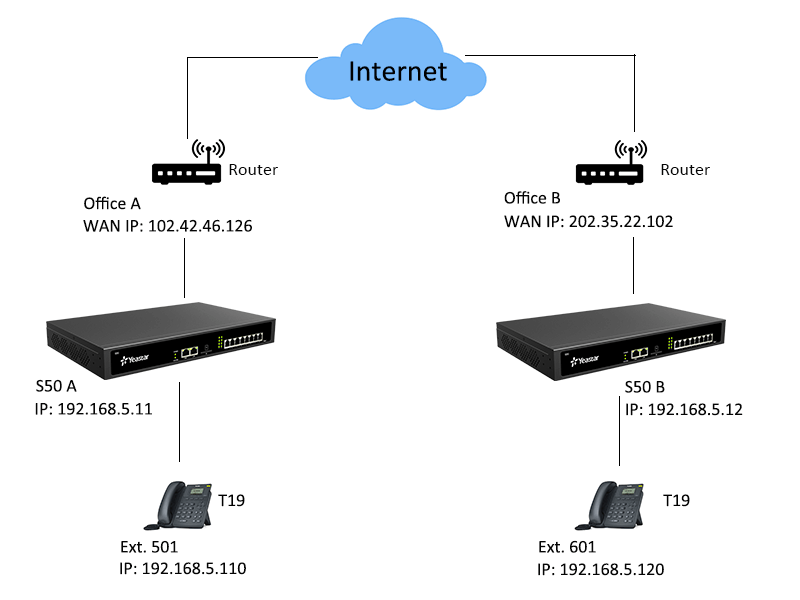 Mobility Features for Road Warriors
Businesses with employees that travel need unified communication (UC) solutions to allow their employees to stay productive while working on the road.
Yeastar PBXs recognize smartphones and softphones as extensions on the PBX so that users can easily access their company's phone system wherever they are and on whichever device they're using.
This also means that you're always connected. Any incoming call to your office extension can be automatically forwarded to a cell phone, or routed to multiple end points that you are associated with to "find you", for example.
Yeastar mobility features provide the ability to:
Make and receive calls by smartphones and softphones as an internal extension.
Seamlessly route calls between office desk phones to smartphones.
Control via mobile client if/when calls are transferred to smartphones including option to turn off business calls when needed.
Access important business files remotely like call detail records (CDR), voicemail and voice messages, from anywhere in the world.