BACK
What Is a Softphone? How Can It Benefit Your Business?
5.9 min read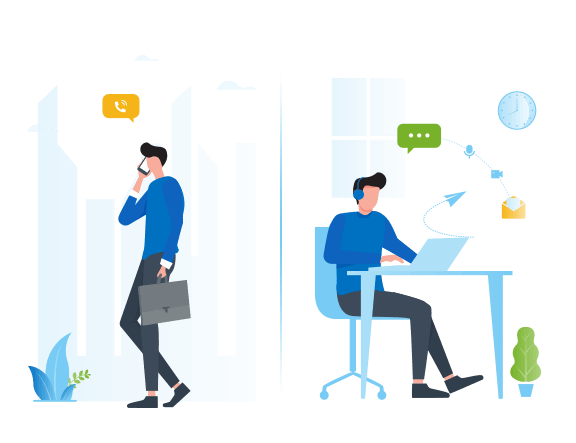 If you've been looking for a new or upgraded phone system for your business, you've likely seen the term 'softphone'. So, what is a softphone? Is it different from any other business phone? What can you do with it, and how will it benefit your business?
What is a softphone: a brief explanation
In spite of its name, a softphone is not a desk phone or any other physical device. Instead, it is a software application that is installed on a connected device. It is used to make calls over the internet.
In most instances, the softphone app you use will depend on the VoIP (voice over internet protocol) service provider you select. They usually offer a softphone that has been designed to work with your business phone system. Ideally, it has an intuitive interface that closely resembles using desk phones or other devices. Softphone app users will be able to access all the same features including dialing out, receiving calls, setting up call forwarding, voicemail.
Anyone using a softphone app will also be able to access features that are only available via VoIP devices. Some examples of this are making calls over the internet and video conferencing.
---
How does a softphone work?
It's refreshingly easy to get a basic understanding of a softphone. In fact, a reputable provider will ensure that setting up your softphone is quite simple. Ideally, your softphone app will be installed and operational in just a few minutes.
Before you start, be sure you understand the requirements of installing the app and using softphone features.
---
Benefits of Linkus Desktop Client & Jabra Headset Integration
Softphones, equipped with headsets, are widely used by call centers, sales, and support agents to increase call efficiency, ensure optimal audio quality, and improve the overall communication experience.
Softphone System Requirements
To start with, you need a windows or Mac desktop or laptop computer. Some softphones, such as Yeastar Linkus UC Clients, are also available using a mobile phone that runs on an Android or iOS operating system. As long as you can connect to the internet, you can use the softphone.
To ensure better call quality, many users are using headsets, or some other headphone/microphone combination, in conjunction with softphones. Professional headsets usually come with the noise-canceling feature to eliminate background noise and keep you unaffected.
Softphone Application Software
Now that you have a compatible device, you can install the softphone app from your VoIP provider. In many cases, you simply need to download it from the provider's website or find it in the relevant app store. Follow the instructions provided. Installation won't take long. Then, as long as you have an internet connection, you will be able to make phone calls.
Internet Service
This should really go without mentioning. However, you will need an internet connection to install your softphone software. Further, going forward, you will need to be able to connect to the internet in order to make or receive calls.
If you want to be sure that your softphone software will work optimally, consider whether an upgrade is in order. You will want to have bandwidth available that allows users to use all the key features offered by your VoIP provider.
---
What are the top softphone features?
Once you have softphone installed, you are sure to be impressed with the variety of features available to you. First, you can enjoy standard desk phone features such as the ability to forward calls, place people on hold, and use the flash function. Here's a short list of call control features on a softphone:
Transfer to any extension
Hold and mute calls.
Set up call forwarding rules and ring strategy
Review call history
Manage voicemails
The features above are simply for making and handling calls. Some more powerful softphones will also have unified communications capabilities and call efficiency enhancement features built-in. Take Yeastar Linkus UC Clients for example.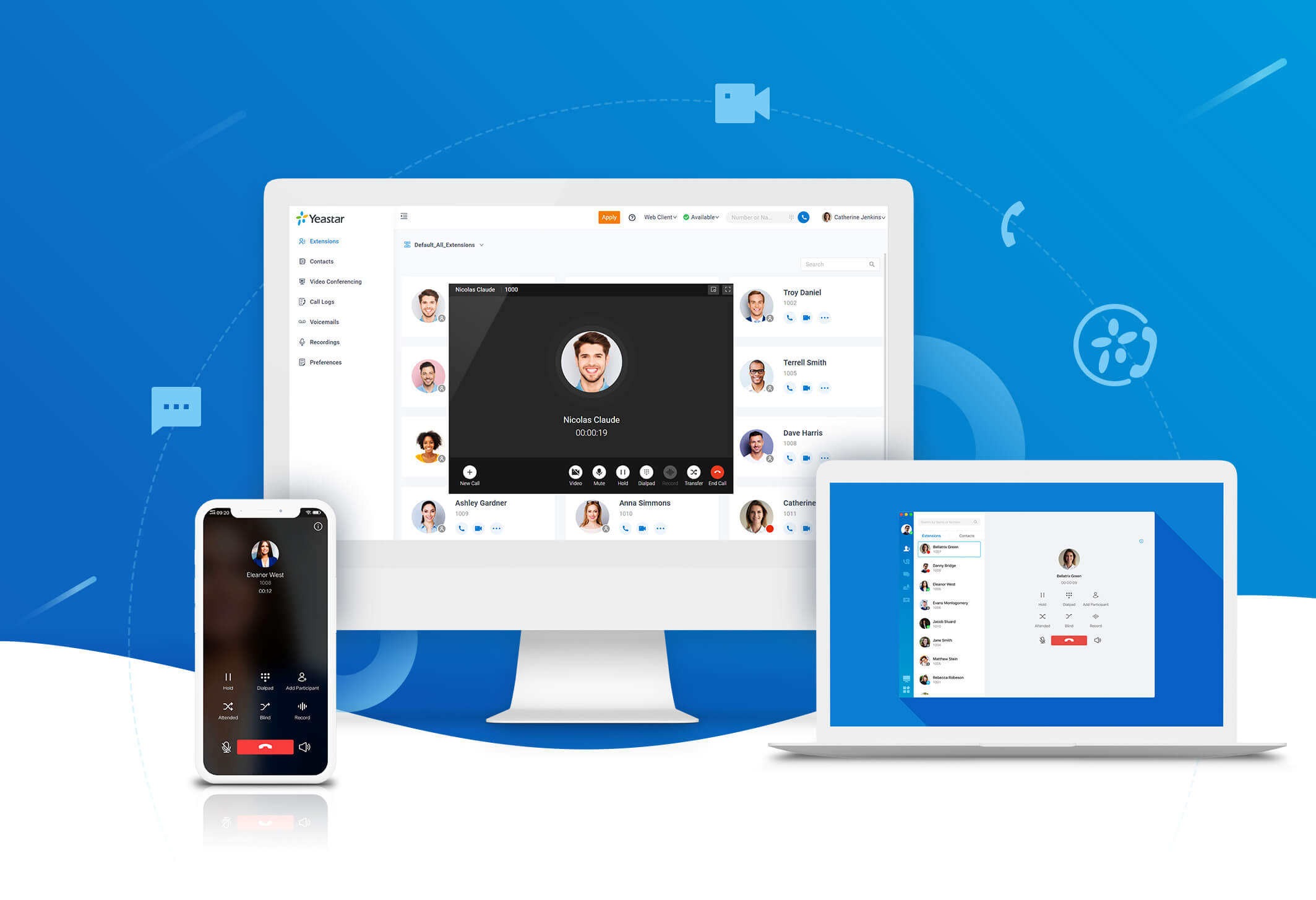 Video Calling & Video Conferencing
Integrated video conferencing is a key component, of course. Users may be able to use features like screen sharing and team chat during an online meeting. Besides, 1:1 video calling also enables users to see each other in the flesh on a daily basis anywhere anytime.
Presence
Presence status allows softphone users to see who is available, on a call, offline, or away from the office in real-time. Status indicators can be color-coded with customized descriptions.
CRM Integration
Linkus UC Clients can be integrated with Dynamics 365, Zoho CRM and Google Contacts, and other CRM packages. This enables users to click to call CRM contacts, save call journals, have a holistic view of customers via call pop-up.
Related Why You Need VoIP Integration to Empower Your Business and How?
Google Chrome Extension
Linkus softphone users who install the Yeastar Linkus for Google Chrome Extension on chrome browsers can automatically click to dial any valid phone number that appears on their web browsers, and enjoy easy dialpad, call pop-ups, advanced call control directly with browser tabs.
Instant Messaging
As a supplement to audio and video, instant messaging provide you with an alternative to communicate effectively and efficiently with coworkers. Use your internet connection for one on one messaging, group chat, and file sharing.
Native Contacts Management
Save time and add significant convenience by creating and managing either corporate-wide or personal contact lists that can be synced across your PBX, IP phones, and UC Linkus UC Clients.
Related Yeastar Native Contacts Feature: What Are the Benefits and How to Use
Remote Desk Phone Control
Computer Telephony Integration (CTI) makes it possible for easy click-to-dial from your desktop while still using a physical internet-based desk phone. You'll be able to enjoy greater audio quality, while also increasing the call efficiency of your hard phone.
Related What Is Computer Telephony Integration (CTI) and How Does It Work
---
What are the benefits of using a softphone?
If you aren't convinced that a VoIP phone system with a desktop softphone or mobile app is for you, consider some of these additional benefits.
Less hardware than traditional phone systems
You will quickly find that softphones save you from tedious installation and configuration. You also don't need the wiring you once did with traditional landline phone systems. In many cases, all you need is a dedicated microphone and speaker.
Phone lines are no longer required
Because softphones use internet bandwidth, there is no need to install a dedicated phone line as you would with a traditional phone. You can add as many workstations as you want without worrying about the cost of phone lines.
Create round the clock availability
As long as workers have an internet-enabled computer or mobile device, they can install the softphone app and use every feature. This includes real-time video calling. When it's time to retire a device, simply install the app on the new device. This software is a key part of any unified communications system as it works on PC, Mac, iOS, and Android. Business communications doesn't stop at five in the afternoon. Shouldn't your team have a user-friendly option that works right on their mobile device?
Why choosing softphones over traditional phones?
Both devices make phone calls. Beyond that, there are some important differences to consider.
Softphones reduce upfront and ongoing costs
Softphones relieve you of the financial burden of purchasing or leasing many physical phones. You also don't have to pay that much of running comm. Lines just to ensure that phone service is available. This lack of equipment also eliminates most future maintenance costs.
Softphones can be unified communications solutions
Again, just like Yeastar Linkus UC Clients, a robust softphone offers a single platform that supports multiple forms of communication. Send an in-meeting message during a video conference. Click to initiate a video call with home-based colleagues instantaneously. Initiate call recording to capture something urgent. Make telephone calls directly from your Zoho CRM dashboard. Click phone numbers on a website to make a call instantly from Linkus.
Better support for a remote workforce
The features of a softphone system are perfect for remote work environments. All business phone system features for in-office workers are available anywhere else in the world. This solution is also ideal for BYOD. Employees simply need to install the app on their chosen mobile phones, and they can then work from anywhere they need.
Are softphones better than hard phones?
Truthfully, softphones are really not in competition with hard phones. Both serve as important when users need to make a call, send a message, or manage their business communications. The difference is that a hard phone is a physical phone, and softphones simply emulate the functions of phones using VoIP technology. Employees may have valid reasons for preferring one or the other. That's why a good provider understands the need to have both available in a single telecommunications solution.
Linkus UC Clients: Stay Connected Anywhere Anytime
Designed for Yeastar PBX System, Linkus UC Clients enable users to easily access a comprehensive suite of calling, conference, voicemail, presence, enterprise contacts, collaboration from a single interface using mobile phones, desktops, and web browsers. Employees can stay connected with colleagues and customers where, when, and however they prefer. Download to experience more!