BACK
How Yeastar Call Center Solution Works to Delight Your Customers
4.5 min read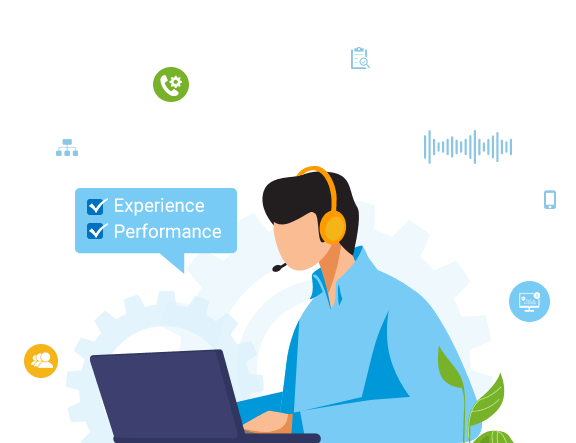 In the battle for customers, customer service becomes front and center. And it's not difficult to imagine why and how. Providing the nearest experience to face-to-face engagement, phone-based service center offers the most direct and timely customer interactions that drive sales journey, build relationship, and generate satisfaction. And nearly every 9 in 10 businesses have telephone hotlines for customer services – scaling from smaller ones that only take orders to larger ones that provide consultancy and after-service support. It can be said that no matter what the business, size, or industry, call center has become the essential.

Yet as essential a call center is to a business's sales or other customer interaction processes, not all call centers succeed to meet their service goals. The culprit of poor customer experience like call jamming and ineffective call transfer can happen because the lack of effective call center tools and automation features.
In response, companies look for call center solutions that have the right functionality to provide better customer experiences while reducing call abandonment. And that's where Yeastar P-Series PBX System fills the gap.
Tailored for the essential SME service center needs, Yeastar P-Series provides an economical built-in call center solution that includes all the fundamental yet effective features to help SMEs delight customers, empower agents, and elevate business.
Here are just 5 simple scenarios where Yeastar P-Series call center solution works to help.
1. Reduce Customer Wait Time
When customers call, the last thing they want to do is wait on the hold for an agent to route them to the right department. Yeastar P-Series PBX System automates and shortens that process by integrating the advanced automatic routing, IVR and sophisticated ACD queuing & distribution capacity for call center services.
With preset calling rules like date & time or call distribution strategies like Linear/Least Recent/Rrmemory, you can automatically connect callers to the most appropriate agents based on agent availability and their workload balance to shorten turnaround time.
Besides, the integrated interactive voice response (IVR) feature also adds the flexibility of 24/7 self-service mix. It helps you to identify, segment, and auto-route callers based on their input and collect customer data – for example, account numbers, required services type, or identification codes – for further service needs. When customers are empowered to "help themselves", the call waiting time is greatly reduced and agents will also be relieved from repetitive tasks and invest in interactions that truly require human intervention.
2. Deliver a Memorable First Impression
The first touchpoint on the call determines how customers perceive a brand at a larger scope. Yeastar P-Series supports various customizable greeting options to add a sense of caring and professionalism to call center voice and make your brand appear positive.
When your customers reach the call center, the system allows you to keep customers entertained by playing custom greetings or on-hold music that caters to your brand image. And while customers wait in line, you will be able to utilize the enhanced on-hold announcement options to proactively serve helpful information (for example, special holiday announcements, offers, or product tips) and keep customers engaged. In addition, to improve customer experience during queueing, the system also makes it possible to auto prompt the callers of their position in line and announce the estimated waiting time periodically, making the potential long time waiting pleasant.
3. Take the Guesswork out of Agent Performance
Real-time data is the fuel of modern call center success. From the agents on the front lines to managers who focus on back-end metrics, knowing what happens at the moment allows not only the manager but every individual agent to improve productivity with eliminated guesswork. And Yeastar P-Series call center solution equips you with such power.
The P-Series' innovative Queue Panel allows queue members to quickly grasp all the necessary information in a queue and conducts call adjustments in real-time, right from the browser.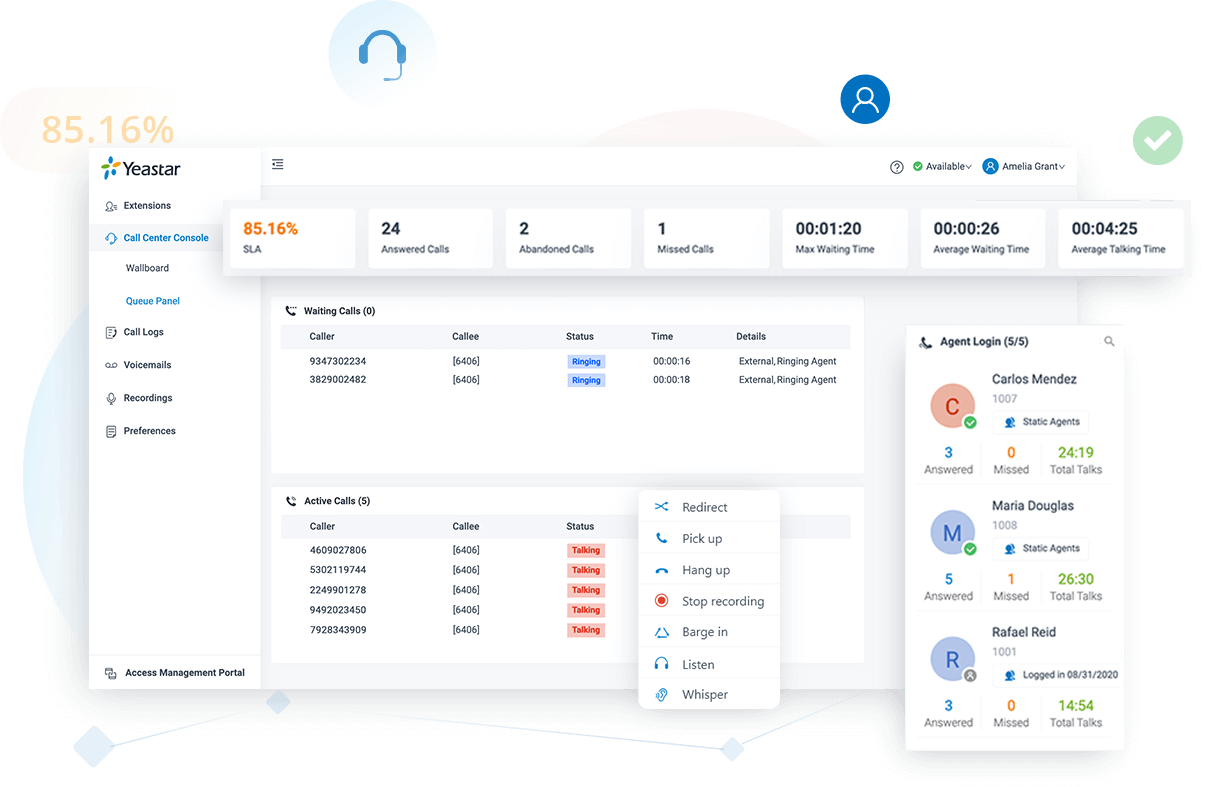 For example, in the Queue Panel, queue manager can access simultaneously the real-time waiting call info, agent presence, and overall/individual agent performance data. When he/she spots that an agent has lower answered calls yet higher talk time than the average, he/she can quickly click to monitor the agent's call and provide guidance accordingly. When necessary, the manager can also manually drag waiting calls to skilled agents for faster call resolution. Immediate performance insight, agent guidance, and call flow adjustment are made easy.
4. Ease the Burden of Agent Planning
Staffing is an issue for many call centers. Managers deal with everything from agent turnover to surges and dips in call volumes. And improper coverage affects your metrics and customer satisfaction. Yeastar P-Series call center solution provides real-time and historical statistics for you to set a baseline for scheduling.
To feed into the initial forecasting of workload, the system offers comprehensive call center reports based on your past performance, where you can get a hint of various key metrics (for example, number of calls handled per day/agent/queue, average duration, waiting time, and more) and determine how many agents your call center will need to function correctly and when is the peek time.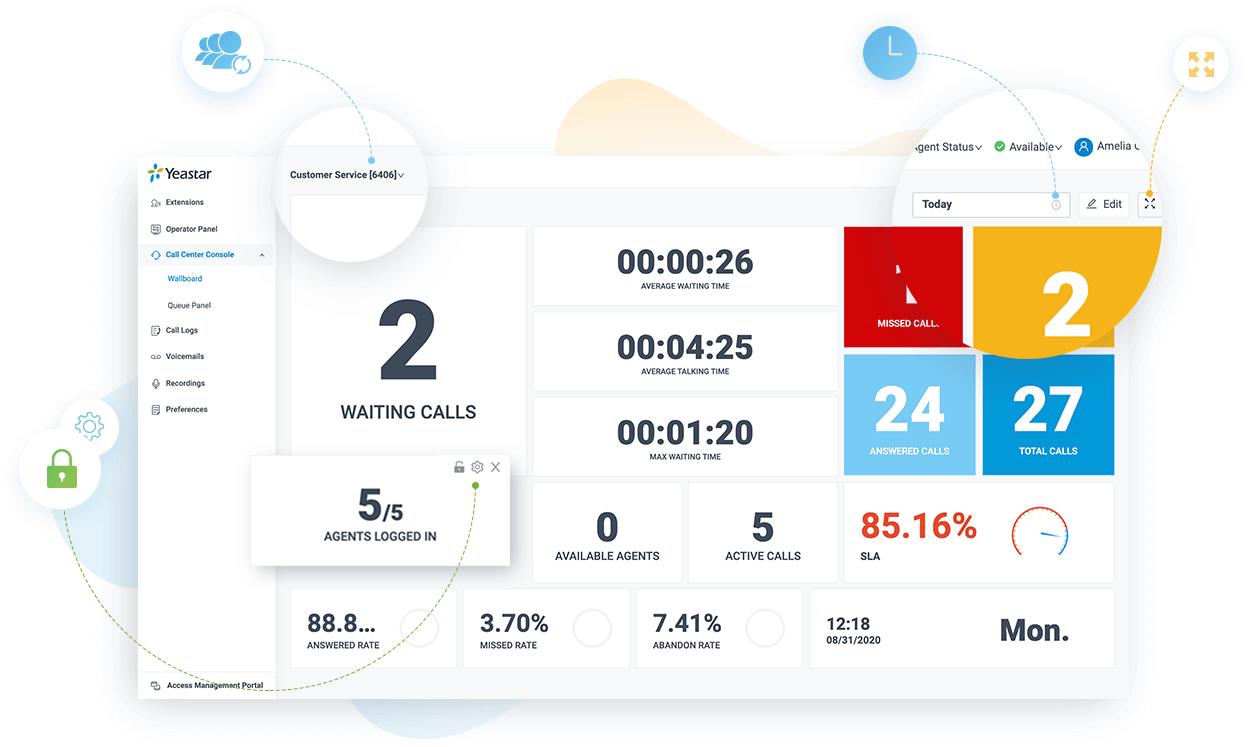 For the consistent planning adjustment, you also get the helpful tool of real-time Wallboard. It provides 16 queue performance data for you to identify the changes in call volume and agent resources, and thanks to P-Series' graphical web portal, you can easily add/remove agents from a queue or switch agents' status in less than a minute for the changes.
Related: Call Center Wallboard: the Do's and Don'ts
5. Identify Key Areas for Performance Optimization
Featuring refined real-time and scheduled reporting system, Yeastar P-Series System call center solution allows you to conduct in-depth queue performance analysis without requiring database programmers.
You can to run targeted analysis based on custom timeframe/agent/queue selection and easily identify key areas for optimization with a variety of metrics – Service Level Agreement (SLA), call missed rate, abandon rate, average waiting time, call duration and other important call center KPIs. Graphical presentation of all these metrics are available on the report dashboard and can also be scheduled as downloadable reports in different formats – XLS, CSV, and PDF.
In addition, Satisfaction Survey function is also available for you to schedule a custom feedback request at the end of each call, which helps to rate your agent performance and collect customer insights on what is to improve.
Try It out Today
Yeastar P-Series call center solution is available with P-Series Enterprise Plan and Ultimate Plan subscription. And it offers 30-day free trial! If you already had a P-Series PBX System at hand, simply go to your PBX management portal to enable the trial.
Do not have a P-Series PBX System yet? Contact us today to schedule a free live demo and let us show you how the call center solution will work in live for your business.
Learn more details of Yeastar P-Series call center solution with the solution brochure here.