BACK
Hosted Phone System: What Is It, Why Choose It, and the Main Benefits
5.2 min read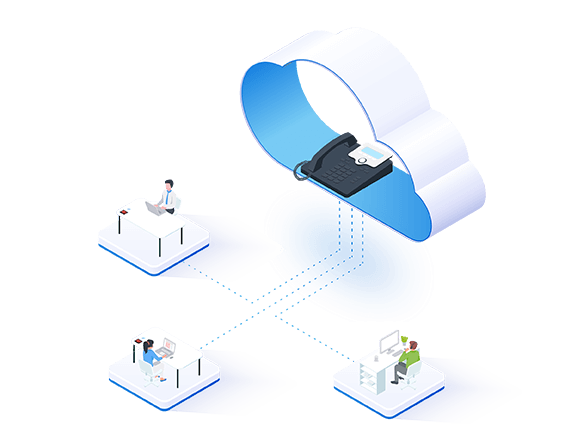 Companies around the world have been using hosted phone systems to take care of their unified communication needs. Private Branch Exchange, or PBX phone systems allows for much more flexibility and control over offices' communication channels than the traditional methods, such as landline telephone lines.
With legacy telecoms solutions, businesses have to deal with high installation costs, hundreds of meters of cables to be placed in and out of the office, as well as ever-increasing phone bills that can be altered and modified by the phone service provider without much warning on their side. Add to that the cost of maintenance and the need to purchase dozens of devices for all of your employees, and you'll realize that using a legacy landline phone system is costing your firm quite a lot of money that could really be put to better use.
Not everyone is a communications expert, and as a business owner, you probably don't have a whole lot of time to explore the intricacies of each phone system. This article will bring you a run-down of everything you need to know about using a hosted business phone system.
What Is a Hosted Phone System?
A hosted phone system, usually an Internet-based phone system, is one in which the servers and applications are located in a third-party data center rather than at your place of business. Currently, most mainstream hosted phone systems are based on cloud technology, which eliminates the need for expensive physical hardware and analog or ISDN phone lines on site. Instead, your phone provider or VoIP service provider helps to host the phone system.
Because the hosted phone system is also based on internet connections, it can be confusing to some people to tell the difference between a hosted phone system and a VoIP phone system. Actually, they both utilize the VoIP (Voice over the Internet Protocol) technology to facilitate phone calls. Read on the learn the difference between them.
VoIP Phone Systems
VoIP stands for "voice over internet protocol", and the name actually explains this technology really well on the surface level. As opposed to traditional phone systems, VoIP phone systems convert voice signals into digital data in packets and send them through routers over the Internet.
VoIP is currently one of the most popular unified communications solutions for large companies and small businesses alike, mainly due to the cost savings it offers when compared with traditional solutions such as landline telecommunications, especially when making regular long-distance or international business calls. VoIP phone systems also provide many advanced communication functions and require less manual maintenance.
In order to carry out and receive phone calls using VoIP, your employees might not even need a dedicated device! While IP phones are recommended to achieve the best quality of calls and minimize the loss of data while transmitting, plenty of hosted phone systems providers also allow you to make and receive calls via so-called "softphones". Softphones are applications installed on mobile phones or desktops in order to gain access to the company's PBX system.
Here is a short video to help you understand what VoIP is in one minute.
Cloud-based Hosted Phone Systems
The cloud-based hosted phone system is also known as cloud PBX or virtual PBX. With the advance of cloud technology, users have more options to implement their phone systems. When opting for a hosted PBX system, your company will get all of the benefits of VoIP, but without the need to store sensitive data in the firm's data centers.
Your corporate phone system is hosted off-site by your service provider. The key to understanding it is the word "hosted". With this option, you won't need to worry about owning or maintaining all of the necessary equipment on your office's premises.
With a hosted PBX service, you're going to get the same communications capabilities as with on-premises VoIP phone systems, without the hassle of maintaining expensive equipment. Most cloud-based phone services come with a single, stable monthly or yearly fee that covers all of your large or small business needs.
With everything being in the cloud, all your company needs to get started right away are a stable internet connection and SIP endpoints. Additionally, it provides a safety net in case of a power outage — the entire PBX is hosted in a remote location, meaning that it will remain untouched once the power issues are resolved.
Related  Cloud Phone System: What It Is, How It Works, and Why to Choose It
Benefits of a Hosted Phone System
How exactly can using a cloud-based phone solution in your office benefit your company? Well, besides the obvious aspect of saving thousands of dollars annually by moving over to a cheaper and more efficient service provider, there is a myriad of some of the less-talked-about pros of using hosted phone systems in an office environment.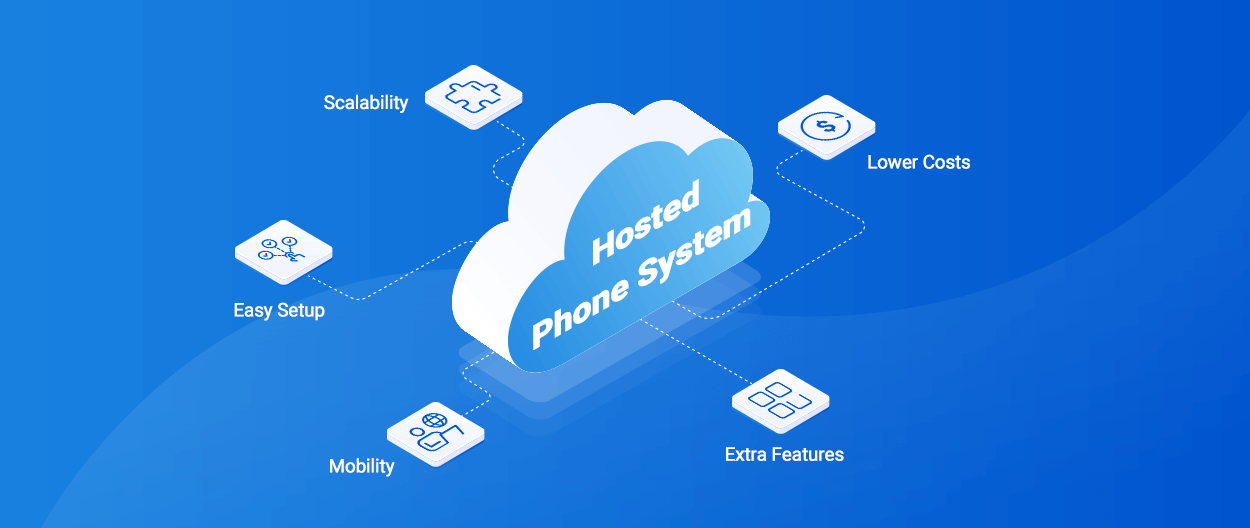 Easy, Effortless Setup
Setting up a PBX system is childishly easy, and in most cases, doesn't even require the help of a professional to get started. Since all of your communications will be transmitted over the internet, no additional cables or hardware will be needed to get the hosted phone system going. It can all be done from your web browser, or a client application, depending on which provider you decide to go with. In case of any trouble, you can simply contact online customer support and get a rapid, helpful response.
No Extra Equipment Needed
With a virtual PBX system, you don't need to spend any more of your hard-earned money on the hardware required to make it all work. You can use any of the items that you already have, whether they are traditional desk phones, VoIP-ready devices, mobile devices as well as laptops, and stationary computers. Not only does this save you a ton of money on office supplies, but also means that you can start implementing the new communications system from day one!
Extra Features
Many hosted service providers have been offering unified communication solutions, which means you can take advantage of not only cheaper and more efficient audio calls but also a number of more sophisticated features that traditional phone solutions just don't have the capacity for. Below are some that hit the most popular list.
Video Conferencing
Instant Messaging
Presence
Voicemail to Email Transcription
CRM Integration
Greater Scalability and Flexibility
Communication needs may fluctuate, especially for start-up firms and industries with busy seasons, such as retail, tourism, hospitality, and entertainment. Since most hosted phone services are charged on a per-user basis, pay-as-you-grow pricing model, it becomes easier for these companies to allocate expenses more effectively. It takes only a day or a few days to add or reduce users.
Make the Switch to a Hosted Phone System
With Yeastar Cloud PBX, all you need is a VoIP-enabled phone/softphone and you are ready to go. Your service provider performs all updates and maintenance to keep the system up to date. Yeastar Cloud PBX offers a comprehensive suite of telephony features, such as Linkus softphone, IVR, call queue, voicemail, and many more.
Yeastar Cloud PBX can be tailored to your business's needs, regardless of its size. New users can be added at any time as needed. Most service providers charge on a simple per-user basis so that you only pay for what you need and have a business phone system that grows with you.
On top of that, one of the main advantages of our hosted PBX service is the fact that it's geographically flexible, which comes in handy especially when your company operates in multiple locations or you have a selection of teleworkers.
Without the need for enlisting another provider's services or any other workarounds, dispersed employees can be connected within a single PBX system as the headquarters, allowing you to coordinate with branches abroad quicker and easier than ever before!
Sign up for our 30-day free trial to experience Yeastar Cloud PBX and explore more yourself.