BACK
Cloud Telephony Solutions for Your Business
5.1 min read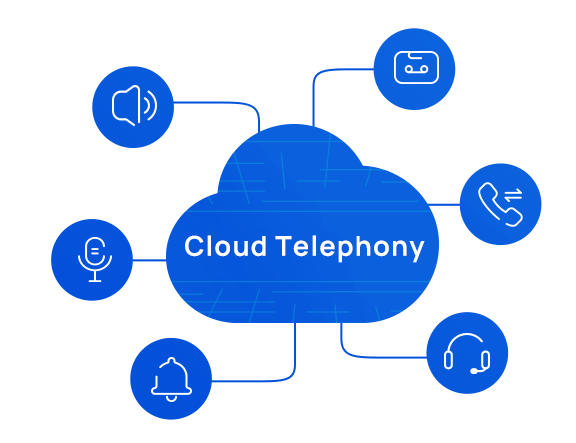 Cloud telephony uses Voice over IP (VoIP) to make phone calls by connecting your voice to the Internet. Cloud telephony allows you to make outbound calls and receive inbound calls from any Internet-connected device. It is a voice service that eliminates the need for expensive telephone hardware, such as phones and PBX (Private Branch Exchange) appliances.
This type of phone system is ideal for businesses with staff who work remotely or are often off-site. Cloud telephony offers many benefits, including lower cost than a traditional landline service. We will explore further the benefits of how it can help you in your business endeavors.
What is Cloud Telephony?
Cloud computing uses remote servers hosted on web-based platforms to store and manage information in an online environment. The cloud offers many benefits when compared to traditional on-premises resources. These characteristics make it possible for businesses to rely on cloud technology without worrying about their IT infrastructure challenges or limitations. Cloud telephony is an advanced telecommunications service that operates on a cloud computing model. Cloud telephony providers offer phone systems in which all equipment, software, and network connections are located remotely from where a company conducts its business. This way, companies can save money on space, power consumption, installation costs, and maintenance fees.
Cloud calling enables you to take phone calls from your business phones and any internet-connected device such as computers, tablets, and smartphones, anywhere in the world with an internet connection.
Cloud-based services are becoming increasingly popular with both consumers and businesses for their ability to provide cost savings, scalability, reliability, flexibility, and ease of use.
How Does Cloud Telephony Work?
Cloud telephony works by using VoIP, which is an acronym for Voice over Internet Protocol. This type of cloud phone system operates just like traditional landline telephones, but instead, your voice is sent over the internet as data packets. The VoIP technology converts voice signals into digital data packets for transmission over the Internet; it then reconverts them back into analog form at their destination so they can be heard.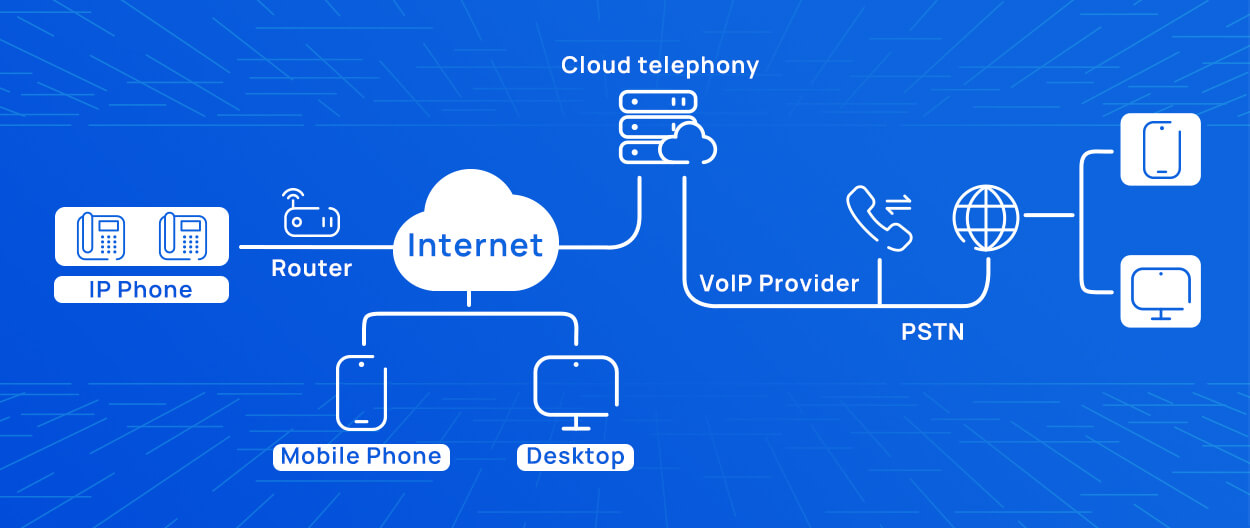 The Key Benefits of Cloud Telephony Services
Cloud telephony services offer many benefits, including increased productivity and reduced IT costs. While the traditional PBX system is designed to provide phone service for only one physical location with one or more lines, cloud-based telephone systems can be configured to provide multiple extensions that are accessible from anywhere.
Businesses no longer need to worry about upgrading their hardware; instead, they just need an internet connection and a web browser to access their virtual phone system. The cost savings are also significant when switching from legacy phone systems to a cloud telephony system.
So let's look a little more in-depth on why choosing cloud telephony as your business phone system gives you unparallel advantages.
Significant Cost Savings
Cloud telephony services have become increasingly popular as businesses are looking to reduce their costs. With a cloud service, you can pay for only what you use instead of paying for an entire package that may not be used at all. As a result, cloud telephony companies typically charge less than traditional phone service providers for similar usage. In addition,there is no need to invest in expensive hardware, which can save on upfront costs and long-term maintenance fees.
Easy to Set Up
Cloud phone systems are easy to implement without any significant infrastructure changes needed on your end. They can be up and running in a day with the right service provider resulting in limited downtime or disruption and an easy transition. In addition, cloud telephony systems allow for easy configuration with an intuitive, easy-to-use interface that is simple to navigate.
A Cloud Phone System Offers Scalability
One of the many benefits of cloud telephony is scalability, allowing your business to easily and cost-effectively scale up or down as needs change.
For example, a business that starts small can simply keep adding more cloud telephony service capacity to meet increased demand if it grows quickly. On the other hand, using a cloud phone provider also minimizes costs when usage levels are lower than anticipated, as you also have the option to scale down.
Opting for a cloud telephony provider allows a business to save money on hardware costs by not having to purchase new equipment upfront for future growth. It's much more challenging to scale up an in-house system as your company grows.
Traditional phone systems often require companies to buy extra physical hardware in anticipation of future needs and then pay high monthly rental fees even when they do not need all that equipment at any given time.
An Agile Telephone System
The business world has changed dramatically over the last few years with advances in mobile technology and the increase of remote workers. Cloud communications are much more flexible and agile than traditional PBX systems. As a result, managing business calls when out of the office is now as common as fielding them at an office desk.
With a cloud telephony system in place, you have the benefit of using any internet-connected device to make calls to any number worldwide without having to worry about roaming charges or connection issues. The device you are using will also have all the phone system features you'd expect from an office desk phone, such as call forwarding and call routing. A cloud system also has additional collaboration tools available to make your business communications more effective such as video conferencing and instant messaging.
A Cloud Phone System Can Increase Productivity
Cloud telephony is a form of unified communications as a service (UCaaS). The term unified communications describe the integration of voice, video, data, and other real-time communications services. Its goal is to simplify business processes by offering many different types of communication on one platform. UC can help improve productivity, performance, and customer experience and, as you have discovered, reduce costs.
Its use can have an enormous impact on business productivity and quality. It can make it easier to keep track of conversations and workflows between team members no matter where they are. Additionally, UC also makes it easy to share information across departments internally or with clients or customers externally.
Increased Reliability and Resilience
In the event of a disaster or emergency, such as a power outage, if you used traditional phone lines, you would be at the mercy of the circumstances. With cloud telephony as your telephone system hosted on cloud servers, business continuity is not an issue. Your business can access your cloud telephony service from anywhere, so it becomes much more resilient.
Cloud telephony can also increase the reliability of your business by reducing the dependency on a single point of failure. This is done by balancing workloads across multiple data centers, which offer redundant connectivity, increasing efficiency.
A cloud telephony system is an excellent option for any business that wants to reduce its reliance on expensive, outdated hardware while increasing operational stability and flexibility.
Choosing a Cloud Telephony Provider
Choosing a cloud telephony solution for your business needs can be a challenge. There are many cloud telephony service providers to choose from, but the most important thing is that they offer the features and services that your business needs at an affordable price.
If you are looking for a competitively priced, customer-focused cloud telephony provider with excellent service quality, here at Yeastar , we have a proven track record, serving over 200,000 customers in more than 100 countries since 2006.
Designed for SMEs, Yeastar Cloud PBX delivers enterprise-grade business communications features along with advanced UC capabilities, bringing a solid, reliable and affordable hosted VoIP solution.
Sign up for our 30-day free trial to experience Yeastar Cloud PBX and explore more yourself. Convert traditional phone system to cloud phone system. Save money and increase efficiency!