BACK
A Look Back at 2020: Highlight Moments of Yeastar
4.6 min read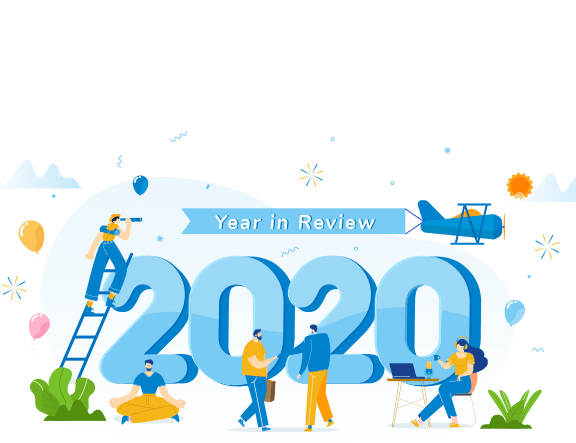 2020 was a challenging year. Businesses, families, and individuals are all affected by the worldwide pandemic that brought huge changes to our lives. For Yeastar, while striving to assist our customers in dealing with unprecedented challenges, we have also broadened our product portfolio and dived deeper into the unified communications trend. Here we would like to share some of our highlight moments in the past year and give you a 2021 sneak peek.
---
Adapt to the Remote Working Trend
No other time in recent decades like 2020 has made us realize how important it is to stay connected from anywhere – not only with people around us, but also with our team members, clients, partners, and so on. Quite a lot of businesses have been adapting to working from home mode, which boosts the demand for remote working tools.
Back in March 2020, we offered complimentary remote working solutions and helped over 7,000 organizations and companies around the globe stay connected and work remotely. With a suite of remote working-friendly products and services, including Yeastar Cloud PBX, Linkus UC Clients, Linkus Cloud Service, and Remote Management, our customers can rely on us in a work-from-anywhere and hybrid workforce era.
300% increase in Linkus usage
370% increase in LCS subscribers
200% increase in Cloud PBX deployment
Learn more about our work-from-anywhere solution here.
---
First Global Launch Event for the New P-Series PBX System
This year we have released a brand-new product, P-Series PBX System. After a beta release during which we had received over 500 applications and many valuable feedbacks, we held our very first online launch event in late October, in an effort to bring our partners and customers closer even in such an unprecedented time.
Targeting at SMEs that have higher expectations about business communications, P-Series PBX System is a "PBX-Plus-More" system that converges voice, mobility, presence, web application, collaboration, and more to perform beyond any average PBX system. With superior VoIP capabilities built right in, the P-Series also introduces UC clients, an economical call center solution, an intuitive operator panel, as well as optimal user and administrator experience. It is now available in over 70 countries, and we are very excited that our customers are speaking highly of it.
---
Major Product Upgrades
Learn more about our product updates here.
---
642 Webinars and Online Training
Webinars and online training are always the important ways we share information with our partners and customers. Especially this year, online meetings make it easier and safer to self-study and improve skills without the need of traveling around. Altogether 642 webinars and online training activities were held in 2020, including webinars held by our training partners.
Here are the 5 most welcomed on-demand webinars that resonate with our audience in 2020.
---
70+ Weekly Updated Videos
We've been committed to crafting our YouTube channel an informative, helpful, and interesting learning hub for not only Yeastar users but all industry players. In 2020, we have updated several new video series, such as "Working from Home", "What Is", "Troubleshooting", and a list of videos featuring the newly launched P-Series PBX System. Subscribe now to watch more. Here are some of the most-view videos released in the past year.
---
Awards & Recognitions
TMC, a global, integrated media company, awarded Yeastar S-Series VoIP PBX a 2020 Communications Solutions Product of the Year Award.
Yeastar Linkus UC Clients was named as a 2020 TMCnet Teleworking Solutions Excellence Award winner presented by TMC.
Yeastar Cloud & On-premises PBX won the Best-Product prizes – Reader's Choice ICT Product of the Year 2020 by Funkchau, one of the most renowned specialist magazines in the ICT industry.
Yeastar won the Best Value Award for SME premises and hosted PBX in the report researched by Eastern Management Group, one of the most experienced communications technology research firms in the US.
Eastern Management Group also awarded Yeastar of the Best Purchase Experience Award for SME hosted and premises PBX.
We were shortlisted for the Best SME Telephony System of the year by Comms National Awards, which is the second time we entered this award.
We were shortlisted for the Vendor Channel Marketing Team of the Year by the Comms Dealer Sales & Marketing Awards.
See more awards and recognitions we have received for our product excellence and for business performance.
---
What to Expect in 2021
The year 2020 has changed the way we work forever. Remote working is an inevitable trend; we'll see more demands for the cloud and unified communications solutions in the future. Any industry players must go on to catch up with the trend to stay relevant, for those who fail to do this may be phased out – also learned from exits of several traditional PBX manufacturers in the past few years.
For Yeastar, with changes there always come opportunities. In 2021, we are going to unveil more robust and future-proof offerings to equip SMEs and the agile workforce. Stay tuned for our P-Series PBX System! Awesome features including video conferencing, web-based calls, and enhanced service for remote access are around the corner and you can expect more in the following months.
We are looking forward to continuously building joint success with our partners in the years to come. From Yeastar Team, may you all have a happy and healthy new year!