BACK
7 VoIP Features That Streamline Small Business Customer Service
3.8 min read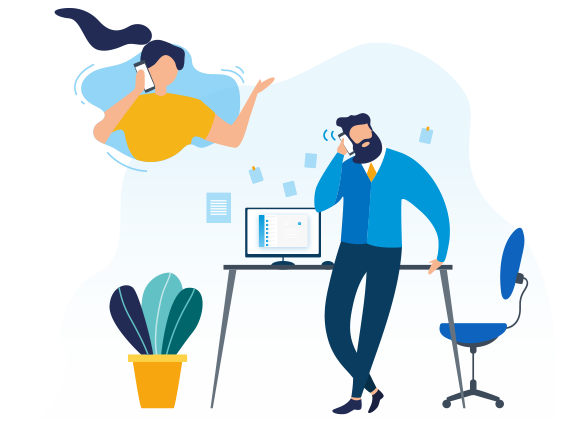 "Companies that excel at the customer experience drive revenues 4% to 8% higher than those of their market," according to Bain. Attracting and retaining customers is always the key to business success. Customers all expect to get quick and personalized services catering to their needs. For small businesses which may not have that much staff as large enterprise to handle customer service, leveraging the following VoIP features will be a cost-effective way to boost customer satisfaction and outshine the competition.
1. Interactive Voice Response (IVR)
With IVR feature in the PBX system, even small businesses can provide customers with 24-hours services without costly human resources. The caller just needs to follow the instructions from the set menu and will be directed to the desired destination with the minimum waiting time. IVR automates the customer service by allowing self-service and personalized customer interaction, thus customers can obtain the right information to solve their issues. Being able to provide satisfactory answers to customers' queries in the first ring leaves a good first impression on your customers and helps build a professional company image for small business.
2. Call Queue
Sometimes when your agents are too busy to answer an incoming call, it is a smart move to let it queue up while waiting for an available agent. Better than being on hold, going to voicemail, or getting a busy tone, the customer is informed that the agents can't currently answer the call, and as soon as an agent is available, the queuing call will ring his extension immediately. For small business customer service, the call queue feature reduces the number of missed calls as well as the negative effect of busy signal on customer experience. By segmenting agents into several queues, you can even provide different service levels for different customer groups.
Video VoIP Features for Dummies – Call Queue
3. Unified Communications
Unified Communications consolidates VoIP calls, voicemail, instant messages, and CRM contacts data into a single platform accessible from mobile phones or desktops. By utilizing UC, your agents are no longer confined to the desk and able to work remotely from home or on the go. The presence feature allows your employees to see who else is available at that moment to handle the customer call without asking the customer to wait. You can even empower your customer service agents to chat with the right experts during the call so that customers can get instant resolution to their issues. With WebRTC Click-to-Call, your customers can initiate voice calls to your customer service team directly from the web page by clicking a button conveniently.
Download Linkus UC Softphone
4. Voicemail to Email
With the Voicemail to Email feature, you'll always be in the know. When an agent is not available and has missed a call, this feature will help him respond to customers' voicemails a lot more efficiently. The voicemails will be saved as audio files and emailed to the agent immediately so that he can take care of the messages, at any time, even on the go. Moreover, he can easily prioritize messages by deleting them or keep them for on file for future reference. as well as direct specific messages to the appropriate recipient.
Blog 5 Magic Tricks You Can Play with S-Series VoIP PBX and Email
5. Call Recording
To ensure the quality of the customer service, many small businesses use the call recording feature to better evaluate agents' performance. You can set up on-demand recording, phone-specific recording, or company-wide recording for inbound and outbound calls. When having new staff on board, those recording files can quickly get them familiar with general customer needs and frequently asked questions, as well as how to handle them. With call recording, you can also analyze the best and worst examples of the customer service to better equip your team. What's more, your agents can look up their previous conversations with customers they're dealing with to have a more comprehensive understanding of customer needs.
Blog How to Use Call Recording to Monitor Calls
6. Call Monitor
Call Monitor feature allows a certain privileged user, such as a supervisor, to monitor other extensions during the calls. The ability to listen to a call without interference or join in the conversation as a third party is useful for customer service. Live call monitoring allows your experienced staff to coach on the spot and guide the call to make sure there are no missed opportunities. Call monitor is a spy feature in Yeastar PBX System, and has three monitoring mode:
Listen – you can only listen to the call but can't talk.
Whisper – you can listen to and talk with the monitored extension without being heard by the other party.
Barge-in – you can talk with both parties.
7. CRM Integration
CRM is widely deployed in the business world to help manage a company's interaction with customers and sales prospects. Yeastar PBX System supports integration with popular CRM solution with access to Asterisk Management Interface (AMI). Besides easier call handling, such as Click to call, transfer, and hang up directly from CRM screen, your agents can also take real-time notes of their calls and keep detail records of their call history. CRM integration provides your customer service team with more information and options for each call they make and receive, and thus optimize customer service performance and operation.
Blog 5 Key Advantages to VoIP CRM Integration
The performance of customer service contributes a lot to the brand building and brand loyalty of a small business. According to the Harvard Business Review, increasing customer retention rates by 5% increases profits by 25% to 95%. Don't let your phone system limit your communication capability. Considering levering the above features to set your customer service apart? Sign up a free trial to experience them all.