BACK
How to Use Call Recording to Monitor Calls for Training, Quality Control
3.4 min read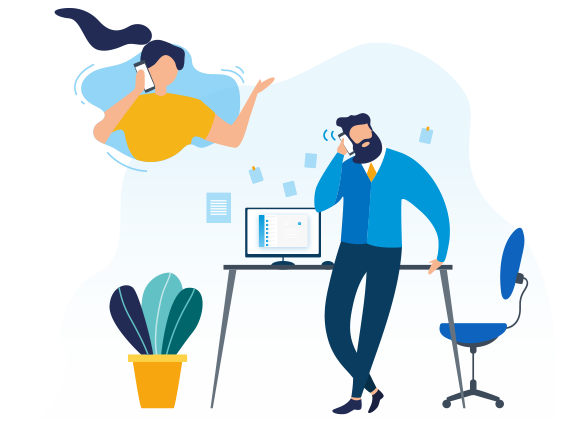 Yeastar P-Series PBX System, S-Series VoIP PBX, and Cloud PBX can all be set up to automatically detect every phone conversation made on your phone. You can record and listen to all inbound and outbound calls easily via intuitive interfaces. Better yet, call recording is free of charge on the P-Series and the S-Series.
Managing and monitoring call recordings offer your business several benefits including:
Training opportunities
Dispute resolution
Reviewing meeting notes, confirming order details
Compliance with regulations
Customer satisfaction
The ability to listen in to calls or play them back later is a useful feature for many types of organizations, and especially important for call centers. Read on for more details.
1. Training Tool
If your company has a sales team, you know that training new team members can be challenging and time-consuming. The ability to listen in on sales calls with new hires makes the training process easier. It helps to turn every customer conversation into a teaching moment and elevate customer services.
You can also keep recorded calls on file to provide real-world examples of what to do and what not to do. Say you have a tough question that customers repeatedly ask over the phone, keep call recordings that show how other salespeople handled that scenario.
Live call monitoring allows you to coach on the spot and guides the call so that there are no missed opportunities.
2. Dispute Resolution
Your best protection in a dispute with a customer is evidence.
With a call recording, you don't have to speculate. A review of the conversation in question can prove what actually happen and save you time by avoiding any he said, she said conflicting reports.
You'll also be saving money trying to make a situation right if you can prove that your business didn't over promise and under deliver. The ability to record calls can cut down on fraud, or at least prove that someone is trying to take advantage of your business.
3. Review and Confirmation
You know what happens in a conference call. People sometimes talk over one another as you're furiously taking notes trying to document what was agreed upon. You then confer with colleagues after the call to confirm the details and even then, it's not quite how you remember it.
With call recording, you can just go back and listen to it again, on your own time. Hit pause to take notes and rewind it to hear something again. This way you don't have to waste time and energy guessing what someone said.
The same goes for sales calls. You can avoid putting in the wrong order by listening to your call with the customer to confirm order details before anything ships out the door.
4. Regulation Compliance
Depending on what industry that you're in, government agencies may mandate that you record phone calls for compliance with their regulations.
Check with your local, state, or federal laws to see if call recording is mandatory for your business.
5. Customer Satisfaction
Call recording and monitoring allow you to ensure that your company's core values, code of conduct, and goals are being met by all associates in your organization.
Informing customers that calls are being recorded for quality purposes will give them peace of mind that they're being taken care of and that they'll have recourse if service doesn't live up to their expectations.
Call recording can help your business become more efficient, serve your customers better, reduce liabilities by counteracting fraud and disputes, and increase conversion rates on sales calls.
With call recording and monitoring, your business will gain access to invaluable information to pinpoint issues in your business and provide you with a great way to properly train your employees so that they're performing their best and keeping customers happy.
---
Advanced Call Recording Feature on Yeastar PBX
1) Auto or One-Touch Call Recording
Yeastar PBX System allows you to easily record incoming and outgoing calls automatically and without having to rely on 3rd-party recording apps. You can enable call recording for internal calls, external calls, and conference calls, either by system-wide or by meeting some filter criteria like a certain extension or phone line. Voice prompt can be set up to notify the start or the end of the recording.
One-touch call recording is also supported for easy instant recording. Simply by dialing the pre-defined feature code or Press the "Record" icon on the Linkus Desktop/Mobile Softphone ( free unified communications app designed to work with Yeastar PBX ), you can easily start recording during a call.
2) Easy Recording Files Management
Recording files playback and management are easy with Yeastar PBX as well. On the PBX's web user interface, you can search recordings by time, the caller (extension or external number), the callee, trunks and etc, which makes it easy for you to download, delete or listen to certain recordings.
For individual extension users, Linkus desktop and mobile softphone also provide an intuitive interface for users to listen to their recordings anywhere anytime.
Step-by-Step Configuration Guide
For detailed information on how to set up call recording features, please refer to our configuration guide.