BACK
5 Tips to Benefit Your Conference call with Linkus (Updated in 2020)
3.1 min read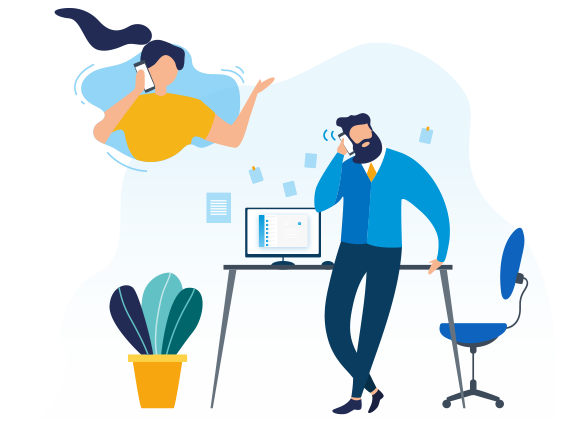 Have you noticed that this might be the longest time you've been parted from your colleagues with most of the world working from home? In this unprecedented time, conferencing is indispensable when an issue requires collective discussion and the demand for conducting meetings remotely is soaring. Linkus UC Softphone wants to help you with a perfect mobile conferencing solution for working from home.  Watch the video below and you will learn how Linkus UC Softphone can help create and manage a conference call.
With Linkus UC Softphone, all the features of a desk phone can be realized on your mobile device and computer desktop. In order to have the best audio conference experience while you're working from home, here are 5 conference call pro tips to help you keep your conferences on track and highly productive with Linkus.
1. Establish a Chat Group for Participants
It's considerable to know who will be on the conference call before you participate in. Linkus contacts help you check who your audience is before you get on the call and make sure the other callers know who will be attending. All participants should know in advance what their role is so that to get well prepared. Use the agenda to keep participants focused and cue them when their parts are coming up soon.
Pro Tip on Linkus
It's a good idea to send out a group invite to all participants and create a chat group with Linkus before the conference so that everyone can know who's attending, as well as the time, the date, and the content of the conference call. This common courtesy can translate into a regular conference call ritual.
2. Join the Conference Call Faster
When you conduct a conference call, set the duration of the call and stick to it. It's important to reach a consensus to respect everyone's time. Starting your conference on time is the first step in running an efficient call. One way to help minimize lateness is by using handy devices to join the conference call so callers won't have to sit in a fixed place.
Pro Tip on Linkus
To get participants into an audio conference more quickly, Linkus Mobile Client empowers team conferencing with easy ad-hoc conference calls. Users can batch invite their colleagues or customers to join a conference and receive conference call with their Linkus Mobile Client, Linkus Desktop Client, IP phone, or simply any mobile devices anywhere anytime.
3. Stay Clear and Consistent
When it comes to effective communication, clarity is a prerequisite. You can't communicate with your coworkers if you can't hear clearly what they're saying. Besides, dropped calls are unpleasant—especially when you're joining a conference call with your coworkers in separate places. That's why you should make sure your phone system is functioning properly before you schedule the conference call.
Pro Tip on Linkus
Transmitting high-quality audio and voice clarity can happen even in relatively poor internet connection when you have an ad-hoc conference via Linkus Mobile Client. Linkus empowers individuals to join a conference call consistently everywhere.
4. Avoid Noisy Environments
Noise is a barrier that can't be ignored and when it comes to your speakerphone during a conference call and you can't cancel it—it's even worse. It is wise to look for a quiet place before the conference call, but there are so many sources of background noise like dog owners and people with kids, and you can't always wait for all of them to be quiet.
Pro Tip on Linkus
If the noise is coming from your side and you have trouble concentrating on the call, you can mute yourself by tapping Mute/Unmute icon on the interface of Linkus. The conference host also can mute or unmute any conference member to help get rid of the noise coming from the surrounding environment.
5. Make Good Use of Recording
Conference calls require a lot of concentration, but they can easily get off track especially when participants are working from home. Prevent this by focusing on updates and discussion pertinent to decisions, when you find it difficult to deal with, start taking notes on key points that are being discussed.
Pro Tip on Linkus
Another effective way is letting the recorded version of the conference help you go back and review all the important points discussed. The Conference call can be recorded if you are using Linkus Desktop Client to join the call. You can later send the recording file to participants or all relevant parties so those who miss the conference call will receive the same information.
After reading these five tips, the basics of conference call become clear. Your efficient solution can also help your conference call successful. We hope you have a smooth conferencing experience with Linkus. Download Linkus and you will find out more benefits.