BACK
Prepared for Any Emergency: How Yeastar Helps Your Business Continuity
4.1 min read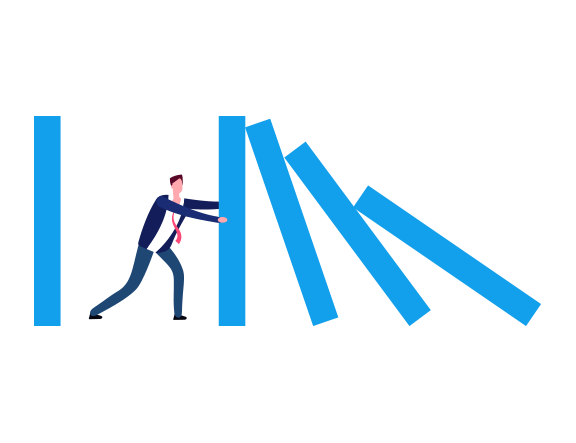 The very idea of unplanned downtime is enough to make any business leader's blood run cold and any IT leader's blood pressure rise. But if 2020 has taught enterprises anything, it's to expect the unexpected. Between the unprecedented COVID-19 pandemic, massive fires in Australia, or relentless flooding in several countries, natural disasters and unexpected utility disruptions have taken many business offline this year.
Disasters alike strike with little to no warning. We hope for the best, but should be prepared for the worst. And you understand that an always-online communications system plays a critical role in emergency preparedness. Whether it involves a major weather event, a pandemic, or something more mundane like internet outage or equipment failure, the ability to contact customers, suppliers and even your own employees can be a reassuring and positive step toward "business as usual" even during emergency conditions.
Look to a Phone System that Safeguards Business Against Any Emergency
Yeastar's UC-capable business phone system can be an invaluable aid in sustaining critical business continuity when an emergency occurs. It provides vital communications tools that keep everyone connected both during and after a crisis. And with Yeastar, you can rest assured that your phone system will remain available. The ultimate resilience is contributed with redundant components built throughout the system.
Limited Access to the Office? Your "Office" Is Where You Are
Detrimental situations like regional flooding, hurricanes or virus outbreak could possibly lock your access to the office building, but your business need not be disrupted. No matter you are with Yeastar Cloud Phone System or premise-based S-Series VoIP PBX, you always remain in control and can get important work done easily and securely even from home.
Work Anywhere Anytime: Yeastar business phone system offers Linkus Unified Communications Softphone that enables you to make and receive calls to your office phone extension via your own mobile phone or computer desktop. With Linkus, you can access all the office extension features – no matter where you are – and the operation of call transfer/hold/record/mute and the retrievals of voicemail/call recording/call logs are only point-and-click away with easy-to-use graphical UI.
Team Collaboration at No Sacrifice: In addition to the essential voice continuity, Linkus UC Softphone also provides conferencing, Instant Messaging, Presence, File Sharing and Contacts (phonebook) to make your staff feel as connected as if they were in the office. Employees can easily see who is available and bring the team together with real-time discussions on projects in the way they preferred and via one single unified platform.
Engage Customers: Never leave customers unanswered or confused especially in an emergency. Yeastar's "Never Miss a Call" suite of built-in features are easy to enable from online user interface. The advanced IVR minimizes call waiting by auto-directing callers to a desired destination in a 24/7 automatic manner; Call Forwarding sends calls to whatever extension or external number you like, and Follow Me uses a sequence of phones of your choice to find you – whatever these features applied, your customer response is to fasten. In addition, if there are any changes in your customer services particularly for the emergency, you can also quickly record and upload an announcement to inform your callers with the highly-flexible Custom Voice Prompt feature of the Yeastar business phone system.
Internet Outage? Call Continuity Comes Through
There is no such thing as business continuity without clear communication. Yet, time and time again, the vast Internet/broadband that your phone system relies on is first to collapse during serious emergencies. Fortunately, downed internet connection is not an issue with Yeastar business phone system.
Yeastar S-Series VoIP PBX with 4G LTE module installed can provide essential VoIP continuity for your business communications. When your fixed-line broadband is not available or internet outrage occurs, the PBX would automatically reroutes to the 4G LTE wireless network for your SIP trunks. This way, your Voice over the internet will continue as usual and your business will not be impacted. Also, besides the resilient 4G LTE failover, Yeastar S-Series PBX also supports connection to PSTN, ISDN BRI/PRI and GSM/3G Cellular with telephony modules, enabling the best disaster-proof phone line failover.
As for Yeastar Cloud Phone System, you need not worry as well. Your phone system is hosted in the cloud and best cared by Yeastar or Yeastar partners. This means that even if your office loses connection to the internet or power, your phone system and SIP trunks will keep on running. In such cases, you can continue your business calls via the Linkus Mobile Client (softphone) installed on your smartphone. No calls will be missed and critical call features still remain accessible.
Unexpected System Server Failure? The Backup Is Up Right Away
Though not happen very often, severe situations like CPU overload, cyber-attacks or hardware damage could cause even a super-duper phone system malfunction or fails for some time. And you will need a fast disaster recovery to minimize the fallout.
Yeastar S-Series PBX comes with robust redundancy solution for up-to-speed recovery during unexpected server outage. Its advanced PBX Hot Standby feature enables you to mirror the PBX to a secondary server in real-time. And should the main PBX server fails, the secondary server will take over immediately to keep your phone system operates as normal, so the downtime is kept to an absolute minimum and your business won't suffer from the outage.
Keep Your Business Running Whenever & Whatever
No one likes to think about a disaster, but disaster planning is critical to any business. Yeastar has taken steps to ensure that your phone system will stay online, providing the communications services you need to support your business continuity and emergency preparedness plan.
If you are thinking of update your phone system with ultimate resilience, let us help you. Free free to contact us for a consultancy, or you can just sign up for our Cloud PBX free trial to enjoy a 90-day* free access to the rich robust phone system features of Yeastar business phone system. Sign up today and experience it yourself.
* The 90-day free trial is available until June 30th, 2020.