BACK
What's New in the P-Series (December 2022): More Integrations and Call Center Optimizations
3.4 min read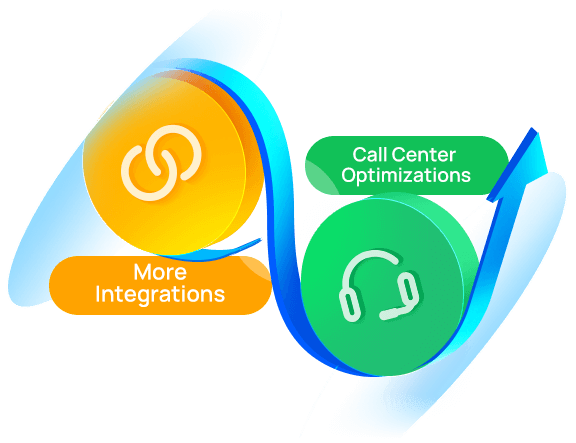 Wrapping up 2022 with a new P-Series update! With a set of new integrations, features, and enhancements, channel partners will be able to mix and match solutions for greater flexibility and profitability, and various teams better equipped to deliver optimal service.
Help Desk Integration: Supporting Zendesk and Zoho Desk
Help desk software is widely used by businesses of all sizes to respond to, track, and streamline customer requests. P-Series PBX System now supports integration with Zendesk and Zoho Desk, two of the industry-leading help desk software, to give customer service and support teams extra muscle.

Add call center and telephony capabilities into your helpdesk software and centralize in-app phone operations. It helps elevate customer experience and enhance productivity with faster dialing, full contexts, simplified call management, and more automated processes.
Sync contacts in help desk software to P-Series PBX System automatically
Create new contacts in help desk software for unknown callers
Turn incoming calls into tickets for effective record keeping and issue resolution
Log all calling interactions with customers in help desk software automatically
Call any customer directly from help desk software by clicking on their phone numbers
Display pop-up notifications for incoming calls with customer records
This integration is available for all Zendesk and Zoho Desk subscription plans. You also have to enable Remote Access Service and the Yeastar-supplied domain name on the P-Series to make it work. For more information, please refer to Zendesk Integration Guide and Zoho Desk Integration Guide.
Newly Added Bitrix24 and Odoo CRM Integration
Besides HubSpot, Zoho, and Salesforce, you can now also connect the P-Series to Bitrix24 and Odoo through native, out-of-the-box integration and easy, straightforward configuration. Combining PBX phone systems with CRM platforms allows you to:
Click to call a customer or prospect straight from Bitrix24 and Odoo
Receive call pop-ups for every incoming call from your CRM contacts
Instantly track and log every call to Bitrix24 and Odoo
Automatically create first-time dial-in contacts in Bitrix24 and Odoo
Synchronize CRM contacts to a specific P-Series PBX phonebook

The Bitrix24 integration is available for Bitrix24 Basic Plan and above. The Odoo integration is tested with Odoo 14.0 and later. You also have to enable Remote Access Service and the Yeastar-supplied domain name on the P-Series to set up the integration. Please refer to Bitrix24 CRM Integration Guide and Odoo CRM Integration Guide for more information.
Hotel Integration via API
Hotel property management systems (PMS) and phone systems that are independent of each other require hotel staff to manually maintain guest and operation data, which is inefficient and prone to errors. Now you can connect hotel PMS and P-Series PBX System via API to automate hotel operations, such as:
Wake-up Service
Set up wake-up calls on PMS based on guests' room numbers, dates of stay, and specific demands. The P-Series will place scheduled calls to guests' extensions timely and play predefined voice prompts when the calls are answered.
Check-in
When guests check-in, receptionists can assign them extensions with different functions and outbound call permissions. With extension names changed to guest names, hotel staff can quickly identify them and provide professional service. Whereas guests can also enjoy free calls between hotel rooms, voicemails, and more telephony features if needed.
Check-out
As guests check out, respective extension settings will be reset automatically, such as setting names to blank, disabling outbound call permissions, deleting voicemail messages, etc.
Please see the Developer Guide for more information. More methods of integrating the P-Series with hotel PMS are under development and will be released in the coming months. Stay tuned!
Call Center Optimizations
Queue Pause Reasons
Call center agents may be switched to "Pause" status due to various reasons and supervisors need to stay in the know to ensure smooth operation and proper accountability. P-Series PBX System now allows for monitoring and analyzing the reasons and duration of queue pauses.
With up to 20 types of customized pause reasons, agents can select a specific one by dialing a feature code or clicking the dedicated button on their Linkus Web/Mobile Client. On the other hand, queue managers will be able to track the causes and length of these pauses in the "Agent Pause Activity" report.
Satisfaction Survey Details
Allow customers to press different keys (1, 2, 3, …) to rate different levels of satisfaction. The average points for queues and agents will be calculated automatically and displayed in related call reports.
Call Reports with Finer Granularity
Allow call center managers to check detailed queue performance by the hour, by day, and by month, review agent performance separately, and analyze extension call activities with overall data for both inbound & outbound calls.
Receiving Scheduled Reports
Reports can be scheduled to be sent to 10 emails simultaneously.
---
Besides the above, this new update also comes with added API support for PIN lists and SMS, a new ring strategy—Memory Hunt, and more. Please refer to the release note for the full details: Cloud Edition | Appliance Edition | Software Edition.
Excited about this new update? Check for the new version in your P-Series PBX System Management Portal. If you are new to the P-Series, feel free to sign up for a free trial to experience all these and more!