BACK
Hybrid Work: How to Increase Your Odds of Success
4.8 min read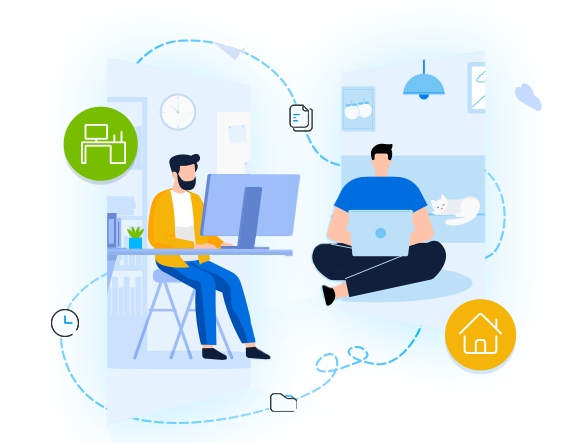 There is no denying that the COVID-19 pandemic has profoundly changed the way we live and work. For example, the past 2 years have witnessed the rise of remote working globally. Now, with more companies having their employees back to the office, they are working in a hybrid mode to some extent. Even as the pandemic health risks subside, it is predicted that a great many will continue working in this model.
Read on to find out what hybrid work means to businesses and what it takes to implement a successful hybrid work strategy.
What Is Hybrid Work?
The term "hybrid work" refers to a combination of in-office attendance and remote work. Hybrid work models can take many forms. Some companies may require employees to go to the office on certain days of the week, while others may have some employees work from home and some in the office.
A survey of 5,043 employee respondents by Mckinsey found 63% of employees prefer to work in a hybrid model or fully remote post-pandemic. According to another research by LeadershipIQ, most workers would like to work from home 3-4 days per week (39%) or 1-2 days per week (29%).

Employees favor hybrid working because it gives them more flexibility on their work schedules and ensures better work-life balance. Despite some employers remaining uncertain about the productivity of employees working from home or hybrid, a growing number of employers are embracing hybrid strategies in an effort to attract talent and increase retention. Besides, with the upward trend of hybrid work comes a rise of coworking space, which fits the flexibility of the hybrid model and can save companies thousands of dollars in overhead costs.
Technology Matters More Than Ever in a Hybrid Working World
Although the hybrid work model seems the way to go in the future, not every business is well equipped to embrace this new, flexible way of working.
The end goal of hybrid work is to increase the productivity and flexibility of teams, yet without infrastructure and tools to support it, a hybrid model can instead get in the way of business. The #1 priority of any hybrid work strategy is to make sure that in-office workers, remote workers, and everyone in between can work together with ease.
Are your technologies well-adjusted for the new age of work that we are about to enter? Below are several hybrid working technology categories that should be on your checklist.
Unified Communications 
Communication is the lifeblood of any organization. To keep internal and external communication as usual, a large majority of companies upgraded their business communication systems to some degree during the pandemic. Unified communications, especially the cloud-based as-a-service solution, UCaaS, is quickly becoming a must-have for the work-from-anywhere workforce. The same holds true in the age of hybrid work.
Unified communications is the integration of many different types of communication channels, including audio, video, messaging, and more, that everyone can access on whatever device they are using. It is as commonly used by small businesses as it is by large companies that have hundreds of thousands of workers. With unparalleled functionality, mobility, scalability, flexibility, ease of use, and compatibility, it is the perfect fit for companies to unify employees and customers scattered everywhere and will remain a key component for businesses planning a hybrid future.
Related: Yeastar P-Series PBX System: a Full Suite of UC Tools
Video Conferencing
Video conferencing involves three main types of technology: web-based, app-based, and proprietary device-based. Each has its pros, cons, and considerations. No matter which kind, video conferencing has become an integral part of any successful business operations ever since the pandemic.
It's easy to meet when everyone is in the same room. It's also quite straightforward to have a meeting with people connected remotely via video conferencing. What about when there is a mix of people in the office and working remotely? In the new era of hybrid working, how to provide a consistent virtual meeting experience for those in the room, and those who are not, is the key to maintaining team engagement and productivity.
Is your meeting space equipped with suitable audiovisual equipment? Do your employees using laptops for meetings require additional headsets, webcams, or other devices to improve audio and video quality? Is your IT infrastructure limiting how people can participate? These are the arising questions that we need to pay attention to under the new norm.
Workplace Scheduling
The key to an effective hybrid work environment is to align space and people.
The growth of the hybrid workforce is leading to a reduction in the physical footprint of the business. Employees do not need to come to work every day, thus are less likely to need dedicated desks as before. Meetings multiply, so does the competition over room spaces. Moreover, hybrid meeting rooms need to be designed with hybrid meetings in mind. These changes have made office space resources more dynamic yet also more uncertain, so how to book and allocate them is now a new consideration for employers.
To this end, some companies and shared office spaces have adopted workplace scheduling solutions to consolidate their space resources. These solutions usually incorporate booking software and digital signage, allowing employees to view, create, and manage bookings anywhere anytime. Moreover, integration with calendar apps, video conferencing, etc. provides a single point of entry of booking; additional functionalities such as wayfinding, visitor management, 3rd-party service reservation, health & security measures, further simplify daily tasks. The overall solution turns the time-consuming and repetitive booking process into an intuitive and seamless experience.
Related: Yeastar Workplace: All-in-one Workplace Scheduling
Smart Office
According to a survey by Deloitte, almost half of companies do not have a strategy for employees returning to offices. Though Deloitte found that a change of the working environment will be needed to a greater extent, only 6% have plans to redesign their offices. Actionable data and granular insight is the first step to closing the gap. This is where smart office solutions hit the businesses' radar.
A smart office solution is comprised of a set of technologies that connect to the building, IT infrastructure, and employees. For example, IoT sensors are used for real-time detection of occupancy, people count, lighting, temperature, and other data, allowing for greater space management possibilities. On one hand, facility managers can take advantage of this data for in-depth analytics on how office space is being used, such as meeting rooms and desks, staying responsive to changes in headcount and predicting future demands. On the other hand, multiple systems can be preconfigured to make automatic decisions based on environmental data, such as turning on or off the ventilation system letting fresh air in and stale air out for the comfort of employees and energy efficiency.
Others
Many other technologies can also enable the hybrid workforce to work more confidently. For example, team collaboration tools, spanning from online whiteboarding to real-time document collaboration, from file sharing to project management and more allow team members to stay in sync and streamline workflows. Another example involves cybersecurity. Hybrid work poses new cybersecurity risks which necessitate an advanced security strategy. For example, many businesses have relied on VPNs for remote access which could leave them vulnerable to malicious attacks. Two-factor authentication, zero-trust environment, breached password protection, and more measures have been taken to enhance security.
TL: DR
The future of work is hybrid, which has already been adopted by significant corporations and plenty of small businesses are doing the same. As disruptive a transition as this is, companies that do it right will reap significant benefits, such as a fantastic work-life balance, greater flexibility, and higher productivity.
Technology matters more than ever in the hybrid working world. Unified communications, video conferencing, workplace scheduling, smart office, collaboration tools, cybersecurity, etc. are all should be taken into consideration and made top priorities. It's time to evaluate your IT infrastructure and find ways to reach the next level of high performance for the hybrid future.