BACK
Level Up Your Customer Services with Yeastar Remote Management
2.2 min read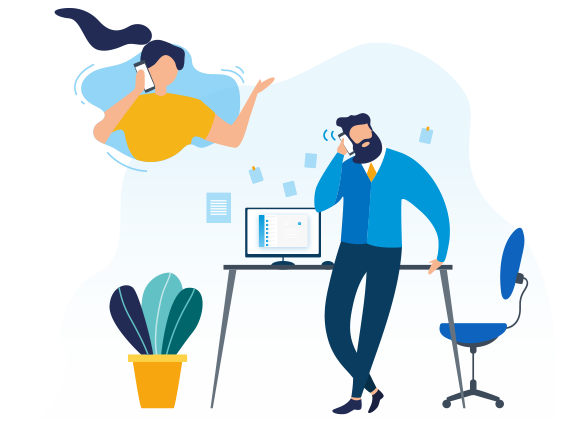 In customer service and support, remotely connecting to a customer's device is often the most efficient method for troubleshooting and fixing customer issues. For technical support, in particular, remote access allows faster, easier and cost-saving problem-solving process and can easily help you improve customer satisfaction with fast response, minimized downtime and reduced customer frustration.
Choosing the best remote assistance tool is critical, as the right solution can always impress and delight your customers. If you need a premier solution for easy and customer-favorable remote PBX support, either for your customer-premises P-Series PBX System,  S-Series VoIP PBX, Yeastar Cloud PBX (legacy), or K2 IP-PBX, Yeastar Remote Management can be the best choice.
We created the tool just for you to deliver exceptional remote support services and generate revenue with delightful customer experience.
Happy Customers with Faster Support Process
Yeastar Remote Management can help your customers receive the critical maintenance necessary for maximum speed, especially when urgent remote support is needed. Simply by generating a visit link on the remote management system, you are allowed to access a remote PBX or FXS gateway whenever needed and start to help your customers fix problems in seconds. No more complex port mapping or extra firewall configuration that wastes your time and burdens your customers.
Automatic Monitoring and Profitable Managed Services
The powerful real-time alarm system of Yeastar Remote Management allows you to automatically monitor the status of your customer-premises Yeastar devices and deliver proactive support to ensure high system availability for your customers' business-critical voice network. There are over 30 types of alerts for you to configure for instant notification, including system overload, network attack, SIP trunk registration failure, and more. With such powerful feature, you are thus granted the ability to take care of phone system problems before they can do any damage to your customers, and, better yet, profit from professional managed services.
High System Reliability with Multi-layer Security Mechanism
All remote server connections created by Yeastar Remote Management are HTTPS secured and doubled checked by device connection authentication and account-based access control. There is no need for customers to worry about device malicious connections or data breaches. Besides, you will have comprehensive logs on remote access operation date, IP, operator, etc.
Simple Centralized Management and the Ease of Use
As an add-on service for Yeastar P-Series PBX System,  S-Series VoIP PBX, Yeastar Cloud PBX (legacy), or K2 IP-PBX, the remote management tool requires no hardware, infrastructure or software to maintain and is easy to use with an intuitive web portal. Simply by logging into the platform, you can manage numerous customer-premises PBX and FXS gateway across multiple locations centrally and enjoy simplified device access. The platform is even more user-friendly from your customers' side. When they have a problem with their Yeastar devices, the only thing they need to do is to inform you and wait for you to help them fix it. No more remote desktop sharing that reduces work efficiency and risks of potential data breaches.
Yeastar Remote Management can greatly improve your support response, delight your customers, and help you generate recurring revenue with professional support and managed services. Try the business-enhancing tool and level up your customer services now!
If you are Yeastar Certified Partner, you can simply log into our Yeastar Central Management platform to experience the Remote Management feature! Not a partner yet? Just sign up now and gain advanced access to more robust tools and resources.