BACK
How Yeastar Workplace Enables the Easiest Room Booking Process
3.5 min read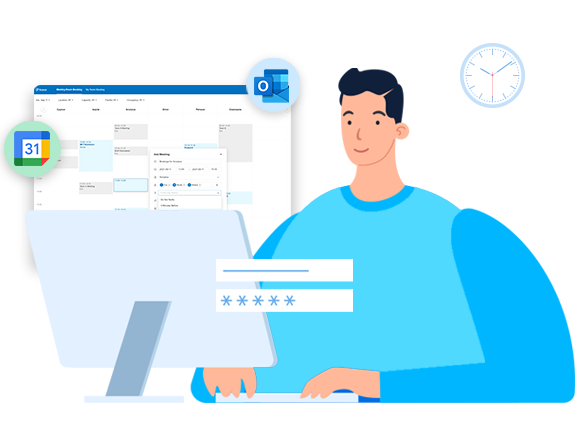 Every company has things they struggle with, but a universal issue that plagues many companies is inefficiencies surrounding booking meeting rooms.
Think about it: how much time do you spend each day only to communicate meeting room schedules with your teams working in office, at home, and remote branch, yet walk over to find the room you booked has been occupied?
Surveys have shown that as hybrid workplace increasingly become the new norm, organizations on average have experienced a 70% increase of meeting demand. And four in 10 employees spend an hour each week searching for unoccupied conference space. This means that a business with 100 employees could lose 1880 hours of employee productivity per year—that's a lot of lost time and cash.
Luckily, there's a solution—one that seamlessly integrates into your office so that you can cut down on the time and effort spent booking meetings.
How Yeastar Workplace Enables the Easiest Room Booking Process
Removing the guesswork out of your scheduling, Yeastar Workplace solution includes a leading-edge Meeting Room Booking System that provides three interactive booking methods – online booking gird, 3rd-party calendar booking, and wall-mounted room display booking – to make your room finding and reservation process as productive as possible.
With these methods, your meeting booking process can be minimized into two steps and less than a minute. Let's see how they work.
Better Visibility with Interactive Online Booking Gird
Minimized booking steps with people, space, facilities, and schedules in one place
Forget about the long-winded booking forms and manual management of room diaries. Yeastar Workplace comes with an online booking grid that keeps everything in one view. With all essential room and booking data held in one place, users can search for a best-fit room by availability, capacity, amenities, or location without breaking a sweat. And it only takes clicks to grab an ad-hoc or recurring booking on the interactive timeline, which is accessible through any browser and even on your mobile.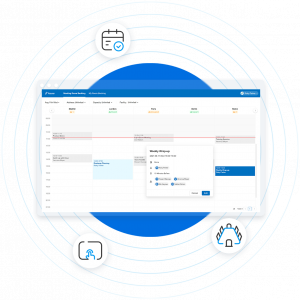 Better yet, there is no more worries about double-booked room or miscommunicated meeting locations. All new and confirmed bookings are synced in real-time, and visible to all who need to see it. By adding meeting participants while you book a room, all your meeting participants will receive automated meeting notifications and check-in reminders. The notification includes all the key meeting schedule info (the topic brief, time, and location), freeing you from onerous one-to-one communications.
With just a few clicks, you can grab a booking and be ready to go.
Real-time Two-way Sync with Your Daily Calendar
In sync with Office 365/Google calendar. Get everyone onboard easier and faster.
Your employees are already accustomed to using their calendar app to book meetings. And there's nothing wrong with that — except for the fact that calendar apps don't always reflect true availability. Yeastar Workplace features seamless calendar integration to solve the conflicts.
Whether you're using Outlook/Microsoft 365 or Google Calendar, with Yeastar Workplace, your meeting room bookings will always sync up your employees' calendar. The room resource details (such as the room name, seating capacity, and location) are paired across the platforms in real-time. And any schedule creation, changes, or cancellation will immediately update to Yeastar Workplace and your daily calendar. That way, your employees can continue to use familiar technology to schedule meetings and invite people, while enjoying the incredible ease of booking the perfect spaces.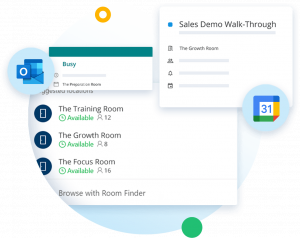 With the calendar integration, no changes need to be adapted for your employees, and automatic schedule synchronization also avoids the possibility of reservation overlapping.
You can also learn more information about Yeastar Workplace and Office 365 Calendar Integration.
Easy Wall-up Booking with Meeting Room Display
Tell room availability instantly even from a distance. Grab a booking with a single touch.
We've all been there: you urgently need a room for an impromptu meeting, yet rushing back and forth to the office costs too much time. Such a "stress-trigger" situation often happens in daily working life. But no worries. Yeastar Workplace Room Display is here to relieve.
Mounted right outside your meeting rooms, Yeastar Workplace Room Displays features a vibrant touchscreen and bright tri-colored LEDs (just like a traffic light indicator) that make it easy to see if a room is available even from a distance. In case of impromptu meetings, simply head towards a "green" room and you start a meeting right away.

As an integral part of the meeting room booking system, the Room Display also makes walk-up room reservation easy. Up close to the screen, you can easily tell the room schedule of the day; and in one touch, you can book the available time. Plus, the intuitive start/end meeting button on the screen also come in handy to free up "no-shows" and "early-ended" bookings.
By combing real-time room occupancy indication, schedule display, and on-spot booking and meeting check-in/ending confirmation, Yeastar Workplace Room Displays optimize, improve, and streamline your room scheduling in a monumental way.
Start Optimizing Your Room Booking Process Today
Inefficient meeting room scheduling implies a huge loss of employee productivity. If it takes more than one minute to book a meeting room in your organization, you might need to consider deploying a professional meeting room booking system.
Yeastar Workplace offers 30-day free trial to let you experience how such systems work without any commitment. In the trial, you can enjoy all room booking features, centralized resource management, advanced utilization analytics, and more. Just click here to create your account and start to make a difference.