BACK
5 Tips to Minimize Disruptions When Upgrading to VoIP
4.4 min read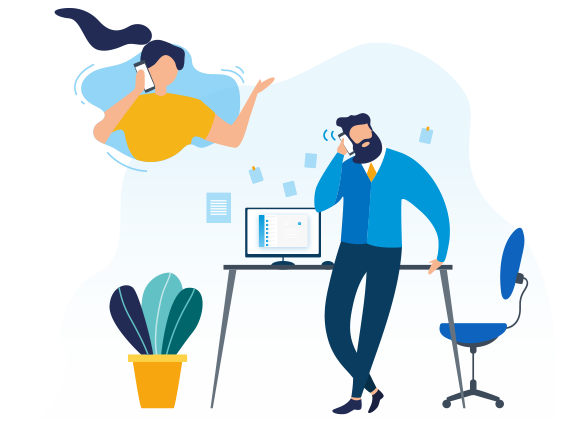 VoIP (Voice over Internet Protocol) is a great way to bring your company up to speed with rich advanced features, increased reliability, and quality sound at low cost. But this never means that you should jump on the bandwagon of VoIP migration at one fling and without any preparation and forethought. There are several key components you should consider to make a successful shift.
If you've already started the upgrading process to VoIP, or are currently considering it, here is a concise list of things to do to make the upgrade a huge success and minimize disruptions even further.
1. Make Sure Your Network is Ready for VoIP
The quality of VoIP voice calls is heavily dependent on the network. VoIP traffic is routed over the same connection as your data transmission, so any slow traffic on the internet or low bandwidth has an impact on call quality. It's essential, therefore, to have a solid grasp on your network situation before going knee-deep into VoIP. Critical components such as connection reliability, data bandwidth, and your maximum call volume should be taken into considerations.
Generally, it's suggested to run a network speed test to evaluate your current IP network and determine if it is robust enough to handle your current and future voice and data traffic. On average, a single VoIP call on an HD codec would use up about 50 to 100Kbps of bandwidth. And the more concurrent voice sessions (call volume) your business need to handle at a time, the more bandwidth will be required to ensure high-quality call and free users from dropouts. The total amount of bandwidth you need will result in your choice of data services and connection to either T1, fiber, or coax connections.
2. Get the Right Phone Equipment for Your Business
VoIP technology has great options for phone sets and features, varying from call waiting, transferring to voicemail, which are easy to deploy and great for productivity. But most of these features are dependent on compatible phone sets.
Your VoIP service provider usually will have a list of compatible handsets and other peripherals, which are already tested by professionals to ensure the best interoperability in regards to voice compression codec, call quality, feature performance, etc. When you're looking for new VoIP-capable IP phones, it's advisable to consult with your provider to choose right phone equipment with least compatibility issues – all the while providing the ease of use.
3. Prioritize or Segment Your Voice Traffic
The cutting edge of VoIP technology is that it routes voice over the same network used by other applications. But this can also become a problem since your voice traffic is now competing for bandwidth with other types of sources including video and web browser. As such, the performance of your business applications, especially those sensitive to time delays like VoIP, can be negatively impacted. This means that your phone calls can possibly suffer when you start streaming a video.
There are two common methods to solve this traffic issue. One is to segmenting your voice traffic using a VLAN (Virtual Local Area Network). It allows you to split your voice traffic from overall network capacity and offer more efficient responsiveness to VoIP calls. The other is to prioritize your voice traffic with appropriate QoS (Quality of Service) settings. The QoS traffic dispersal makes it possible for your IT administrators to assign priorities – or a guaranteed percentage of your overall pipe capacity – to your VoIP applications. This will free your voice traffic from network congestion and improve overall call quality.
If you do not have sufficient IT resources in place to do the work, it's advisable to check with your VoIP service providers to see if they can help or offer similar solutions or services.
4. Maintain An Emergency Phone Plan
VoIP systems rely on the internet to function, so if there is an unexpected internet outage, your voice service will most likely to suffer, freezing your staff from connecting with clients, vendors, partners, and their teams effectively. Having a backup plan or alternative internet service can help. Consider the following two methods to minimize internet disruption and maximize business continuity.
 Investing in a 4G LTE failover solution or, if you have an adequate budget, a second Internet connection from a different ISP (Internet Service Provider). This will allow you to program the backup internet to take over immediately when your primary connection goes down, making your phone system to stay functional over network outrage.
 Routing calls to mobile devices or landline. By looking for a VoIP solution that automatically routes calls to cell phones or landlines during downtimes, companies can avoid delays in internal and external communications from internet outrage.
Besides the internet problem, unexpected PBX phone system server outrage can also paralyze your business communication. If you are considering a hosted VoIP solution, look for a provider that has multiple geographically dispersed data centers. This provides the reliability that your voice traffic will be rerouted to a working data center in case of any failure. If you are considering an on-premises VoIP solution, think of a reliable PBX Hot Standby Solution, where two identical PBX servers are deployed and run simultaneously to form a solid failover.
5. Choose the Right Deployment Model and Solution
This is a no-brainer, but if approached in the wrong manner, things can get more complicated or even detrimental. While evaluating whether a cloud-based or on-premises VoIP solution, ask tough questions and make the business case for what a new system will solve in all aspects of its usage: functionality, scalability, redundancy, maintenance, and upgrade, costs and payment, etc.
It's also advisable to think in a future-proof mindset of positioning any move to VoIP as the beginning of offering unified communications to your workforce – to fuel efficiency and employee productivity in the long run. In addition, consider an all-in-one solution that fulfills all your possible auxiliary needs like conferencing, softphone, or CRM integration requirements. This will free you from possible integration issues and saving extra costs on configuration and 3rd party applications.
Ebook How to Plan a TDM to VoIP Migration
---
Painless Upgrading to VoIP
Upgrading to VoIP doesn't have to be complicated and difficult. The most important part is to make sure you have a provider that guides you every step of the way. If you have any questions about how VoIP will impact your business or would like Yeastar to help you make a seamless upgrade, free free to talk to our customer support experts. We are at your disposal to help you make the right decision on technology and implementation that will help your business grow many years down the road.